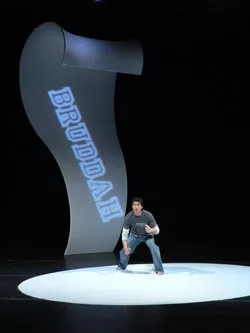 Who is the true Hawaiian, or kama'aina, in this group: Senator and presidential candidate Barack Obama, famously the son of a white mother and black Kenyan father; Keo Woolford, actor, singer and hula dancer of Asian and Pacific Island ancestry; or yours truly, granddaughter of Irish immigrants? It's a trick question, because the answer is all three. Being Hawaiian is not about "the blood quantum," Woolford explains, even though a "mainlander" would probably label him the true "Islander" and discount Obama and me.
But no one actually from Hawaii would think this way, Woolford and I agree in a phone interview from Los Angeles, where he now resides. He arrives in Burlington this week for a brief residency at the Flynn, presenting two hula workshops and his one-man performance piece, I Land. Our chat quickly takes on the feel of a "talk story" session — that is, the informal way Hawaiians exchange anecdotes and share opinions. We joke that the only serious question at a hypothetical Obama-Woolford-Crean backyard party would be: Who's going to eat that last serving of sashimi? (Answer: Move over, boys, I am!)
Kama'aina status comes from having been raised in Hawaii, not from the concentration of melanin in one's skin. I share with Woolford that I've given up trying to describe the nuances of race in Hawaii to mainlanders, who tend to tune out the haole (white) Hawaiian's explanations. In I Land, Woolford says, "I have these people's ear for an hour and 20 minutes," and that gives him an opportunity to show audiences what "we grew up with," he notes. "That it's about acceptance, celebrating everybody's differences.
"We come from a place where multiculturalism is just a part of our way of life," Woolford continues. "Even though there are certain prejudices and tensions . . . [Hawaii] is the place that has the most mixed-race people in the world. And we all joke around. Race is not a big deal . . . It's what you do with your life that makes you who you are."
Woolford has already accomplished a lot in his performance career, which has taken him from Honolulu to stages as far-flung as Tokyo and London. Like Obama and myself, Woolford is a member of what he aptly terms "the Hawaiian diaspora." Hundreds of thousands of kama'aina have resettled across the mainland and around the globe. Some have left eagerly, in search of educational and job opportunities; many left with heavy hearts, driven out by the high cost of living. I Land explores the journey of self-discovery that unfolded for Woolford along the way.
Career highlights include starring in a London revival of The King and I, singing in the best-selling boy band Brownskin and on a Grammy-nominated reggae album, making multiple film and TV appearances, and winning coveted Merrie Monarch Festival titles as a member of the esteemed hula troupe Halau Na Kamalei. Despite the diverse resume, Woolford attributes his inspiration for performing to one source. "It all goes back to hula," he says definitively. "It just felt so natural to be on stage."
Woolford started dancing in a school class, at age 12, and was surprised at the rigor of the training. "I played football at the time. And a lot of the football players would take hula thinking it was going to be an easy class, an easy credit," he recalls. "But little did we know that it was more work. Because not only were you in class doing this, but you had homework, you had performances and practices outside of school. But we all loved it. It was a really grounding experience."
Later, as he lived and traveled around the world, Woolford encountered an ocean of ignorance about hula: misleading Hollywood clichés and raised eyebrows about men dancing hula. "The way that it is misperceived or misrepresented was a really, really big thing for me," he says. "I have to say that I am a hula dancer with a little chip on my shoulder. People start flapping their hands . . . 'Oh, you dance hula?" he mimics. "Isn't that, like, a girl's thing, with a coconut bra?'"
The need to confront such stereotypes is part of what led Woolford to put hula at the center of I Land. "It has a deep, deep, long history, and it's very sacred as well. I felt like if I could entertain and educate a little bit, then that's my goal," he explains. "Hula and Hawaii are such a big part of who I am, and I can't separate the two." Over the course of the show, Woolford performs three dances from the kahiko (ancient) tradition, choreographed by his kumu hula (teacher), Robert Cazimero.
Another important force in Woolford's childhood was hip-hop culture. "I was really influenced by MTV and music videos and hip-hop growing up," he relates. Developing I Land helped him see how "the unique combination" of hula and hip-hop "embodied who I was," as he puts it. Director Roberta Uno spurred Woolford to pour his ideas out in an intensive writing process. "I resisted for such a long time," he admits, and wondered, "Who's really going to care what I have to say?"
What emerged in the finished performance piece, Woolford explains, "is an autobiographical account of my life growing up in Hawaii, how I find my heritage through traditional hula, and how growing up in a time where contemporary, mainland hip-hop urban culture was a really popular influence in my life . . . Those two actually combined to make me who I am."
An additional twist to the coming-of-age story is that Woolford was adopted. His own family represents Hawaii's multicolored palette, with a haole father and brother and a hapa (mixed race) sister. "I'm searching for my place," he shares. "And like the story of the alchemist, where you go through all these different things, looking for your identity . . . There's that whole urge to want to fit in somewhere, but realizing that it was right in your backyard all the time."
Theatrically, I Land "mixes a bunch of different conventions," Woolford notes, including hip-hop numbers staged by Rocka-fella, poetry, singing and video projection, as well as hula. But all these supplement his principal technique: Hawaiian talk story, which Woolford describes as "very animated and humorous, even though there are very dark and serious issues that come up."
Talk story may sound like backyard shooting the breeze, but "it is part of our oral tradition," Woolford emphasizes. "Because our history was all oral history, we passed down stories, we passed down lessons, history, songs, poetry, etc., verbally." Until the missionaries arrived in the early 19th century, the Hawaiian language had never been written down.
The informality of talk story allows Woolford an easy rapport with theatergoers. "There's a connection that happens immediately with the audience," he says. "That's one of the powerful things about this piece. It's not talking at you . . . It's like we're all sitting around a campfire down at Sandy Beach, waiting for the sun to rise, and somebody's telling a story about what happened. So everybody's involved with it."
As Woolford and I talk story, the Sandy Beach imagery sends out a crashing wave of homesickness. The famous bodysurfing spot was just a few miles from where I grew up. The far end was my favorite spot for a quiet swim and long read.
Woolford laughs heartily when he finds out that I still live on an island, albeit surrounded by the oft-frozen waters of Lake Champlain. When he lived in New York City, he thought of Manhattan as an island. He now lives not too far from the Pacific Ocean in L.A. "You can take the island from the person," Woolford notes wryly. "But you can't take the person from the island."