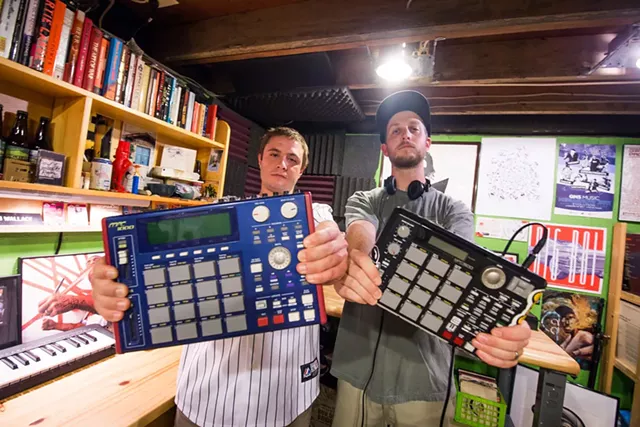 Luke Awtry
ILLu (left) and Rico James
Equal Eyes Records is a Burlington hip-hop label that's emerged as the local scene hits an all-time peak. The imprint has released six projects in as many months and won't slow down anytime soon.
Burlington's rap scene — like Vermont's at large — has always had an independent streak. Hip-hop labels have existed there before, but they've typically been in-house operations. For instance, Machete Ish Records was established solely to release the work of hardcore lyricists Jynx Inc. MilkHaus Studios is home to a small group of rappers, producers and artists from Ferrisburgh.
What sets Equal Eyes Records apart from the pack is its output and its commitment to being a real-deal record label, with physical products stocked in stores and online. The label's Burlington-based founders also aim to expand far beyond the confines of their own circle — and soon.
It all started with collaboration. Back in March, the label debuted Tired of Waiting for Rappers, An Instrumental Series Vol. 1, an album from cofounders ILLu and Rico James. Both are young, prolific producers from the Queen City area who have been toiling in the scene for years.
It must be said: While that scene may be bigger than ever, it's still fairly small. "Rico and I met from being on the same show bills over and over again," says ILLu, 30, whose given name is Luke Gauthier. From those gigs grew a working friendship — and, perhaps inevitably, a mutual frustration with rappers taking forever to finish projects.
Once they decided to work together on a beat tape, the idea of founding a label was not far behind. "It just made sense," recalls Rico James, aka Eric McEdward, 32. "I've met a lot of really good people who make great, honest music."
"Yeah, I think Rico had been cultivating the idea for a while," adds ILLu. "We both felt like that tape was the best chance to finally give it a shot."
That proved to be a good call. Since the March release of Waiting for Rappers, Equal Eyes has been a consistent operation, delivering a new project every month. Maintaining that schedule demands a lot of planning and work, and from the beginning the duo has drawn on its local network. First up was rapper/singer/producer Teece Luvv, whose gloriously off-kilter Semantics served as the label's second LP.
"The scene is tight-knit, so I'd known these guys for years," says Teece Luvv. "It was easy to work with them, and they really do the work. I sent them the tracks, and they did the rest." He also praises their professionalism and payment system. All in all, Teece Luvv calls the collaboration "a perfect opportunity."
Already, Equal Eyes Records was carving out a broad lane. The smoky, experimental vibes of Semantics were a sharp contrast to the soul-chop, boom-bap aesthetics of Waiting for Rappers. The label's sound only continued to diversify.
Up next were two consecutive curveballs: the dark, electro-throwback sound of Agent Elsewhere's instrumental album Great Extinction; and the imprint's first rap album, Textbook, which featured Question the Emcee over a potent batch of ILLu beats.
"Equal Eyes represents the [Vermont hip-hop] culture, and I am proud to be a part of it," says Question the Emcee, aka Josef Lavanway.
Rico James and ILLu have built their label quietly. Equal Eyes Records is a humble operation in every sense, operating out of two home studios and running on constant brainstorming sessions. In person, the cofounders are earnest, unassuming young men who love to talk shop.
"I grew up at a time when Rhymesayers, Stones Throw and Rawkus Records were running the underground hip-hop scene," ILLu reflects. "I have definitely tried to understand their marketing, distribution and overall creative schemes."
In addition to studying their national predecessors, the duo is quick to credit the hard work of elders in the local scene. "Mister Burns let me pick his brain every time we'd connect," ILLu says. "And I've asked SkySplitterInk thousands of questions by now." Rico James adds: "Es-K has definitely taught me a lot, and DJ Kanga always supported us."
Another key influence is Scottie Raymond, one of the founders of local street art/graffiti crew Anthill Collective, where his official title is "original prankster." Raymond also organizes the monthly 3rd Thursdays showcase, a long-running hip-hop series at the Monkey House in Winooski. Recently sponsored by Switchback Brewing, the series has been a home for locals and a magnet for out-of-state headliners.
"Every time [Raymond] was setting up," ILLu recalls, "I was following him around asking questions. He has a lot of experience getting things done."
The 3rd Thursdays events have been the epicenter of Burlington hip-hop's recent explosion, networking existing artists and inspiring young hip-hop heads to become artists themselves. Thanks to the highly visible success of acts such as Jarv, 99 Neighbors and Jibba the Gent, new crews are spreading like wildfire these days.
Still, the Equal Eyes team remains more focused on developing its own sound than on documenting the burgeoning scene. "Currently, we are working with the people we're surrounded with," Rico James explains, "but in no way are we limiting ourselves."
ILLu very much agrees. "DJs, producers, rappers, singers, artists, breakers, filmmakers: We're looking for everything."
"Our big thing is just working with people who care about the art," Rico James continues. "We look for character, and we look for passion."
That approach is winning the pair a lot of fans, including many of their early mentors.
"I am really happy to see these guys take shit into their own hands," says Zach Crawford, aka SkySplitterInk. "Having something like a label is so important, because it makes you feel like part of something. Those two have been a great team."
Addressing the future, ILLu offers a typically humble goal. "We just want to give artists we believe in a bigger stage," he says. "We truly enjoy that."
"We don't have high expectations, and we're not trying to overthink anything," Rico James adds. "We just keep doing what we love to do."