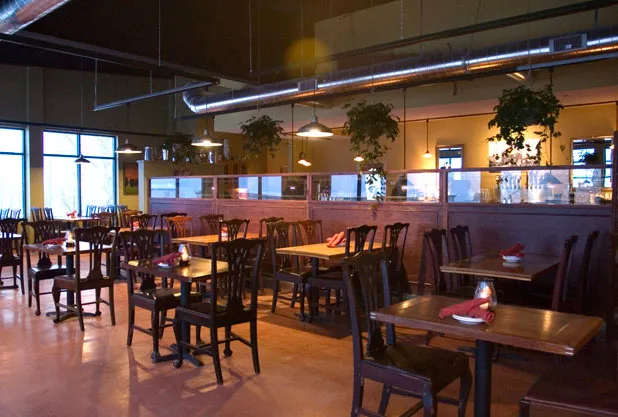 In the foyer of Hinesburgh Public House is a black potbellied stove to warm diners waiting for tables — and plenty of people needed it during the eatery's first full weekend open.
"We've been busy," says owner Will Patten, sounding almost surprised. Apparently, Hinesburg was hungry for a new restaurant.
The soft opening of the 120-seat Hinesburgh Public House began last week, but managing partner Thom Dodge says the kitchen turned out 600 meals over the weekend; management is already hiring more staff.
The restaurant is funded in part by community shares of $500 each, which shareholders can spend as gift cards during its first year. (Shares are still for sale on the Hinesburgh Public House Facebook page.)
That support fueled the elegant renovation, which transformed the former Saputo cheese plant into a sage-green restaurant with a corrugated-steel façade, a warm wood interior, floor-to-ceiling windows, a private banquet room, a cozy bar and an outdoor deck overlooking Hinesburg village.
The menu, executed by chef Shawn Beede — former executive chef at Williston's Monty's Old Brick Tavern — is full of locally sourced comfort foods. They include cornmeal-encrusted perch fingers with marinated cabbage and housemade tartar sauce; a "daily braise" of beef from neighboring Grass Roots Farm; beet carpaccio topped with local goat cheese; and mac and cheese with local cheddar, bacon and (nonlocal) pickled jalapeños.
The full bar serves up a wealth of local libations, including brews from Shelburne's Fiddlehead Brewing and Middlebury's Drop-In Brewing Company; Unified Press Cider from Essex Junction's Citizen Cider; and wines from Lincoln Peak Vineyard and Shelburne Vineyard.
Based on initial feedback, Dodge says management will scale back the menu to "20 or so core items, and then we'll do specials every day. That way we can use local ingredients more effectively." An on-site market will sell wares from local farmers and producers, too.
Hinesburg Public House (10516 Route 116, Suite 6A, Hinesburg, 482-5500) is open seven days a week for dinner, as well as for lunch on Saturday and Sunday.