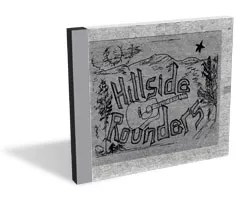 (Self-released, CD)
The Sicely family's musical roots in Vermont run deep, as far back as the 1800s, when they first settled in the Green Mountains from Canada — and Ireland before that. For generations, the Sicelys have been pickin' and grinnin' at grange halls, roadhouses and juke joints all over the state in various bands and ensembles. Looking back at their rich history, you could argue they're as musical a Vermont family as anyone this side of the von Trapps. The clan's latest venture is a honky-tonk trio called the Hillside Rounders, composed of Jeremy Sicely (Flat Top Trio, Gold Town), his father, Mike Sicely, and Mike's brother, Rick Sicely. As if we needed it, the band's recently released self-titled debut EP is further proof that there's just something special about family bands.
The EP comes packaged in an unassuming cardboard sleeve, with a hand-drawn cover depicting an acoustic guitar against a typical Vermont scene: trees, mountains, stars, etc. Given the humble, homespun quality of the music within, it's an appropriate package. The EP, composed of four standards and two covers, leads off with "Pallet on Your Floor." Infused with a pretty, high-lonesome quality, the Ramblers' take is a little sweeter and twangier than the version blues man Mississippi John Hurt first made famous in the 1920s. No lead vocal credits are given in the spare liner notes, but the Sicelys' combined harmonic blend is naturally gorgeous and easy. It's like they share DNA or something.
That familial sensibility runs throughout the EP, and its inviting warmth is matched by the trio's immaculate instrumental performances. In particular, lead guitarist Rich Hill is a rockabilly monster. His chugging rhythm lines and fiery solo work imbue the project with classic country swagger.
The Sicelys' combination of instrumental prowess and vocal cohesion are particularly impressive on "Bartender's Blues," a song made famous by country crooner George Jones, though written by James Taylor. The Rounders perfectly capture the tune's tears-in-your-beer feel, and you just might want to stare down the bottom of a bottle by its conclusion.
The Hillside Rounders play an Irene-recovery benefit at the Old Labor Hall in Barre this Friday, July 20.