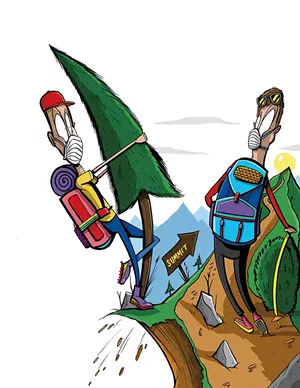 The Jerusalem Trail in Starksboro ascends from a dirt road, climbing for 2.4 miles through hardwood forest and an expanse of maples, connected by a cat's cradle of sap lines, until it intersects with the Long Trail two miles north of the summit of Mount Ellen. A wooden post announcing the trailhead bears a laminated sign that reads, "TRAIL CLOSED."
Cecilia Elwert, 67, is one of the Green Mountain Club's roughly 1,000 volunteers. She has been maintaining the Jerusalem Trail — digging drainage channels, clearing fallen branches, lopping unruly boughs — for more than a decade. Her work has gotten off to an unusually late start; typically, she might begin in mid-April, when the snow has mostly melted at lower elevations. But this spring, the GMC asked its volunteers to keep off the trails until Gov. Phil Scott amended the stay-at-home order to allow outdoor crews to return to work.
On a chilly Thursday morning in mid-May, Elwert had resolved to investigate the blowdown situation on the ridge. She parked her Subaru Outback along the shoulder of the dirt road with the "GMC Volunteer" sign clearly visible in her windshield, hoping to disabuse would-be hikers of the notion that the trail was open to the public. Elwert carried a long-handled rake and a 20-pound backpack filled with various sharp implements for pruning and sawing; I followed at a six-foot distance, schlepping her garden hoe.
As we made our way up the trail, Elwert paused every 10 or 15 yards to clear debris from water bars, man-made earthen gutters that carry runoff away from the trail. "I get to come out here and play Army Corps of Engineers," she told me, her blue eyes crinkling in a smile concealed beneath her face mask. "It's fucking great."
In one of the canals, she found a forked, six-inch-long twig that had collected a novel-thick sheath of dead leaves between its prongs. "Can you believe it? Water made this!" she marveled.
Occasionally, Elwert came upon a stone in the middle of the path and nudged it with her foot to see if it was loose. "I could move that," she mused at one point, jiggling a bowling-ball-size rock beneath her KEEN boot, "or I could teach someone a goddamn lesson about paying attention."
Elwert struggles with what she perceives as the oblivious consumption of nature by — she's not shy about naming culprits — the Instagram generation, the people who use the outdoors as a backdrop to evince their coolness. Lately, a pandemic-induced surge in hikers has compounded her frustration, and she fears that their uncontrolled presence will ruin the summer for everyone.
"People are so ravenous to be out on the trails right now," Elwert said. "And when they post photos of themselves standing triumphantly on a summit, other people see it and think it looks authoritative — like, 'Hey, the mountain is open!'"
Her concerns aren't unfounded: Across the country, the restless quarantined masses have been swarming green spaces, prompting officials and conservation groups to impose restrictions in the interest of human and environmental health.
In New Hampshire, the Appalachian Mountain Club closed all its huts in the White Mountains for the summer, citing concerns about excessive crowding. Earlier this month, the U.S. Forest Service in Vermont closed backcountry campsites throughout the Green Mountain National Forest, a 400,000-acre swath of land, to preempt a run on the wilderness and reduce the risk of transmission in structures too remote to be consistently sanitized.
The Long Trail closed in late March in accordance with public health recommendations, even though the trail was already nominally "closed" for mud season. But Keegan Tierney, director of field programs for the Green Mountain Club, acknowledges that enforcing trail closures is a logistical impossibility.
Over the past few weekends, he said, some hiking spots along the Long Trail — particularly the Burrows Trail in Huntington, one of the shorter routes to the summit of Camel's Hump — have experienced the same number of visitors as peak foliage season. (A solar message board on the road to the Burrows Trail parking lot, flashing the words "Trail Closed," has not had the intended effect.)
Since the beginning of May, GMC volunteers like Elwert have been preparing the 272-mile Long Trail, as well as the 166 miles of side trails under the GMC's stewardship, for their official reopening on Memorial Day weekend. However, Tierney said that Long Trail facilities, including shelters and composting toilets, would likely remain closed for several more weeks, largely because of the challenge of ensuring proper sanitization in the backcountry.
Overnight tenting will still be permitted, provided that campers respect ecologically sensitive areas and social-distancing etiquette, and the Department of Forests, Parks and Recreation is advising hikers to wear cloth masks whenever other people are present — a small price to pay for public health. "We're worried about staff and volunteer health, particularly for people who work near popular summits and backcountry ponds," said Tierney. "We don't want hikers to cluster at those sites."
In a normal spring, the GMC hires a seasonal crew of about 40 staffers. Most of them are in their twenties, noted Tierney, with the nomadish résumés of people who organize their lives around being outside. When they're not clearing trails and patrolling ridgelines, the crew shares a bunkhouse in Waterbury Center, where sickness could easily spread: "If one person got sick, everyone would get sick," he said.
This year, Tierney plans to employ just 10 staffers. They'll target the most popular trails and summits — including Mount Mansfield and Camel's Hump, both of which receive more than 50,000 visitors each summer — and Stratton Pond in southern Vermont, the largest body of water on the Long Trail. But he emphasized that the trail crew doesn't have the capacity to act as social-distancing police.
"We're going to focus on educating people about being responsible and considerate of other hikers, and maybe ask them to avoid taking a two-hour lunch break on the summit so that other people can enjoy it," Tierney said. People should treat this summer as an opportunity to expand their hiking repertoires, he added: "If the Burrows Trail parking lot is full, you can drive a short distance and be at the Beane Trail, or go to the Jerusalem Trail in Starksboro."
Pandemic-related hiring freezes have also stalled the reopening of the state's campgrounds, which were closed to overnight visitors by the same order that shuttered hotels, inns and Airbnbs. (The parks have remained open for day use.) When Scott cleared hospitality businesses to resume operations, starting on May 22, state parks began accepting campground reservations for June 15 or later.
But that date, as it turned out, was too optimistic. Campgrounds require a significant amount of preparation — in a normal season, the labor of some 400 temporary employees — to accommodate visitors. Until last week, Michael Snyder, commissioner of the state Department of Forests, Parks and Recreation, couldn't hire any seasonal workers, and the opening date had to be postponed, forcing the state to issue some $320,000 in reservation refund vouchers. Snyder and his staff are now working to get campgrounds up and running by June 26.
"There's an enormous amount of infrastructure that has to get opened up every year," said Snyder. "And in the time of a pandemic, we have to completely change the way we do things."
His department recently applied for a $2 million loan from the federal Coronavirus Aid, Relief and Economic Security Act to subsidize the cost of hand sanitizer and protective gear for employees. This season, Snyder said, cabins and cottages will remain closed, but lean-tos, RV hookups and tent sites will be available, sans picnic tables. Campgrounds won't offer any bike or boat rentals, and snack bars and gift shops will stay dark. As a precaution, the state is advising people to wear masks around the park, except when swimming, eating and hanging out at their campsites.
"We're trying to figure out how we can limit campground density, how we can sanitize cabins and sites between families, and how we do all of that while making sure that visitors from out of state have self-quarantined for 14 days," Snyder said. "There's no scenario in which we don't operate at a loss."
That prediction presents a rather depressing irony: If Vermont's summer looks anything like this spring, parks and trails will be teeming with people, some of whom might have contributed to the state's dwindling coffers in exchange for the privilege of recreating on public lands.
Snyder estimates that, each year, Vermont's state campgrounds take in $7 million in direct park sales — reservation fees, firewood and travel-size tubes of toothpaste from the commissary. Overnight campers, half of whom come from outside Vermont, spend roughly $90 million at local businesses in the surrounding areas. But given the pandemic's impact on restaurants and retail — not to mention the unemployment rate, currently at its highest since the Great Depression — it's unclear how much disposable income people will have to spend this summer, or where they'll actually be able to spend it. In other words, the economic power of the state's outdoor recreation infrastructure might not be so multiplicative this year.
Elwert, the GMC volunteer, thinks that all these uncertain roads ultimately lead us back to nature. "Hiking is free," she said. "And people don't think of nature as a place where you can transmit disease."
In a pandemic world, the woods feel like the last pure place, a respite from the sensory sameness of life under quarantine. But in Vermont, the general public's experience of nature as a pristine refuge is, in fact, the product of massive amounts of human labor — labor that often goes unseen, even in normal times.
Now, out of an abundance of caution, Elwert has been avoiding the trails on the weekends, when she would be more likely to encounter large groups of people. Sometimes, she said, she leaves little traces of her handiwork behind — an overturned rock, a cleanly sawed-off tree limb — as a signal to passersby that someone else cleared the way for them.