roost/adirondacksusa.com
Cobble Hill
A relentless rain accompanied a recent ferry ride and drive over to the Adirondacks, doing nothing to improve the piss-poor public-relations image that upstate New York had endured since the escape of convicts Richard Matt and David Sweat.
But as I pulled into the town of Lake Placid, the sun began to sparkle in a cloud break across Mirror Lake, and the picture turned more auspicious. The eponymous inn would be base camp for my exploration of the surrounding wilderness by wheels, feet and paddles in less than 24 hours.
I'd set myself a daunting task: More than 2,000 marked hiking trails spiderweb the 6-million-acre Adirondack Park, the largest such system in the nation. The park offers just as many bicycle routes. For those who prefer to go by water, meandering rivers and a long necklace of loon-topped lakes make canoes, kayaks and, these days, standup paddleboards as de rigueur in the 'Dacks as Chris Craft boats once were. Sampling it all is a tough job, but somebody's gotta do it.
Hiking
Dawn broke like an egg yolk over the Adirondacks, a pale orange glow that lured this trail runner from beneath the inn's fur blanket even earlier than usual. Forty-eight degrees, not yet 6:30 a.m. and crisp, it was the perfect morning to head up Cobble Hill, a 2,332-foot molehill near Northwood School. On the loop around Mirror Lake that leads to Cobble's trailhead, 46 concrete markers list the High Peaks — Gothics, Nippletop and the rest — offering a preview of the actual mountains to come.
Though Cobble Hill is a popular lunchtime hike, according to local Sandy Caligiore, not another soul was in sight during my 1.6-mile slog along Echo Lake and up through sopping leaves and streambeds to the summit. Muddy shoes were well worth the views of Lake Placid and the Olympic Jumping Complex.
For hikers who want to start earning their Forty-Sixer badges, "Cascade is the easiest," said regular Adirondack hiker Jess Collier of the 4,098-foot mountain off Route 73 between Keene and Lake Placid. (Forty-Sixers get those badges by climbing all the High Peaks that top 4,000 feet — technically, 45 do, but one slipped through the cracks.)
Bragging rights aside, Collier continued, "My personal favorite is St. Regis Mountain." At 2,874 feet, that one's not a High Peak, but has gentle grades and va-va-voom views.
Mount Marcy is the big mama, stretching 5,344 feet toward the sky; find the trailhead at the Adirondack Loj in Lake Placid. Prefer to get under the Adirondacks? At the Natural Stone Bridge and Caves in Pottersville, families without claustrophobic members can explore a waterfall-filled marble gorge.
Mountain Biking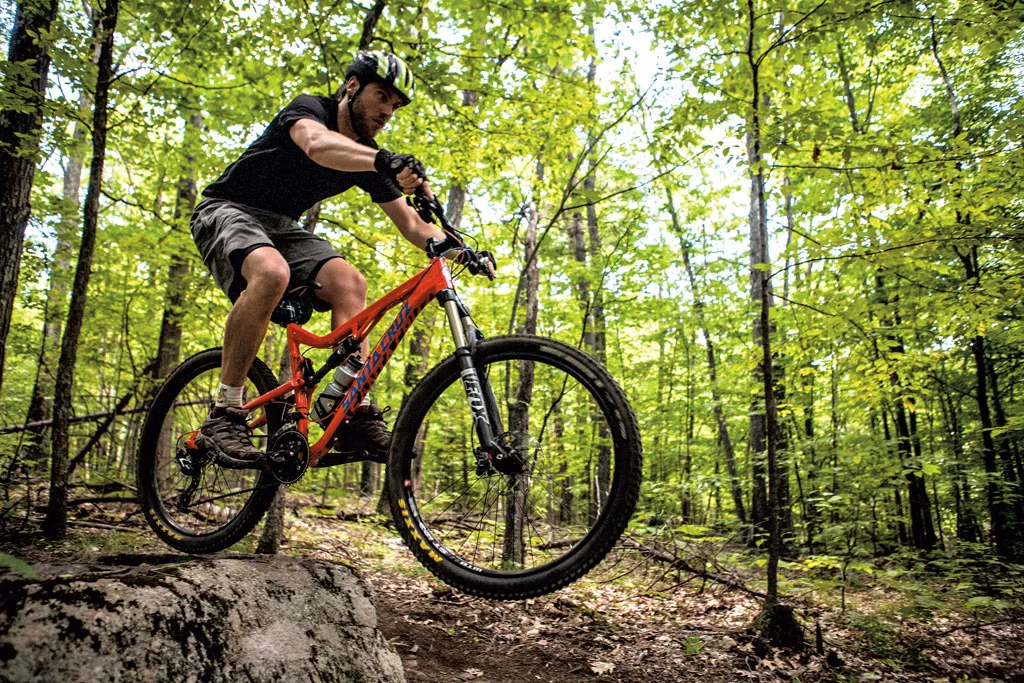 roost/adirondacksusa.com
Mountain biking in Wilmington
George W. Bush, so the local gossip goes, slayed the Bloomingdale Bog Hiking Trail while visiting the Adirondacks a few years ago. And if Dubya could do it, anybody can, right?
Not exactly. Skinny road-bike tires aren't suitable for this converted rail bed, which snakes 16 miles through the Adirondack Forest Preserve, over tree roots and beaver-dammed spots. And the damn trailhead was nearly as tricky to find as Matt and Sweat, whose "Wanted" shots I spotted tacked to a tree near the pullout on Route 86 in Saranac Lake. For little legs not ready to tackle singletrack or steeps, however, this route is just right.
Friskier stuff can be found on the Flume, a 10-mile system of multiuse trails that draws mountain bikers to the flanks of Whiteface Mountain in Wilmington. Knobby-tired enthusiasts also know to hit the Mount Pisgah and Dewey Mountain trails near Saranac Lake, and the Lussi and Loggers Trail near Lake Placid.
That last trail offers an easy detour toward another presidential favorite: the Lake Placid Pub & Brewery, whose Ubu Ale pleased Bill Clinton so much that he had three cases shipped to the White House.
Paddling
roost/adirondacksusa.com
Mirror Lake
Of all the sounds of summer, the splash of someone jumping from the dock may be the most joyous. It echoed across the glassy surface of Mirror Lake during my late-afternoon paddle in a lime-green Emotion kayak.
At 2.5 miles in diameter with an average depth of less than 15 feet, Mirror is no Lake Champlain, which is just the point. Instead of boating buzz, I heard the buzz of chain saws working on the great camps around the shoreline. The season unfurls more slowly here than in Burlington, and blooming lilacs added to a lemony scent hovering on the water.
I had time to look at the antique vessels — one named Schwing Ding, aka Slow & Smooth — in their carefully constructed dockhouses, to examine the lily pads and to listen to the frogs. Sure, a shirtless doofus was taking selfies from every possible angle, and a "Danger Thin Ice" sign on a deck offered a rude reminder of winter. But seeing kids dive into the lake was one of my best backcountry experiences of the season.
Lake Placid — the lake — which nearly touches Mirror Lake, is another fine spot for, well, placid paddling. The area has plenty more options: Take your pick from 2,300 ponds and lakes in the Adirondack Park, plus 1,500 miles of rivers. Whitewater rafting trips run through the Hudson River Gorge, while the St. Regis Canoe Area offers a more classic canoe trail in the Seven Carries Route. That runs from Little Clear Pond to Paul Smiths, a 10-lake, nine-mile trip that requires several portages.
Saying au revoir to the Adirondacks was the toughest part of all, as I left behind a glorious day that made climbing all the High Peaks suddenly seem achievable. On the ferry ride back across Lake Champlain, I befriended a couple who inquired about Green Mountain getaways: Where should they go in Stowe, Shelburne, Vergennes? Though I happily revealed some of my favorite Vermont hiking, biking and paddling spots, I knew the nearest exit to the wilderness was behind me.
If you're starting to find that simply putting one foot in front of the other is too pedestrian, it may be time to add a little something to the hiking experience. That's where geocaching comes in. The GPS-based treasure hunt sends pedestrians on a search for caches, each containing a set number of points based on difficulty, which they can then enter into a downloadable passport.
While the geocaching trend has been crisscrossing the globe for years, last month the Adirondack Coast Visitors Bureau launched its own trail. Thirty-five cache locations along the western side of Lake Champlain are worth a total of 100 points; amass them all and you get a special coin. But the thrill of the chase — for innocuous coordinates, not escaped convicts — may be priceless.