Jeb Wallace-brodeur
Annie Houston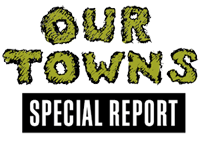 Greensboro, population 762, has long had a reputation as a hideaway for well-to-do second-home owners and highbrow luminaries. Wallace Stegner, William Rehnquist and Margaret Mead, to name a few, have all summered in this sleepy Northeast Kingdom outpost on the shores of Caspian Lake.
Now, Greensboro is also becoming known as a cultural destination, thanks to the $14 million Highland Center for the Arts. The über-plush performance and event space was funded by a gift from an elusive London businessman named Andrew Brown, who prefers to remain out of the spotlight.
Executive director Annie Houston, who joined the Highland staff at the beginning of 2018, said that Brown's goal was simple: to create a community hub around the region's vibrant arts scene. Bread and Puppet Theater, Circus Smirkus, Vermont Vaudeville and the Craftsbury Chamber Players are all tucked away in nearby hills. In Brown's view, what people lacked was a central gathering place to see what the Northeast Kingdom has to offer — and to connect with each other, Houston said.
"Sixty years ago, people around here went to church to see their neighbors and convene," she continued. "In the 21st century, we don't have congregations like that. For Andy, the idea was for this to become the place where people find that kind of community."
Since its official opening in June 2017, the Highland has had a full slate of programming — including performances by the Opera Company of Middlebury, the Vermont Shakespeare Festival's production of The Taming of the Shrew, and silent films with an improvised live score played on the resident Steinway by pianist Bob Merrill.
The 250-seat performance space, modeled after the Globe Theatre in London, was initially going to be the Highland's main attraction. But as the project evolved, Houston explained, the board wanted the building to accommodate more than just the performing arts.
"There's really nothing we can't do in these facilities," she said. (Having a patron with very deep pockets doesn't hurt.)
The 26,400-square-foot structure houses a 100-seat performance space, a 40-seat restaurant and an art gallery, as well as the round theater at its center — which, after a recent heavy snowfall, resembled a massive frosted cupcake. Except for Mondays, the Highland maintains a full schedule nearly every night of the week, with Tuesday trivia, Wednesday movies, yoga classes, community workshops and artist lectures.
On the Friday after Thanksgiving, Highland hosted a screening of The Big Lebowski and served movie-themed white Russian cocktails. (The measure of the evening's success? "The bartenders kept running out of half-and-half," Houston said.)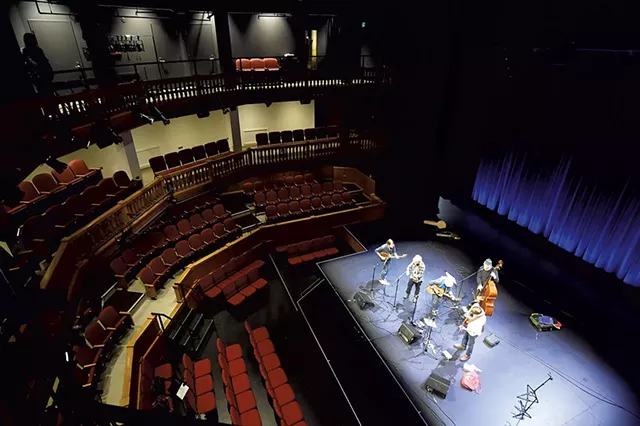 Jeb Wallace-brodeu
Highland Center for the Arts
Houston, 34, grew up in nearby Craftsbury and spent her early years handing out programs at Craftsbury Chamber Players concerts in the Hardwick Town House. After graduating from the University of Vermont, she earned a master's in arts administration at Boston University and worked in the field for nearly a decade in New England. When a childhood friend sent her the posting for the executive director position at Highland, Houston had no idea the gig would turn out to be a dream job.
For her, the deciding factor was the Highland board's commitment to making year-round residents and second-home owners feel equally at home.
"Greensboro carries this stigma: This is where people with a lot of money come," Houston said. "I wanted to make sure this was really meant for everyone."
When the building was completed, Houston noted, locals were a little wary of its grandiosity.
"People thought it would be elitist, too highbrow, something they wouldn't understand. There was a fear that we would steal the summer chamber concerts from the Town House," she said. "But our goal was to be inclusive, to build partnerships with local talent and business, and create an all-boats-rise situation.
"So far," Houston added, "I think we've been able to achieve that. There's truly something for everyone here."
One case in point: On a recent weekday afternoon, a dedicated cohort of parents braved a snowstorm to bring their middle-school-age boys to an improvisation workshop. The instructor, a Vermont Vaudeville actor, asked the class to do an exercise in which they had to point to an object in the room and blurt out anything except the name of that object. The boys stomped around the performance space in their squeaky rubber boots, mislabeling things with gusto.
"Chair!" one screamed at a backpack. Then, at a maximum-capacity sign: "Narwhal!" Another gestured up at the air, filled with the cacophony of adolescent male shouting: "Silence!"
Greensboro, quiet? Not anymore.
Correction, December 5, 2018: An earlier version of this story misidentified the pianist who improvised a live score to silent films. It was Bob Merrill.