Luke Awtry
Cocktails from the Narnia menu at Highball Social
If it's possible to have nostalgia for something that isn't over yet, I've got it. That wistful, longing feeling hit me over the head last week when I walked into Burlington's Highball Social to try the new winter menu.
On December 3, Stonecutter Spirits cofounders Sas Stewart and Sivan Cotel announced that they'll close both Highball Social and their Middlebury tasting room at the end of 2019, citing the "increasingly crowded marketplace" of craft spirits and the difficulty of expanding sales and distribution beyond the local market. The distillery will continue to sell its ample supply wholesale into 2020, though it has no plans for further production. So the Burlington lounge's new menu is also its final one: a delightful, seasonally appropriate mashup of childhood memories and adult activities inspired by C.S. Lewis' The Chronicles of Narnia.
Founded in 2013, Stonecutter made a name for itself with its Single Barrel Gin. Aged in Kentucky bourbon barrels, the smooth spirit won a Good Food Award and double gold at the San Francisco World Spirits Competition. Stonecutter's Heritage Cask Whiskey is no slouch either; distilled in Kentucky, then aged and finished in bourbon and cabernet sauvignon casks in Vermont, it shows up on drink menus around the state.
Stewart and Cotel opened their tasting room on Exchange Street in Middlebury in 2015, and Highball Social in the former funeral home behind Burlington's City Market, Onion River Co-op in fall 2018. The Burlington spot was Vermont's first permanent bar-restaurant operated by a liquor manufacturer, and opening it required some serious regulatory hoop jumping with federal and state authorities.
Highball Social is modern, playful and cavernous by Burlington bar standards. A pink mural covering the front entrance — complete with line drawings of botanicals, barrels and booze — distinguishes it from its neighbor, Folino's Pizza, and sets expectations of whimsy inside. With less than a month left to get my fill of Stonecutter's carbonated highballs and twists-on-a-classic, I grabbed a seat at the bar to chat with Stewart and take a trip through the wardrobe into Narnia's winter wonderland.
Over the year and a bit it's been open, Highball has embraced theme menus: Jaws, "Twin Peaks," A Christmas Carol, Choose Your Own Adventure, the Chinese New Year (with a drink for each zodiac sign), the seven deadly sins, Mean Girls. "We started doing theme menus at Stonecutter's tasting room," Stewart said. "I loved it and thought it was a nice way of organizing things creatively, to have something to work from and to entice people to try something new."
Stewart changed themes monthly in those early days in Middlebury, coming up with three cocktails for each. When director of beverage programming Martha Mack came on board, the distillery started doing more extensive menus and changing them less frequently.
"Theme menus allow us to really push the creative boundaries of what we can put in cocktails, because we couch it in something that's super approachable," Stewart said. "We're picking cultural touch points that have a broad enough appeal that if you know it, you're so fucking pumped. If you don't know it, you can at least see that there's a cohesive thought pattern behind it."
Stewart calls Narnia a "perfect send-off menu." Based on the seven-book fantasy series published in the 1950s, the seven-drink list highlights a broad spectrum of cocktail styles and uses all four of Stonecutter's products, including the newly released Barrel Strength Whiskey. "It's a place that we can all come back to," Stewart said.
The theme was Mack's idea. In the first book, Narnia is a world stuck in endless winter, and while the author gets some flak for his Christian allegory, that element makes the theme seasonal without being "too Christmas," Mack said. "It's a great escape and a fully realized world. Narnia has this woodsy, wintry feel that is easily translatable to cocktails."
Drinks are named after beloved characters — and Turkish delight, of course — with quotes tying each to the enchanted world. I took one look at the menu and was immediately transported back to childhood, recalling a quote from the opening of The Lion, the Witch and the Wardrobe: "This is going to be perfectly splendid."
I ordered the Great Lion ($12): Stonecutter's Heritage Cask Whiskey, Carpano Antica Formula sweet vermouth, Dolin dry vermouth, Bonal Gentiane-Quina and Fernet-Branca. The quote: "He's wild, you know. Not like a tame lion."
Stewart called this a play on the classic Hanky Panky with whiskey substituted for gin. She credited the Bonal and Fernet with adding a woodsy, earthy note. "If you were chopping wood, this is what you'd drink after," she said. It was the cocktail equivalent of donning one of the oversize fur coats the children in the book grab from the wardrobe: warming, practical and necessary for winter.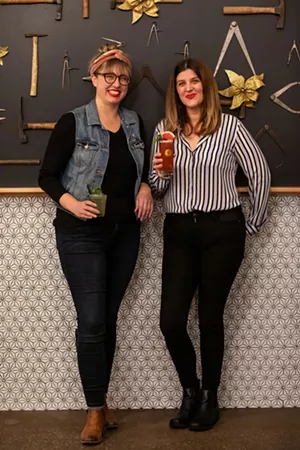 Luke Awtry
Sas Stewart (left) and Martha Mack
The menu isn't all dark and broody, though. Queen Lucy the Valiant ($9) is "a breath of spring in a January thaw," Stewart said. It's a cocktail version of green juice, with Stonecutter's Single Barrel Gin, arugula, tarragon, mint, lemon, Green Chartreuse and soda water. The arugula — certainly an unusual drink ingredient — is both used in a simple syrup and blended in, producing a vibrant green drink that is light and refreshing.
Queen Susan the Gentle ($11) is another refreshing crowd-pleaser, composed of Stonecutter's Single Barrel Gin, rosé, mixed berries, cardamom, lemon, Pimm's and Aperol. "It's a winterized hybrid of two of the drinks from the Mean Girls menu," Stewart said. "Riffing on a previous drink is a cool way of building cohesiveness even though we're changing the menu all the time."
The cardamom and mixed berries add the winter notes. "The Mean Girls menu was as if the Mean Girls themselves were cocktails; they were fruity and forward and a little easy," Stewart said. "This has complexity that you look for with winter drinks. If you were in Narnia, what would you be drinking?"
Cocktails that meet classic expectations of winter, besides Aslan's namesake, are King Peter the Magnificent ($12) and King Edmund the Just ($12). Peter is a riff on an Old Fashioned, with three different amari contributing nutty, caramel and woodsy notes and highlighting the red wine barrel finish of the Heritage Cask Whiskey. The drink's spiced maple syrup features black pepper, star anise and cinnamon. Edmund is the bar's Manhattan riff, with Benedictine bringing herbal and honey notes.
Tumnus the Faun ($9) is a clarified milk punch with Single Barrel Gin, Earl Grey tea, port, lemon, pineapple, star anise and cinnamon. "Clarified milk punch is a colonial-era preservation technique that endured because it's also delicious," Stewart said.
The batched cocktail has a backbone of spice that definitely evokes teatime in a cave with a peaceful host who's half human and half goat. I could almost hear Mr. Tumnus' invitation: "Daughter of Eve from the far land of Spare Oom where eternal summer reigns around the bright city of War Drobe, how would it be if you came and had tea with me?"
The final drink on the menu, Turkish Delight ($11), is good enough to make anyone sell out their siblings to an evil witch (as Edmund does in the book for hefty helpings of the gel confection). "It's like a beautiful Negroni pillow," Stewart said.
Stonecutter's gin, Campari, grapefruit, lime, rosewater and simple syrup are shaken with an egg white and kissed with raspberry dust. An optional pairing with a Turkish Delight macaron from Monarch & the Milkweed ($4) takes the fluffy pink drink to another level. "It's one of the most popular drinks already," Stewart said.
The response to the menu has been overwhelmingly positive, according to Stewart. "It's just fun," she said. "At the end of the day, we're in the business of making people feel that they have ownership of a space. It's already a time of year where you're feeling a little nostalgic. It's the holiday season; it's snowing outside; it's dark at four o'clock. Why not warm yourself with a little whiskey and a little nostalgia?"
While the nostalgia creeps in — for childhood, and soon for Highball Social itself — Stewart and her team will celebrate all month with a packed calendar of events. The bar's last night is New Year's Eve, when the send-off will be a Gatsby-themed bash with live jazz, themed cocktails and a Champagne toast.
Until then, I'll be heading through the wardrobe as often as I can. And, like Lucy, Edmund, Susan and Peter, when I look back on the creative, damn good drinks at Highball Social, I'll remember life in that world "as one remembers a dream."