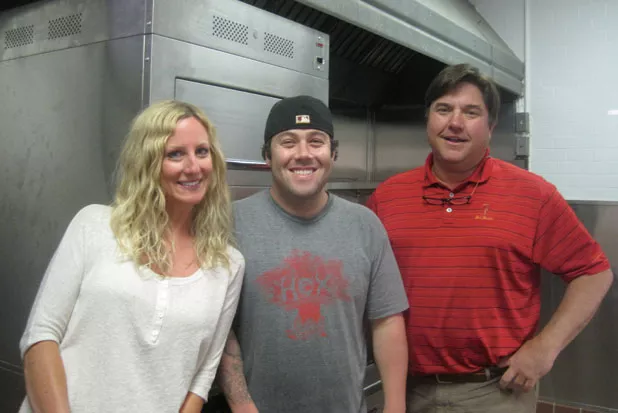 (Left to right) Sarah Oles, Brian Jenzer and Tim Halvorson
Carnivores on the hunt for fine steak will be satisfied in early July. That's when they'll be able to sidle up to the Danby white-marble and mahogany bar at Strong's for one of the upper Church Street steakhouse's first aged prime cuts.
Owner Tim Halvorson, of nearby Halvorson's Upstreet Café, says the upscale steakhouse will also focus on creative cocktails, such as a manhattan made with black-cherry balsamic vinegar from Church Street neighbor Saratoga Olive Oil. The drink is the brainchild of general manager Sarah Oles. She joins Halvorson and executive chef Brian Jenzer as the new restaurant's core team.
Jenzer comes to Burlington directly from a job as chef de partie at Iggy's, a Singapore spot featured in scores of best-in-the-world lists. He and Halvorson found each other through Jenzer's girlfriend's dentist, a Halvorson pal. "She was sedated and let it out that a hotshot was coming," jokes the restaurateur.
The hotshot's menu includes plenty of classic steakhouse fare to keep traditionalists happy, though much of it has a twist. The baked potato is smoked, while steak fries are triple-fried and flavored with white truffle oil. Prime steaks — in cuts including porterhouse, strip and boneless ribeye — can be dressed with sauces such as Béarnaise, chimichurri and Coca-Cola steak sauce.
Jenzer promises that even dishes that sound ordinary, such as a chopped salad, will be extraordinary. "Our clientele is going to be higher end, and we need everything to be eye appealing," he says of the emphasis on presentation.
Though Halvorson has yet to set an opening date, he says he plans to begin a week of soft openings soon, followed by a July grand opening.