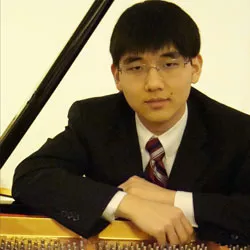 The Vermont Philharmonic Orchestra's concert this weekend includes a Brahms overture, a Beethoven Mass — and 16-year-old Kevin Wang on piano in Gershwin's Rhapsody in Blue. Having won the VPO's Jon Borowicz Memorial Student Music Scholarship Competition for his performance of the piece, the South Burlington High School junior must now reprise it, this time backed by a full orchestra.
No sweat: Wang has played piano since the age of 6. He is also captain of his school's debate team, math league and Scholars' Bowl, a "Jeopardy"-type competition for high school teams. His parents are from Xi'an, China.
Another tortured product of "tiger mothering," à la Amy Chua's recent bestseller on extreme Chinese parenting, Battle Hymn of the Tiger Mother? Actually, no. Far from being pushed to take up piano, Wang recalls, "I always knew I wanted to play. I haven't always wanted to practice," the friendly, relaxed teen adds with a laugh. He "should" practice an hour a day, he admits, but "it's not anywhere near that on the weekdays" due to his school activities.
Wang judges himself "not good enough to go to conservatory" — he's interested in pursuing finance or law — but that assessment proves doubtful when he sits down at his family's Kawai 6-foot grand and tosses off the opening bars of "Rhapsody." Wang's movement is almost balletic, which lends his phrasing an immediate beauty. Both are of a piece with the room, which is precisely arranged with carved jade sculpture and rosewood chairs upholstered in shimmering Chinese fabrics. A stringed instrument called a guzheng occupies another corner. Wang has played it since fourth grade, when his father, an economics professor at the University of Vermont, took the family to live in China for a year on a Fulbright Fellowship.
"He could be heading for a conservatory," affirms Wang's piano teacher, Paul Orgel, "but his priorities are really set. Piano for him is an avocation." Nevertheless, Orgel adds, "Kevin has a very natural and joyous, physical approach to playing."
A soloist and UVM affiliate artist, Orgel has taught two former Borowicz winners, including 2009 winner Samantha Angstman, now a student at the New England Conservatory and a member of the Burlington Ensemble.
Orgel, whose private students are typically advanced high schoolers, notes that 10 of his current 13 are Chinese. He thinks author Chua may be "talking about a real phenomenon," but he considers Wang to be in a class by himself. "The thing about him is that he's totally open to anything," Orgel says. "He has total enjoyment of classical music. He's just a really lovely person."
Wang seems more excited than nervous about his first appearance with an orchestra. It's the music that interests him, not his playing. For eight months, he explains, he practiced and then performed "Rhapsody" for the competition with Orgel accompanying him on a second piano. Now he's been to two of four scheduled rehearsals with the Philharmonic. "It sounds so much better with an orchestra," Wang enthuses. "The dominant solos — clarinet, trumpet — you gotta hear it."