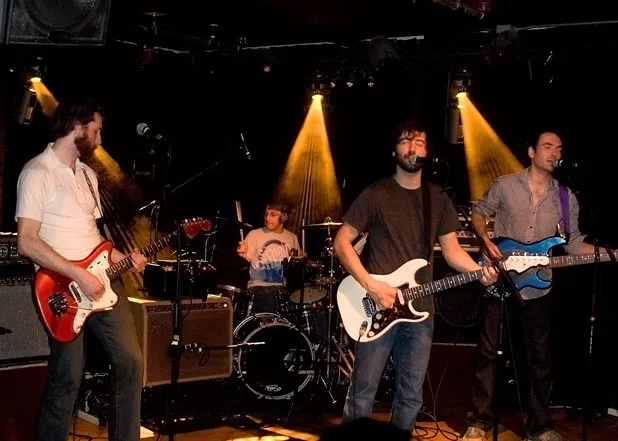 There is a widely propagated fallacy in rock music — OK, there are actually dozens. But among the more egregious is that for a band to truly be "good," they have to be able to recreate the magic of the studio in a live setting. Or, conversely, to capture the immediacy of live performance on record. Either notion is tall order. And as each is its own art form, neither expectation is particularly fair. There are advantages to studio performance that one simply can't reproduce live, and there are aspects — albeit mostly intangible — of live performance that don't translate to a studio recording. Both disciplines provide different challenges, requiring markedly different skill sets to solve. And bands that have mastered each are few and far between.
As I strolled into Nectar's last Friday night to catch Burlington-based indie-pop quartet Lendway's CD (and vinyl!) release show, I found myself guilty of projecting that very falsehood upon the band: Given the immaculate studio trickery of their debut offering, The Low Red End, how would they pull off the album in concert? (I'm obviously paraphrasing my thoughts here; even music critics don't think in such conveniently scripted jargon.)
The question was answered immediately. As the band climbed on to the circular stage, lead vocalist Michael Clifford addressed the near-capacity crowd first with genuine, borderline-uncomfortable, aw-shucks gratitude. As if he honestly thought no one would show up. He then announced that the band's entire first set would consist of the album, start to finish. Like a Lendway tribute to, well, Lendway. Hey, it was their night, right?
The album begins with a slow bleed-in of canned crowd noise into the first cut, "Yard Sale." As the show began and the tune's initial meandering notes wafted through the club' speakers and over the audience, I wondered if they had that in mind when deciding to perform the disc in its entirety. Either way, the effect was eerily close to the mark. It would not be the only time their performance mirrored their record.
One of The Low Red End's more remarkable qualities is the effectiveness with which Lendway makes use of vocal harmony. On record, they are impeccably blended and tastefully, if somewhat basically, arranged. So, too, in concert did the band deliver spot-on vocal renditions, ably meeting the not-insignificant challenge of blending and matching four-part harmonies in the acoustically unfriendly confines of a crowded rock club. In particular the layered, swooning vocal flourishes of "Hollywood" — my favorite cut from the album, and perhaps the most vocally ambitious — were chilling.
Whether feeding on the energy of a packed house or the unique high of releasing their debut album, Lendway played with an immediacy far outstripping anything on the record. Songs such as "Kindergarten," while adequately translated in studio, took on a vibrant and vital new dynamic in concert. Where many bands might play fast and loose as result of the adrenaline high, Lendway exhibited commendable restraint, seeming to channel their nerves rather than succumb to them. This was likely due in no small part to drummer Todd Gevry, of whom a noted local musician in my vicinity remarked, "He's a fucking metronome."
The band's second set was a tad looser. Consisting primarily of new material, which will presumably appear on a forthcoming EP, it was practically celebratory. No one would accuse Lendway of abandoning their Beatles-inspired roots, but the new songs felt more muscular, even if sometimes delivered with less dexterity than was the band's first set. In fact, the Built To Spill influence found on The Low Red End appears to be rearing its head — although that could just be guitarist Matt Hagen's increasingly Martsch-ian beard.
Does a band have to excel equally on stage and in the studio? No. But it just so happens that Lendway does. And that should serve them well moving forward. Following one of the numerous moments — by my count, roughly 12 — that Lendway thanked the audience for coming, an agitated heckler from the back of the room shouted, "Get used to it!" That's good advice, boys.