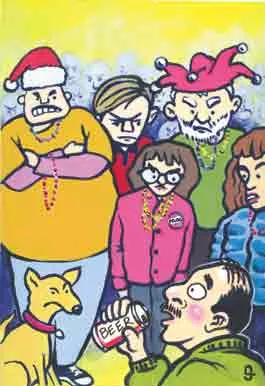 Illustration: Gary Causer
A new front emerged last week in the ongoing war for the soul of downtown Burlington. Fueled by fear, angry words and deeply felt personal and political views, this campaign has become a millennial battle over booze.
The immediate brouhaha — or should we say brew-ha-ha? — concerns a proposed resolution to ban alcohol consumption at outdoor events on public streets. The idea was introduced at a February 13 meeting of the Local Control Subcommittee by City Councilor Tom Smith, who explained that the measure would not apply to parks or Marketplace cafés. A second proposal under consideration urged no outside consumption permits whatsoever for St. Patrick's Day, March 17.
"If the City goes on record closing public streets, it's like saying consumption is OK," suggested Smith, citing several statistics about the dire consequences of alcohol abuse.
Some people in the alcohol-consumption business, objecting that use does not automatically equal abuse, urged the subcommittee to avoid harming the city's celebratory spirit.
"I would really caution you not to go down that path," pleaded Alan Newman, co-owner of Magic Hat Brewery, which sponsors the annual Mardi Gras parade and block party. "Cities all over the Northeast would kill to have the vibrancy of downtown Burlington."
Jack O'Brien, co-owner of Red Square and Club Metronome, was irate. "We're absolutely shocked that this is actually being proposed," he said — shocked enough, apparently, to place a recent newspaper ad warning that Smith's resolution could put an end to all festivals, dancing and even smiling.
As Seven Days goes to press, the Local Control Commission — the Burlington City Council acting as an official arm of the state — is meeting to vote on both resolutions. Neither is expected to pass. But the heated rhetoric did not originate with Smith's push for a ban on drinking at outdoor events. It's just the latest shot fired over the bow in a prolonged struggle between the City and the bars that began when officials decided to get tough in the intoxication imbroglio.
The new effort can be traced to the so-called riot in the fall of 1998, when people streaming out of downtown bars threw bottles at police who had stopped a car for a suspected DWI. "What that said — in combination with continuing problems like noise, public urination, fights, drinking on the street, underage drinking — was that we have a serious problem," recalls Assistant City Attorney Gene Bergman. "We began to prosecute for the first time in ages. We started to reorganize the staffing and focus of the police, as well as coordinate with the Fire Marshal's office and the state's liquor control inspectors. This had not been done before."
Burlington went on the offensive. "What I see is a city wanting to take a lot more control," observes Paula Niquette, an investigator for the Vermont Department of Liquor Control. "It's the only city I know of in the state that's tried anything like this."
Lieutenant Walt Decker of the Burlington Police Department believes it's merely a question of emphasis. "We've been tightening the belt. Some people are complaining about the enforcement of regulations, but these laws have been on the books for years."
"No one was actively monitoring the size of crowds in local establishments, so a year ago we got permission from the Fire Marshal to ask for a head count," Decker says. "That produced a big reaction from the bar owners: 'Omigod, this is a travesty to our business!'"
Fire codes have become as important as existing liquor laws, he adds. "We now make some bars form a line so many feet away from the door when people are waiting outside to get in."
Another pre-emptive strike was launched after three or four bar fights last year. "In one of them, a young man was severely cut from being struck in the head with a broken bottle," Decker recalls. "It was over someone spilling beer on someone else on the dance floor. We began insisting on no consumption while dancing. That was very painful for some bars to hear."
---
Burlington's new initiatives to ensure that bars are in full compliance with the law means the City "is slightly ahead of the curve," Decker says. In the Midwest, he points out, stadium sporting events are often accompanied by tailgate parties involving thousands of drinking drivers. "Some of those places have zero regulations. They haven't even begun to deal with it yet. There isn't the political nerve to put the issue on the table."
Political nerve is precisely what has infuriated O'Brien since the city "launched a major crackdown a little over a year ago. We do need to have a legitimate debate on alcohol, but penalizing the bars is irresponsible just because Tom Smith feels that way. It's like we're in a nasty fight and they hide behind the bureaucracy."
O'Brien, who has weathered numerous disagreements with the City on alleged fire and safety violations at Red Square, is troubled about a meeting with bar owners that took place in early August last year. "Ray O'Connor [director of Burlington's Code Enforcement Services] told us that, if we get out of line, he'd ask federal and state agencies to audit our taxes. Everyone was shell-shocked."
Bergman, a former city councilor, acknowledges that such a step is not unthinkable. "If they don't control their establishments and adhere to the law, public scrutiny would be upon them."
Although he did not attend that August meeting, Smith thinks that O'Connor "meant we'd use all the tools necessary. Bars are upset to be held accountable for over-occupancy and over-service. They're trying to paint the City as a bogeyman that's out to get them.
"Jack's been hit hard," Smith continues. "His establishment has been a problem. He's reacting to our willingness to enforce the law."
There's no love lost between Smith and O'Brien, but the entrepreneur seems to consider Bergman his true nemesis. "He's behind the scenes, pushing the whole agenda. Gene's on a personal vendetta, fooling with my livelihood and trying to systematically destroy the city. He's dangerous and vindictive."
For his part, Bergman thinks O'Brien and other bar owners who complain about the crackdown are crybabies. "They can't see the legitimacy of what we're doing, so everything looks mean and evil to them," he says. "I don't want to prosecute bars, but they should know I'm serious about my job. They're selling a highly dangerous substance. The business is fraught with danger, and the role of government is to make sure they're operating within safe limits."
Statements like that might be why some of the bar-friendly forces in town have nicknamed Bergman Burlington's "Eliot Ness," the legendary agent who went after Chicago mobsters in the days of Prohibition bootleggers and speakeasies.
"I don't know what's driving Gene," says Eric Filkowski, general manager of Rì Rà, the Irish Pub on Church Street. "He and Tom seem to think the bars are ruining Burlington. Does the City not want to issue liquor licenses? Where do you draw the line?"
Some of the scrapping protagonists maintain that a line was drawn after last year's St. Patrick's Day festivities, which included a tent in the middle of College Street between Church and South Winooski Avenue that was sponsored by a few nearby bars. "Friday traffic was disrupted," says Filkowski, stressing that Rì Rà had its own event taking place around the corner on Church Street. "The Free Press, which is typically anti-bar, led the outcry about the City facilitating drinking," he adds. "That was the straw that broke the camel's back."
Decker says the tent did not pose any significant problems for police. Niquette, on duty to monitor the event for the state liquor control department, witnessed no violations. But the daily newspaper stirred up instant controversy about the celebration going on outside its own front door.
"The Free Press published a photo of a young person at the College Street tent holding a pint of Guiness, along with a story on a University of Vermont/Harvard University study about binge drinking," Decker says.
The result, he says, was a flurry of letters to the editor. The City Council also received a good deal of negative feedback about allowing the street to be used for a party with alcohol.
According to Smith, one such citizen response came from real-estate developer Rich Feeley, who charged that permitting alcohol at a St. Patrick's Day shindig was a cultural slur akin to serving watermelon at a Martin Luther King Day celebration.
---
In his "No Festivals!" newspaper ad, O'Brien suggests that Irish Catholics are a prime target of any ban on street consumption. He also implies that Burlington could become a "wasteland," with no Mardi Gras parade, no jazz, no spontaneity.
"Those are self-serving inaccuracies," Bergman says. "Tom's resolution doesn't say no tents on public streets; it just says no alcohol. Their fear-mongering is unjustified. St. Patrick's Day did not basically change what we had been working on for quite some time prior to that, even though having it be a drunk fest has its own issues for the Irish community from a public-health standpoint. I'm not trying to heighten the antagonism, but it's unfair to say the city is going to dry up."
Although the Magic Hat-sponsored College Street tent serving alcohol at the annual Burlington Discover Jazz Festival might disappear if Smith's resolution passes, the popular week-long music extravaganza is unthreatened.
"It would be a shame to see the event go away, but that's not likely to put an end to Discover Jazz," says festival director Mike Bandelato.
Magic Hat's Mardi Gras, taking place this Saturday, is part of the debate.
"Some convenience-store clerks told me they couldn't believe how impaired people were for last year's Mardi Gras," Smith says. "There needs to be an awareness that you can't get back on the road like that."
At the meeting last week, Newman welcomed the Vermont State Police plan for sobriety checks on all the major arteries out of Burlington during Mardi Gras. Somewhat ironically, the event is a fundraiser for the Women's Rape Crisis Center — even though alcohol is seen as a major contributing factor in violence and domestic abuse. But "the overwhelming majority of people drinking at these events are well-behaved," Newman pointed out.
Smith concedes that the proposed resolution is mostly a symbolic act, which has little support even from his political allies. "I'm worried about consumption on city streets increasing the visibility of alcohol. It's tacit promotion. At one time, nobody was bothered by Marlboro ads contributing to the public-health hazard of tobacco. I've been a loner on this, but I don't mind being out there. Peter [Clavelle] thinks I've gone too far."
While categorizing Smith's resolution as "an overreaction," the Mayor refers to the coexistence of sober public policy and tipsy public merriment as "a balancing act" for city officials — for whom noise problems from house parties in residential neighborhoods have been as much a burden as the sometimes unruly bar scene.
"I don't think we should turn the streets over to drinking, but these activities do contribute to downtown vitality," Clavelle surmises. "We have certain responsibilities regarding abuse and overuse of alcohol, so I don't think we need to apologize for being diligent. Our efforts have been evolving over a period of years in reaction to the erosion of the quality of life for many citizens. Burlington will not be a dry town, but we respect the right to get a decent night's sleep."
City Councilor Jane Knodell, also a Progressive, indicated at the Local Control Subcommittee meeting that she would have trouble supporting Smith's proposal when it came before the full Local Control Commission. "Unfortunately, the restaurant-bar business community has the perception we're about to enact something pretty draconian. Tom's resolution makes it look like we're on a Prohibition path, which we're not. It creates a huge public-relations problem."
Knodell is philosophical about the council's fervor for reining in alcohol excess. "We went from being very passive to being very active," she notes. "Some people feel we're too zealous, but I think we'll bounce back to a happy medium."
Smith remembers how lax the City used to be about alcohol violations when he served as a councilor for four years in the late 1980s, before a stint in the State Legislature. "I was on the city licensing committee. During those four years, there was not one sanction against a bar. We had an attitude of, 'Aw, jeez. They're gonna feel picked on.' When I came back to the council in 1996, it was a new day. We're now holding these guys accountable. I want the bars to be more professional, and they're freaking out from being forced to play by the rules."
Smith was the lone city councilor to vote against granting a license to Rì Rà, an establishment that Knodell praises for having "the strong management approach necessary to follow the law." For Smith, the decision stemmed from dismay that "we have an inordinate number of bars downtown, but no hardware store, no supermarket, no affordable housing."
An avowed Marxist, Smith insists his leftist outlook is not that of a prude. "I drink and dance," he says. "In fact, I'd like to decriminalize marijuana. Alcohol is a much bigger problem. In 1965, I lost my 13-year-old brother to a drunk driver. Nothing happened to the guy, but it destroyed my mother's life. Although I tend to be a little more sensitive on this issue, I'm not a maniac."
Since the crackdown began, Smith adds, there has been "no public outcry about our enforcement efforts. We're just trying to maintain higher standards, to give the City more muscle."
That muscle has provided some statistics. Since the City began its march toward enforcement, Decker says, alcohol-related crimes have steadily decreased. In July 1999, for instance, the police responded to 63 assault and disorderly conduct complaints; a year later, the number had dropped to 37 in the same month. By July 2000, the figures plummeted from 97 down to just one in a category that includes downtown traffic accidents.
"We're trying to make sure that the bars do not put a burden on police services and the taxpayers as a whole," Decker explains. "The police don't like being the drunk patrol."
That patrol had a busy night last November, when Rasputin's was ground zero for a strange scenario of alleged sex, lies and videotape. Two underage women with fake IDs staggered out of the lower Church Street bar, which is popular with college students. As they got into a car and started to drive away, the cops nabbed them.
Smith says the police report quotes one of the girls admitting that she had "humped" the nightclub's bouncer. "She told them, 'Rasputin's lets us in because we have big breasts,'" he recounts.
Also in November, police who dropped in at Ruben James on Main Street discovered bikini-clad women dancing in a hot tub, as male patrons hooted and hollered. "Those activities are not against the law per se, but they need an entertainment permit," Bergman explains.
"That's not an environment I want women to encounter when they go into a bar for a friendly beer," Smith says, "but what can one city councilor do about the objectification of women in order to sell more alcohol?" Penalties for this and other violations at Ruben James were part of a plea agreement scheduled to be determined earlier this week.
Rasputin's is looking at a 15-day liquor license suspension. Requesting a reduced penalty, the bar's attorney last week handed the Local Control Subcommittee a videotape of the night in question to show that the establishment did not willfully over-serve the zaftig minors.
Rasputin's keeps 14 — soon to be 17 — hidden cameras trained on their customers, and they're not the only local bar to implement some kind of surveillance. In addition, several "undercover" employees mingle with the crowd to sniff out patrons breaking the law. Bars have immense liability worries, because alcohol servers are held responsible for any crimes committed by people who leave their establishments drunk. Bar personnel are required to undergo Department of Liquor Control training every two years.
Bergman contends the bar "is lucky our officers were there. The penalty is far less than if the girls had killed somebody by driving drunk. That would have been an expensive lesson for Rasputin's. Fifteen days is a sweetheart deal by comparison."
Bergman, who has cut back his own alcohol consumption since becoming the counterculture's Eliot Ness, feels that he has a mandate: "I think the people of Burlington should be very proud of us, and the bar owners should be thankful." Something tells us advocates of alcohol are not likely to be toasting Bergman any time soon.