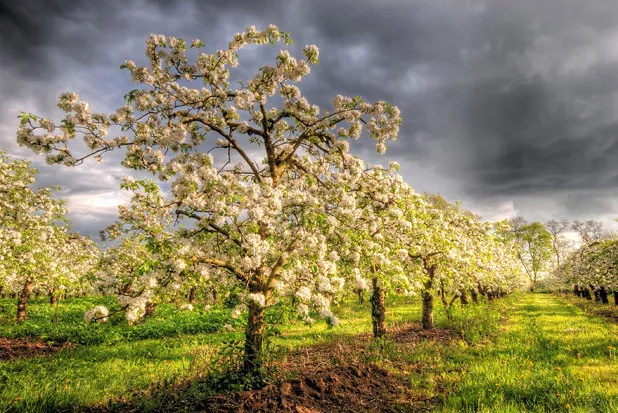 In the new spring green one year, my life cleft in two. The break happened as simply as walking across a brook, wandering through the woods with its gems of trilliums, spring beauties, a woodland carpet of trout lilies. When I tried to return, the brook had swollen into a raging river, thaw-fed, and I would drown if I tried to cross. The roar of the river pounded my ears. On the other side, outside this forest I had wandered into, my parents, in their boxy beige house I had lived in the entire of my 19 years, carried on with their lives. I stood in my mud boots in this unfamiliar forest, scented with the sweet and almost rank odor of emerging life, newly green with this brief season of spring. Winter was not far behind and would not be far along, either. I wore only a light blouse to shield me from the weather, and I was alone.
I didn't cry, didn't howl, didn't gnash my teeth in despair. I was so young then, so quite young I was easily distracted by the throaty song of a hermit thrush, robins chittering in their nest, the delicate lace pattern of not-yet-unfurled leaves. Youth, naturally, passes.
My parents had found that so, if they ever relished their own youth. When I was old enough to walk to elementary school, my life took on a different pattern. I was no longer a child, concerned merely with meals and what clothes I needed to wear, with the play I created with my dolls; I now left the house on my own, as my parents did each day, going out to meet the world and then returning. The world out there was filled with sounds and colors that never entered our domicile of off-white walls, low-nap carpet.
My parents were quiet people, reticent and withdrawn. My mother laundered and ironed and wore the same faded A-line skirts, year after year, cotton/polyester blend in summer, corduroy in winter, packed her and my father's and my ham and cheese sandwiches for lunch, and then walked the three blocks to Graniteville Water & Light, where she was an actuary in the back office. My father worked at Casings' Ball Bearings and Co., doing what, precisely, I never knew. He didn't speak of it. At home, after dinner, they sat in their respective checked recliners, each under a lampshade obliquely yellowed with age. They were blunted people, dulled down, their spirits submerged.
Very occasionally, once a year, maybe, I would hear them in the night, arguing, their voices twining, fierce, bitter, clawing at each other. What it was, I didn't know. The next morning, they would be the same, stilled, at their usual state of sour.
We lived in a neighborhood in a small town, but even then, my parents faded into the background of the town's social life. We had few visitors, no overnight guests. My parents had me late in their lives. I guessed I had been a troublesome conception and a harder pregnancy. My mother was a single child and her parents had passed before my birth. My father's parents had divorced when he was a child, and his father and an older sister had moved far away, to Nevada. His mother was ailing in a nursing home and died when I was a child. To her funeral, I brought a small vase of wild gentians, their blue blossoms like upside-down gems in a nest of green leaves. "These," my mother said in disdain. We spoke almost not at all of relatives.
An image from my childhood stands as a totem of those years. One summer evening in my teenage years, I stood at the back screen door of the kitchen. The leaves in the maples tossed in a warm breeze. Crickets sang. The lawn was freshly mown, its sharp sweet scent wafting through the screen's mesh. Down the dim, streetlight-lit road I heard laughter. Three teenagers I knew by sight and not name were walking and laughing, the arm of one boy around a girl's shoulders. I longed to be with them, longed, with a force as primal and urgent as the thrust of summer itself, merrily alive in these few months a northern climate offers. They laughed again; I drew back from the screen so as not to be seen, not be pitied or mocked or made a curiosity of.
The library became my haven. I yearned to speak Italian, to read Latin or ancient Greek. I longed to visit the Incan ruins, crawl into Anasazi caves, hike Kilimanjaro, swim in the Aegean, to have poetry read to me, to drink wine and eat clams I had dug myself. I ached to sleep and wake under starry skies. I wanted to fall in love and to be loved in return.
I graduated from high school. As they could not decide what to do with me, my parents enrolled me in a community college, general studies. The college lay on my father's route to work, and he drove there each morning, then retrieved me at 5:30 sharp. The courses they chose fit into that schedule. I acquiesced. It did not occur to me to do otherwise.
I was 19 then, and envisioned my youth draining through my fingers as sodden beach sand. In the car those days, we said little, nothing of any importance. I gazed out the window, watching the green fields, the turning autumn leaves, the snowy landscape pass by. A giant rock, a glacial stone from one of the stone walls strewn all over our county, pressed on my chest. I would go down into the earth and never rise.
Then, this.
In May, I was invited to a graduation party by some girls I knew from high school. I had no illusions. The party was given for twin girls two towns over. Their father, Joe Hattersham, boasted he was going to give his girls the biggest party the county had ever seen or would ever see. I had heard about this party from my mother, who had heard about it at work, and frowningly mentioned it one dinner. The girls who invited me were behind me in a grocery store line. They had an extra seat to fill in their car and would come for me at six, the next Saturday.
I had never gone to a party, had never even been asked. My parents nodded, as if they had never considered the possibility. So I went.
I was the only girl who wore a skirt and sandals. Everyone else was in jeans and a T-shirt. I remember Julie Stoddard looking at my knees and muttering, "Look at that. Imagine. A skirt at a party." The Hattershams' farm was the largest in the county, an immense sprawl of fields around two long cow barns and an old, mammothly high hay barn. The house was the original farmhouse that had been renovated and added on to, numerous times. The party pulsed through the windows. I wandered along the tables weighted with food. The girls I arrived with had dispersed into the jostling, noisy crowd.
My heart shuttered tight. Whatever I had wanted or expected to find here, I would not. I wandered from the party, around the back of the windowless hay barn. The grass around the house and barn had been cut the day before and emanated a sweet domestic scent. Behind the barn a hay field stretched out until it dropped suddenly, into the Black River. The hay hadn't been cut yet, and in the evening breeze the long stalks swayed and rippled, golden green.
I lay back and let my elbows take my weight. The party's noise dulled to audio debris. In the orchard to my left, the songbirds chittering. A breeze flicked strands of hair over my eyes and across my lips. Bunches of clouds, crystal white on one side, thunderous dark on the other, scudded across the sky.
A man with shoulders ox-wide came around the barn's side. He held a yellow cup, garish and silly in his dirt-stained hand. I sat up. He squatted beside me. "Hal Hartshorn."
"Fern," I answered. "I'm Fern."
He sat down, plucked a violet nestled in the low grass, then pitched it away. "My farm is Hidden View. You know it?"
I did. When I was in elementary school my father and I sometimes drove the back roads on Saturdays, tracing those meandering lanes and winding our way back toward town. We packed sandwiches and stopped at general stores for sodas. "Your mother needs some time," he would say. "She's gone all week, at that office, and then the house and all." When I was an early teenager those days dwindled away, as if there was not so much need for them anymore, and I spent Saturdays in the library, instead.
Hidden View was at the end of a high dirt road that flattened out at the top and then sank down behind a ridge. I vaguely remembered a narrow old farmhouse, paint peeling in gray licks, and a barn, across the road, maybe, with HIDDEN VIEW painted black, faded even then nearly to nothingness. The fields sloped down the hill, ringed at the edges by a barricade of pines. We saw no one, heard no dogs, saw no tire swing and dawdling child. I asked my father who lived there, and he shrugged. He turned the car around and left.
"The farm over the ridge, at the end of the road?"
"Twin Bridges Road."
"I don't remember any bridges."
"No one does. They're long gone. The road has shifted since. The river, too, no doubt." He tore up more violets, slit their heads apart neatly with his nails, and tossed them aside.
I studied my cup of lemonade. The ice had melted, leaving an unappetizing slurry of pulp and souring juice. A bottle neck appeared over the edge of my cup.
"Improve that," he said.
We sat quite still and worked at our drinks. A robin dipped near my hand, searching for that elusive worm. Evening began thickening around us. We were up and walking at some point, through the young orchard Joe Hattersham and his wife had planted. Christmas lights twinkled in the trees nearest the barn. The party pulsed out at us, but we walked steadily through the orchard, our backs to them. Drinking that stuff, my body had a curious sensation of separating in the middle, head floating above my waist, not unpleasantly.
We cut through the orchard and across the hedgerow, toward the road with its snaked line of parked vehicles. Dusk fattened across the fields. At his truck, I sat on the passenger seat. A wood-handled tool lay on the floor, its sharp metal end crusted in dried mud. I wanted to reach down and knock the mud off, see if I knew what use that tool possessed. He leaned against the open door. He was so wide, solid as an ash trunk. That stuff suffused my mouth; it raked through my thinking. I was lying down then, looking up through the windshield at the crescent moon. I gave him easily and uncomplainingly what I did not value then. I thought I had no reason to treasure it.
Afterward, I lay for a long while on the chaff-prickled seat of his truck, that skirt yanked up around my hips. I had heard the hardness of his heels strike against the rock-studded dirt road, fainter and fainter, my legs and knees raw white in the open truck door. The steering wheel, worn bone-smooth with use and grime, was at my cheek. My breath settling in my ribs, I looked up. Hung in the windshield, just below the rear-view mirror, was the cut of the moon, a broken teardrop, pale white, a grub unearthed by a shovel. Lady Moon, as a child I had secretly called her, gazing out at her mysterious, changing orb on my knees at the bedroom window. Oh, lovely Lady Moon. This night she was immeasurably distant in that expanse of night sky, a discarded scrap of paper, so far from me, her light but an arctic trickle. I heaved myself up and she disappeared from view. This early in the night the stars were obscured by darkness.
Quickly, quickly. I was not tickly.
*****
This is the first chapter of Brett Ann Stanciu's novella Hidden View. The author is a graduate of Marlboro College and currently lives in Woodbury, where she and her family are sugarmakers. Her work has appeared or will soon appear in Vermont Literary Review and Taproot.