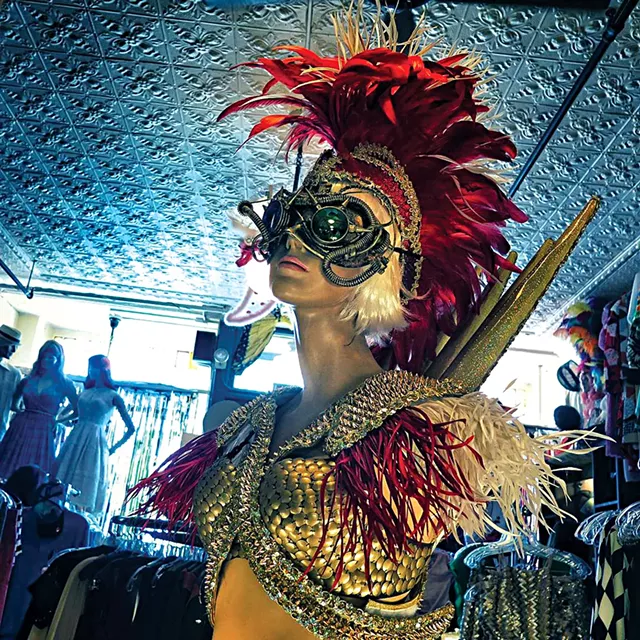 Old Gold
Old Gold has been a Burlington fashionista's staple since it opened in 1973. The vintage-forward shop is a destination for everything from prom gowns to pasties to pinstripe suits. Much of the inventory trends toward party wear — think new, hand-beaded 1920s reproduction dresses and velvet smoking jackets — but Old Gold also has some damn cute daywear for those with a discerning and decidedly funky eye. Staff members are genuinely helpful and know how to work with a range of body types, styles and gender presentations. What more could you want?
Autumn Records
Burlington has a few great record stores, but vinyl lovers shouldn't miss this new spot on the Winooski Circle. Enjoy a satisfying flip through vintage Miles Davis and Sonic Youth albums as well as more recent records, like Beyoncé's Lemonade.
Brixton Halaal
184 North St., Burlington, 865-6200
Burlington's North Street is home to a number of New American markets and clothing stores. Brixton, while small, has a good assortment of spices and halaal foods, as well as a unique selection of perfumes, including scents such as "iPhone 4S" and "Yes We Can: Barack Obama."
Mirror Mirror
CVS will always be good for a quick mascara fix, but Mirror Mirror is your best bet for high-quality makeup. Look for fun Lipstick Queen lip colors, luxurious skin care and a selection of fine perfumes.
Solid Threads
47 Maple St., Suite 108, Burlington, solidthreads.com
Stock up on clever, retro-inspired T-shirts at Solid Threads' 200-square-foot "sneaky boutique" on the first floor of the Karma Bird House, visible from the Maglianero Café counter. Designs include "Now I Know My CBDs," "Jesus Is My Lift Ticket" and "Tofu: The Other White Meat." The last of those is also available as a baby onesie.
Tangerine
126 College St., Suite 110, Burlington, tangerinebtv.net
First, fuel up next door at Onyx Tonics Specialty Coffee. Then, java in hand, browse Tangerine's collection of USA-made denim and trendy, affordably priced clothing. If you see something you like, scoop it up. Chances are it'll be gone the next time you visit.
WND&WVS
688 Pine St., Burlington, wndnwvs.com
Are you a surfer trapped in the body of someone who lives in Vermont and doesn't know how to surf? If yes, get to WND&WVS for all forms of laid-back beach attire and water-sports equipment — and sign up for a wind-surfing lesson on Lake Champlain while you're at it.