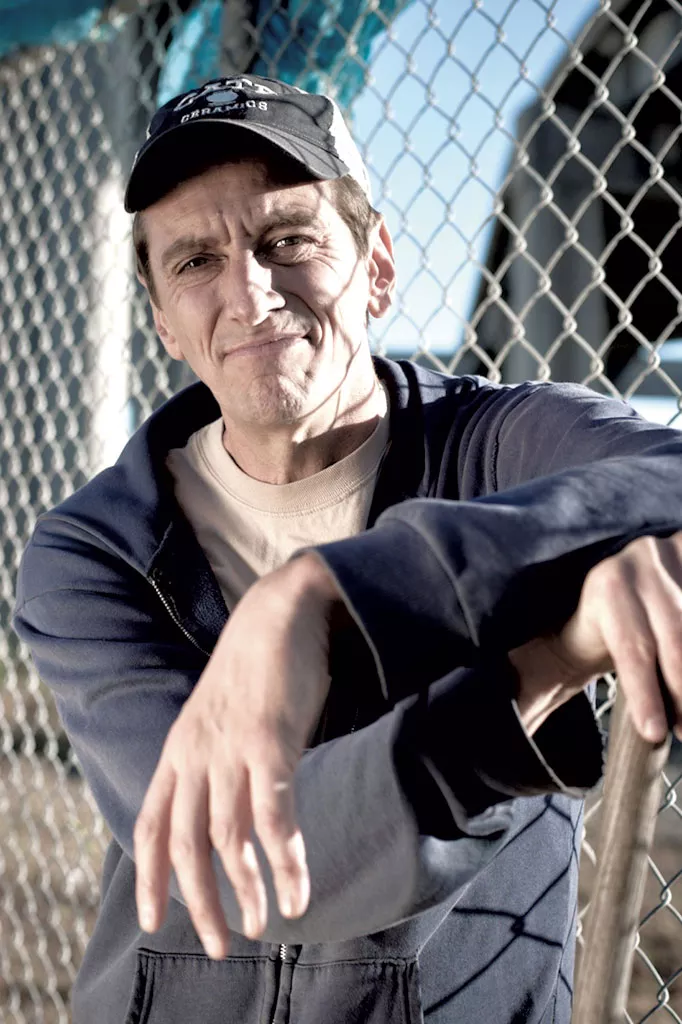 Courtesy of Michael Sommers
Michael Sommers
Actor Michael Sommers has a hypothetical scenario that he uses to explain two types of place. "Say a guy gets a new car," he says. "Someone says, 'Hey, Mike! That's a nice shiny new car you've got.' A San Franciscan would say, 'Thank you!' But a Vermonter thinks that person's giving it to him, really saying, 'Aren't you full of yourself?'"
On the surface, Sommers' current home in West Oakland, Calif., and his hometown of Middlebury, Vt., don't have much in common. West Oakland is a historically black neighborhood in the San Francisco Bay Area famous for being the birthplace of the Black Panther movement. Vermont is the second-whitest state in the country, and Addison County is known even within the Green Mountain State for its laid-back, agrarian vibe.
But Sommers doesn't see it that way. The actor, now in his late forties, tells a story that defies stereotypes — including racial ones — in his one-man show, Hick in the 'Hood: A Vermont Boy in West Oakland, which he spent the past three years creating. It's the tale of Sommers' sometimes shaky but ultimately positive transition to West Oakland, where he moved in 2006. The show has already gotten positive feedback from Bay Area audiences at the Marsh in San Francisco and the Dance Palace in Point Reyes Station, among other venues.
This month, Sommers brings the show home — to Lost Nation Theater in Montpelier, the Off Center for the Dramitic Arts in Burlington and Middlebury's Town Hall Theater.
"There's a real similarity," says Sommers. "Both Vermont and West Oakland share this idea of self-reliance and a kind of mistrust of authority ... We try, in both places, to treat people according to their merit, I believe, as opposed to the brand name of their clothing or car, or their résumé."
Plus, he adds, the best way to win people over in both places is to walk up and say hi.
That's a lesson Sommers learned immediately upon landing in his new neighborhood, as he recounts in the first scene of Hick in the 'Hood. The show opens with a literal crash: Sommers and a friend were in his home one night when they heard a loud noise at the front door. Afraid someone was breaking in, Sommers investigated; sure enough, a man was at the front door trying to enter. What did Sommers do? He went to the door and said hi.
The man turned out to be his next-door neighbor, David. In a hilarious interaction recreated onstage, David grudgingly admits he was, in fact, trying to break in — but only because he'd thought kids were inside the house causing trouble.
"And I gave him the benefit of the doubt. I believed him," Sommers says. The friendship didn't happen right away, he's quick to add. "He went home kind of dejected, so I actually went over and thanked him ... But I literally met my best friend in the neighborhood when he was trying to break into my house."
For Hick in the 'Hood, Sommers tapped his decades of theatrical experience to switch seamlessly among more than 30 characters. A graduate of the University of Vermont's theater program, he cofounded Burlington's Green Candle Theatre Company (then called the Garage Theatre) in 1989. In 1994, Sommers followed a girl to the Bay Area, where he joined the Screen Actors Guild and landed small parts in films including Patch Adams, while keeping up a steady stream of commercial gigs.
Sommers landed in West Oakland in 2006, right before a divorce and after a long search for a house in the Bay Area that he could afford on an actor's income. He wound up buying a dilapidated fixer-upper that had been foreclosed on, he says. Despite the house's shabby appearance, Sommers says, he considered it a steal, since all its valuable parts — the plumbing, the pipes, the kitchen appliances — had yet to be stolen.
In the eight years he's lived in the neighborhood, as audiences will learn, Sommers has experienced plenty of ups and downs. His house was truly broken into several times in the first year; troubling things happened to his friends and neighbors; and, in recent years, West Oakland gentrified, rapidly and controversially. The show is deeply personal for Sommers. "Friends of mine who were [in past audiences] didn't know some things about my life," he admits. "My marriage, disappointment. My best friend, my dad and my grandparents are characters in the show."
Hick in the 'Hood can't help but touch on complicated social issues — they're embedded in the material — but the show is ultimately a fast-paced, character-driven comedy. The scenes are short, the dialogue is snappy, and Sommers frequently addresses the audience directly (there are also frequent harmonica interludes).
The actor says he isn't interested in drawing conclusions. He just wants to take audience members along for the ride and invite them to look at West Oakland through his eyes, from a "Vermont boy's" perspective, before they judge a place or a group of people.
Sommers says he's looking forward to telling his tale for a hometown audience. "You always hear [Vermonters] ask, 'Where do our kids go, and what do they do when they leave [the state]?'" he says. "Well, here's a surprise! We do all sorts of things."