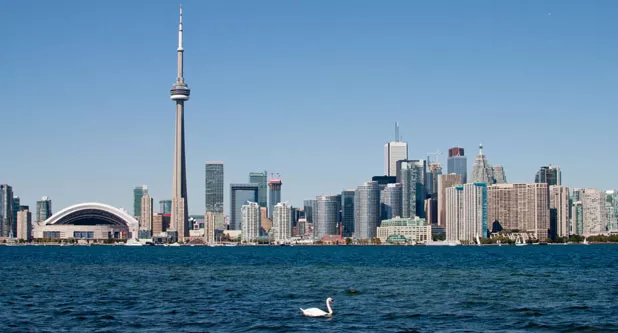 Last fall, Porter Airlines announced a new direct flight between Burlington and Toronto, a trip promoted mainly by Vermont ski resorts seeking to lure Canadians to their slopes. Seven Days' first thought was Cool, followed quickly by That plane needs to go back to Toronto. Would anybody fly back in it?
Neither of us — food writer Corin Hirsch and arts writer Megan James — had ever been to Canada's largest city. Flights go there only on Thursdays and Sundays until April (prices on Porter's website range from $189 to $319 each way). We set out for some New Year's reconnaissance to determine if, in the dead of winter, Hogtown — so nicknamed in the 1920s when the city was home to the country's largest pork packer — is worth a visit.
Over 93 hours, we ate enormous quantities of food, explored a museum devoted to shoes and learned how to pronounce Spadina Avenue properly (think angina, or … you know). Grittier than New York City and now closer in travel time than Montréal, Toronto is a dizzying sprawl of neighborhoods, nationalities, and seemingly endless possibilities for fun and gluttony. After five days there, exhausted but exhilarated, we were left wondering if, given this winter's sparse snowfall, Vermonters flying west have the better end of the deal.
Here are our travel logs.
Day 1: December 29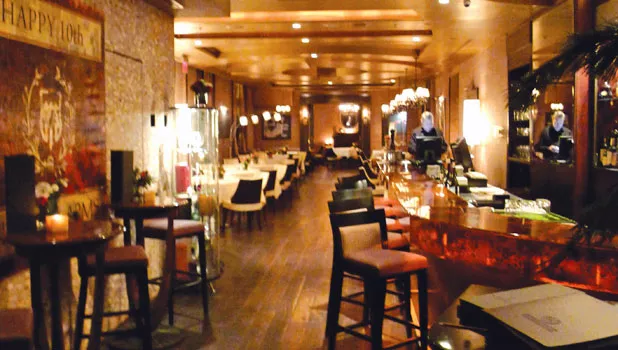 twenty-two at the Windsor Arms
CORIN HIRSCH: I arrive an hour before our flight, having somehow forgotten that Canada is a foreign country.
MEGAN JAMES: Me, too! It's a close call remembering my passport.
CH: Another passenger shouts that the gate is about to close. I languish behind a family that appears to be lugging everything it owns, and then my bags are searched. Lesson 1: Leave ample time for this flight, even if it is just across the border.
The rush turns out to be unnecessary. We board a shuttle bus to Heritage Aviation, where our turboprop awaits us like a steel chariot.
MJ: For a nervous flier like me, Porter is a dream come true (until our landing, which I'll get to later). First, the stylish flight attendants wear sexy blue shift dresses and matching pillbox hats — Toronto label Pink Tartan's "retro-fabulous" take on 1960s fashion. They offer the illusion of flying in a glamorous era, before barefoot security lines and underwear bombers.
Bonus: The flight from Burlington is just slightly over an hour, with ample legroom. We even get a meal: grilled-chicken sandwiches with roasted red peppers, pesto pasta salad and a small square of Lindt chocolate.
The best part? Free wine. Poured into surprisingly tall (real) glasses and filled nearly to the brim.
CH: The polished Chardonnay is my first taste of Ontario wine, and will not be my last. Turns out Toronto restaurants love featuring local vino on their menus, and they do the whole locavore thing without making a fuss about it.
MJ: The buzz has worn off when, our wheels poised for landing, the engines roar and we lift up again. While we bounce around on suddenly terrifying turbulence, a flight attendant sweetly informs us that the captain has decided to "do a go-round." There is a technical issue, she adds, before correcting herself: "A minor technical issue."
I clutch Corin's arm. When we finally descend through the clouds, all I can see is water. About 30 seconds from touching down — still nothing but water.
Turns out Porter flights land at Billy Bishop Toronto City Airport, a tiny island in Lake Ontario. Try not to be alarmed when you visit the Sky Pod at the CN Tower and get a look at the entire length of the runway — both ends stopping just shy of the lake.
CH: Once in the terminal, we strike out for a taxi and find ourselves in line for a … ferry? Yup — visitors need to cross a short channel to get to the mainland. Minutes later, a driver is racing us through snowy streets to Yorkville, where Chanel and Guerlain storefronts adorn the way to the stately Windsor Arms Hotel, the first of our three lodgings. A-listers often stay here — and it's no wonder. Complete with a saltwater pool, spa, sauna and private screening room, the place is an urban idyll. Our sumptuous suite's minibar is stocked with Moët and full-size bottles of Glenmorangie. An acoustic guitar hangs on the wall, just in case we want to strum.
MJ: Our butler(!), Damon, explains the "butler's closet," where we can receive deliveries without making contact with a human being. (The next morning we find a plate of chocolate truffles there; I eat one for breakfast.)
CH: The night we arrive, we're invited to sample the hotel's new vegan menu, so we head downstairs to the candlelit, brick-lined restaurant. I savor the robust beet carpaccio dotted with tart grapefruit chunks and cooling slaw; an earthy barley risotto topped with crispy, saline sage leaves; and cornmeal-crusted tempeh cakes laced with cinnamon and cumin. It's late, so we're quickly sated and ready for sleep. "Who knew vegan food could do me in?" says Megan.
Day 2: December 30
dim sum at Pearl Harbourfront (photo by Michael Watier)
CH: In the morning, we gorge on the hotel's breakfast of Liberté yogurt, eggs, fruit, sausage, tea and croissants, then venture out separately into the freezing rain.
Toronto's subway system is smaller than you'd expect in a big city and, at $3 a ride, pricier. Riders can grab a transfer, though, to connect to a more comprehensive web of streetcars and buses.
MJ: I walk about half an hour in the wrong direction along the blustery waterfront before finding the Toronto tourism office, where our press passes await. The receptionist is cheery, but I worry when she tells me her favorite local spots and activities. None of them seem possible (or pleasant) in winter: gardens, beaches and an island tour. At this point, we haven't yet glimpsed the famous CN Tower, which is completely shrouded in low, gray clouds.
Things start to look up, though, when I stumble on the Museum of Inuit Art tucked in the Queens Quay Terminal shopping center. It's weird to find a museum in a mall, and even weirder to find it well worth a visit, chock-full of prehistoric stone and bone carvings, as well as contemporary sculptures made of antlers, musk-ox horns and walrus ivory.
CH: We rendezvous at Pearl Harbourfront, an elegant dim sum restaurant overlooking Lake Ontario. Toronto is known for Cantonese cuisine — particularly dim sum — and, though locals all seem to have their favorite spots, this one is consistently fêted. Inside, servers circle with rolling trays of shrimp dumplings, pork buns, steamed rice rolls, fried turnip cakes and steamed chicken feet. Megan looks stricken at the prospect of succulent, spicy curried baby squid, but bravely ventures a bite.
We skip over to the St. Lawrence Market, a two-story indoor food bazaar teeming with fresh mussels, Portuguese custard tarts, caviar from Canadian sturgeon — a foodie paradise. Despite our lunch, we down samples of wild boar sausage, Québec goat cheese and Anton Kozlik's Canadian Mustards that sear the tongue.
Corin and Megan at the Hockey Hall of Fame
MJ: Concerned about keeping up with Corin's foodie appetite, I knock back a few samples of Ontario sparkling wine and try to get us moving toward our next cultural stops: the Royal Ontario Museum and the Hockey Hall of Fame.
I'm not so into hockey (sorry, Canada), but the Stanley Cup room — in a former bank with a domed, stained-glass ceiling — is pretty cool. As is the gorgeous vaulted atrium designed by Spanish architect Santiago Calatrava in the galleria upstairs. We linger to take photos of the soaring, cathedral-like arches illuminated by soft blue lights.
CH: After photos, I escape to meet my boyfriend, who's also in Toronto with a friend. We grab a local brew at the Last Temptation, a cozy dive bar in Kensington Market — a maze of streets holding a dense thicket of ethnic eateries and shops. The rest of the market will have to wait, as Megan and I have hard-to-get reservations at Enoteca Sociale, an Italian resto that has landed on several 2011 "best of" lists.
MJ: Back at the Windsor Arms, the concierge seems perplexed when I ask her for directions to the nearest subway. I go it alone and manage to hop the right bus to Little Portugal, where I follow a man, wearing the skinniest black jeans I've ever seen, into Enoteca Sociale.
CH: The service is pretentious, but the rustic fare is pitch-perfect, at least for me — a meltingly tender tuna crudo in Meyer-lemon drizzle, and a crunchy kale salad with toasted pine nuts and juicy, tart rounds of persimmon. Soft ribbons of pappardelle are bathed in a rich lamb ragu spiked with salty guanciale and pecorino.
It's not all rapture. My friend Jess, also in town for the weekend, balks at the funk-and-earth of the shaved truffles atop her ravioli — "It smells like Band-Aids," she says — and Megan thinks she could make her trecce (which looks like gemelli) at home. Ask for tea, and you will be rebuffed. "We prefer to focus on our 'coffee program,'" tuts our server without a trace of irony, and adds that Italians don't drink tea. We stare back in disbelief.
We take a cab to the Drake Hotel, a bona fide boutique hotel that feels more like a club. The upstairs lounge is packed, and a basement performance space is filled with hipsters catching local comedy. "The raccoon near my place scares the shit out of me," laments comic Ben Miner. (Later, an innkeeper tells us, "Toronto is the raccoon capital of the world.")
We peer into the Sky Yard, a patio where clutches of impassive smokers linger around a bonfire despite the icy drizzle. Inside, an aging rocker named Irving sways alone near the bar. As ingenues in miniskirts pour in, we call it a night, wondering how anyone actually sleeps here.
Day 3: December 31
MJ: Since we already feel like movie stars waking up at the Windsor Arms, we start the day luxuriously: gentle laps in the saltwater pool and a good, long sweat in the sauna. It's New Year's Eve, after all.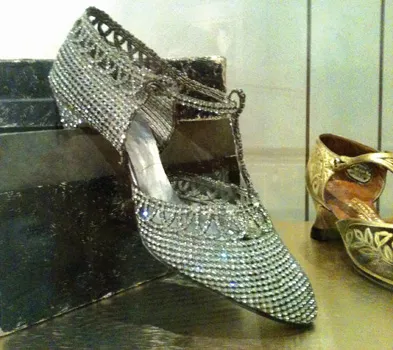 rhinestone shoes at the Bata Shoe Museum
Next on the docket: the Bata Shoe Museum, whose permanent collection includes more than 10,000 pairs from all over the world and every era. You can also ogle the footwear of famous people: author Margaret Atwood's peacock-feather pumps, Queen Victoria's teeny-tiny satin slippers, the Dalai Lama's flip-flops and Napoleon Bonaparte's black silk socks.
I fall in love with the flashy high heels of 1920s French designer André Perugia. I'll take a pair of his claw-set rhinestone heels, size 9, please!
CH: I snap pictures of a pair of chestnut-crushing shoes from France that look like they could pulverize my skull. Megan looks rapt.
We part ways, and I check out the entertainment district, a shopping mecca cursed with tired-looking restos. That is, except for the Peter Pan Bistro, a 90-year-old gem with art-deco wooden booths and hearty lunch fare. My salad of prosciutto, olives, greens and a moist, sweet olive-oil cake is topped with a perfectly poached egg. A hulking, oily rösti is draped with smoked salmon and crème fraiche.
MJ: Hogtown is reknowned for its hotdog stands, where a plethora of toppings (corn relish, pickles, hot peppers, sauerkraut, mushrooms, olives and several kinds of sauces are available. I grab one, fully loaded, and head for the Art Gallery of Ontario. It's almost worth a visit just to climb Frank Gehry's serpentine staircase, which swoops through the center of the museum like a waterslide. The architect grew up on nearby Beverly Street; this 2004 redesign of the AGO was his first Canadian building. His "Baroque Stair" is about 11 residential stories high, varying in width as it rises, so that climbers may bump into one another. "It's the kind of place where you might meet your future wife," Gehry reportedly once said.
I meet no potential partners on the stairs, but I do fall in love with the climb itself, which feels like circling the inside of a conch shell. It's a long way up, though, and the reason why my thighs burn for the rest of our stay in Toronto.
cocktails at Brockton General
CH: We're staying at Sullivan by the Grange tonight, a low-key, three-room inn near Chinatown. As dusk falls, we change into our sparkly bits and head for Brockton General, a wood-paneled bistro decked out in family relics of the two female owners. The seasonal menu is written each night on brown paper. Our six-course meal is a simple but delicious parade of raw oysters with tangy vodka-Clamato-PBR chasers; enoki mushrooms and earthy shaved truffles in a sherry-laced broth; a jar of anise-spiked ricotta cheesecake topped with luscious plum preserves.
MJ: The owners and our waitress look like they stepped out of an Anthropologie catalog: Each dress is cuter than the last, each ponytail bouncier. Between courses, one of the owners tells us it's good luck to wear red on New Year's Eve, then leans in to whisper, "Especially red knickers!" It feels like we've stumbled into an impeccable but down-to-earth dinner party. I leave perfectly full and wishing I lived in the neighborhood so I could make friends with these ladies and borrow their dresses.
CH: Our search for the perfect NYE soirée begins.
MJ: We arrive at the nearby Smiling Buddha Bar to find the place empty, the bartender picking at a potpie near the door. So we cab it up to Koreatown, to a '60s dance party at Clinton's Tavern, a Toronto dive since 1937. We've barely made it to the door when Corin warns she's getting low readings on her cool-o-meter.
While we mull over the $15 cover charge, the gleaming lights of the Metro Theatre beckon from the next block. A relic of the era when people watched their pornos in public, the adult entertainment venue has been for sale for years. Under the fluorescent marquee is a poster for the X-rated Summer of Laura and a small sign with a PayPal address, imploring passersby to "save the theatre."
Inside the lobby, the air smells like cleaning products and sweat. The older man behind the counter barely looks up from his newspaper when we ask when the next show starts. "They're ongoing," he mutters. We ask how long he's worked there, and he says, "Long enough."
A little creeped out, we go back to Clinton's. The tavern, with its log-cabin-esque interior and mounted deer head, is swarming with college-age kids grooving to Otis Redding and the Supremes. They look like they're having fun, but we can't shake the feeling that we're chaperoning a prom.
CH: Eventually we end up in the crowd of revelers gawking at fireworks in Nathan Phillips Square. As they explode above us, women in sequined dresses shimmy in nearby hotel windows.
MJ: They have a better view than we do. Oh, well. The fireworks only last about 10 minutes, anyway. "I guess that's part of our austerity program," our innkeeper says later. We hobble on our worn-out feet back to Chinatown for late-night barbecue.
Day 4: January 1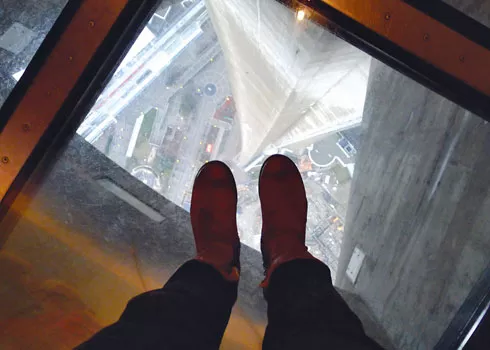 the glass floor at the CN Tower
CH: Another gray and drizzly morning, and another move to another inn. "I could really use a coffee program," quips Megan as we schlep our bags. We land on our feet: The Baldwin Village Inn is a sweet place with six rooms (shared bathrooms) on a block packed with eateries of every persuasion — Korean, Italian, Mexican, Malaysian and more.
MJ: The Baldwin Village neighborhood was primarily Jewish in the early 20th century, then Chinese. During the '70s it became a kind of American ghetto, populated by draft dodgers. These days, it's nestled up against Chinatown, walking distance from the AGO, the Toronto International Film Festival Bell Lightbox and Kensington Market.
The innkeepers, Roger and Tess, moved to Toronto from the Philippines in 1975. Warm and easygoing, they foster a sense of family with their guests around their long kitchen table.
CH: We meet Christopher, a Swedish neuroscientist in town for an interview at the University of Toronto, and, later, a human rights lawyer who leads student trips to Namibia.
MJ: Every city has its Brooklyn. Leslieville, where we head for brunch, is Toronto's. Low density, it's peppered with diners and brunch spots — there's even a hipster furniture store selling Naugahyde chairs.
CH: Brunch at the cozy Frankly Eatery is a feast of creative, Indian-inflected fare — such as the Indian-style, open-faced taco, puri bread topped with scrambled eggs, coriander-flecked sour cream and chutney.
MJ: It's the tastiest brunch I've ever had. And it sets off a wicked craving for more Indian food. Luckily, Little India is nearby. We wander up and down Gerrard Street, stopping to watch a woman in a storefront window gingerly wrap a mannequin in a pink and silver sari. A few blocks on, we find a small shop selling homemade samosas. Mission accomplished: from mimosas to samosas!
CH: A visit to the CN Tower is a must, we're told. So we return to the waterfront. From 118 stories, we can see why it takes so many long treks and cab rides to navigate this metropolis — it looks like an endless patchwork of mini-cities.
MJ: My stomach drops as we zoom up the elevator at about 13 miles an hour. The 1815-foot tower can sway up to three feet in high winds, and Corin and I swear we can feel it happening. My chest feels tight. Especially when we brave the glass floor.
CH: Before our real dinner, I sneak a visit to Pizzeria Libretto to sample what some call the best pizza in Hogtown. The place is sleek and packed to the gills. Possibly because the chewy crust is blistered and charred, the sauce bright and faintly sweet, and the cheese oozing and saline.
Megan is a Korean-food virgin, so we chow down next on some bulgogi, succulent kalbi and bibimbap at the bustling Korea House — across the street from the Metro Theatre. I initiate her into the fuzzy joys of soju, the clear Korean grain-and-sweet-potato wine. After dinner, we decamp to the Bovine Sex Club.
the Bovine Sex Club
MJ: Exhausted from the last three days, we're happy to find only a couple of people sitting at the bar. "It's the shit on the walls they remember" is the bar's tagline. It's true: The walls are a tangle of bicycle wheels, tree boughs, empty bottles of Jägermeister, sombreros, helmets and naked baby dolls, all caught up in colored Christmas lights.
With no DJ tonight, we zone out to the four TV screens behind the bar, playing Across the Universe (on two screens), Kill Bill and "Jersey Shore," which Corin and I — and Todd and Tom, the Toronto guys we've befriended — all agree is oddly poignant with a Beatles soundtrack.
Day 5: January 2
MJ: I wake up with a terrible realization: We have to walk through the kitchen area, where guests are already eating breakfast, to reach the shared bathroom. There's no way around it so I pull back my hair, put on a sweatshirt and go, trying not to breathe directly on the young couple from Baltimore who leap up to introduce themselves.
CH: At breakfast, we nosh on the innkeeper's excellent cheese omelette as I jot down his food suggestions. Most Torontonians have passionate opinions about where to eat.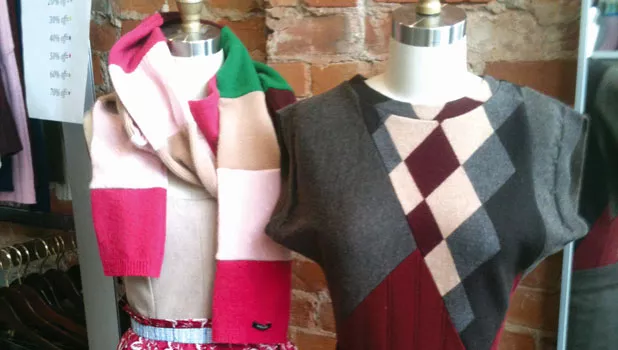 outfits at Preloved
MJ: I leave Corin for the day and take a long, frigid walk along artsy Queen Street West, only to discover the Museum of Contemporary Canadian Art is closed. So I go shopping. At Preloved, I try on boatloads of adorable cowl-neck tops, asymmetrical sweaters and funky dresses, all made locally from reclaimed vintage materials. Locavores rejoice!
CH: It's not easy to reach the Distillery District, whose industrial past has been resurrected through gentrification, with art galleries, cafés, condos and some old equipment scattered around for ambiance. Despite the forced vibe, it's a fun place to sample the award-winning microbrews at Mill Street Brewery, oysters at Pure Spirit Oysters or, my favorite, local sake at the Ontario Spring Water Sake Company, where you can watch the brewing process through glass.
Mill Street Brewery
The nearby eatery Origin has earned accolades this year for its innovative fusion cuisine, so I nip in for shreds of succulent duck served on warm tortillas with a symphony of contrasts: cool cucumber and sour cream, hot sriracha sauce, sweet hoisin and grated carrots. It's one of the best dishes of the trip.
MJ: I've spent so much time trying on patchwork outfits, I have to catch a streetcar to my next adventure: Wim Wenders' new documentary Pina at the Toronto International Film Festival's home base, the Bell Lightbox. With just one crisp $5 bill left, I don't have the exact change I need for the ride. Luckily, this is Canada, where people are super nice: The driver lets me on for free!
CH: Back in the Kensington Market, I try to track down chef Francisco Alejandri of Agave y Aguacate, the well-loved lunch counter tucked inside a Mexican bakery called Pancho's. "He works when he wants to work," says a baker with a shrug, handing me a conciliatory churro.
Judging from the line at nearby Doner Mania, which opened last year, the Turkish place is a hit. The chicken shawarma is delivered in a housemade wrap. I spirit it back to the inn.
MJ: I power walk back to the inn to rejoin Corin for the trip to the airport. I've eaten nothing since breakfast, and the hunger pangs are especially fierce considering the giant bombs of food my stomach has learned to absorb over the last four days. I scour the kitchen for leftovers. Then, like an angel — or just a food writer over capacity — Corin walks in. "Are you hungry?" She hands over the still-warm chicken shawarma. I take a bite and find hot-pink pickled radishes, creamy tahini and even little shreds of lamb that must have fallen in from a neighboring kebab. It's a heavenly way to end a great trip.