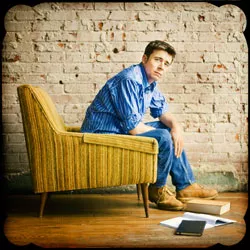 Following the release of his first two EPs —Nation of Heat in 2008 and In the Meantime in 2009 — Joe Pug became something of a critical enigma. Music scribes fawned over his straightforward yet slyly literate prose and gruff, hardscrabble vocals — which inevitably led to frequent Bob Dylan comparisons. Despite the acclaim, Pug remained largely overlooked by all but the most ardent songwriting geeks. Steve Earle, for example, counts himself among Pug's biggest fans; the two toured together in 2009. Pug's 2010 full-length, Messenger — his first for Lighting Rod Records and first with a full band — began to turn that tide, introducing him to a national audience and heralding his arrival among the next generation of great American songwriters.
Seven Days caught up with Pug by phone from his home in Austin, Texas, where he was enjoying some rare down time before hitting the road with the Low Anthem, including a stop this Monday, October 17, at the Higher Ground Showcase Lounge.
SEVEN DAYS: Your monthly e-newsletters are great. They seem less an overt attempt to promote yourself than a way to have genuine interactions with fans and offer insight to who you are, personally. Do you feel having that kind of connection has aided your success?
JOE PUG: That newsletter actually does mean a lot to me. Besides selling stuff, it's the point of contact with fans and the people who are the reason I cannot wake up at six in the morning and build houses anymore. I really enjoy writing it.
SD: In the most recent one, you mentioned that you're almost done with a new record. What can we expect on it?
JP: Well, it was produced by Brian Beck [Josh Ritter, Iron & Wine, Modest Mouse]. And it was my first time working with a producer, and it went great. I thought it was an awesome creative partnership. The music feels like a very logical next step. It's different, but I'm really glad we went in the direction we did on this one.
SD: Messenger featured a lot of full-band work, as opposed to your EPs, which were mostly just you. Is the new one more in the band vein?
JP: It is, but with different players and a different focus to make it less "parts and guitar solos," and more kind of like a cinematic landscape for the songs to live in. Especially the ones that are more poems than songs, they really benefited from Brian's production.
SD: You've been pretty DIY for most of your career. Was it difficult to work with a producer and put your baby in someone else's hands?
JP: Extraordinarily so. It was actually more difficult than I expected it to be. Luckily, Brian has done this a million times, and he knows how to steer the ship with a firm hand. But I was legitimately freaked out having someone else making decisions on things. But then you remember that's why you came here, and this is exactly what I asked him to do with the music. So, it was a little jarring at first, but it was ultimately the push off the cliff I had asked for.
SD: In addition to the frequent comparisons to Dylan, you are often described as a "'60s-style" folk musician. But it seems like you bristle at that description because you view folk as more of a continuum than era specific.
JP: I don't really bristle at the fact that people compared my first records to '60s folk music, because, let's face it, it was a pretty valid comparison. I don't think that's a comparison that will be made with this next record, though. But at the end of the day, writers are trying to get the message across to people who haven't heard the music, and it's totally understandable that they want to give some sort of touchstone for people to understand what's going on.
SD: I think you could make an argument that folk music is less about how something sounds than what the message is. Viewed that way, you could call a lot of underground hip-hop "folk" music.
JP: Totally. There was that song by Dead Prez in the '90s where they rapped "Animal Farm." To me, that's folk music, because you're taking this cultural touchstone and interpreting it through your own experience, your own life and family and community.
SD: Before you turned to music, you were studying to be a playwright. What prompted you to drop out of school and pursue music?
JP: I didn't believe then and don't believe now that the type of art I wanted to create could be taught to me by someone else. They were smoothing out warts in my work that I didn't want smoothed out. And that's literally what you agree to when you go to school. But I wanted to keep the idiosyncrasies that make your voice your voice. And you can only do that by teaching yourself.
SD: You are a Washington Redskins fan, which has been tough in recent years. They're off to a pretty good start this year. Are you surprised?
JP: Don't let them deceive you! They will be eight and eight by the end of the season. I'm having a really hard time getting behind them with this horse's ass Daniel Snyder at the helm. But I guess it's something we're gonna have to live with, because he has no intentions of relinquishing