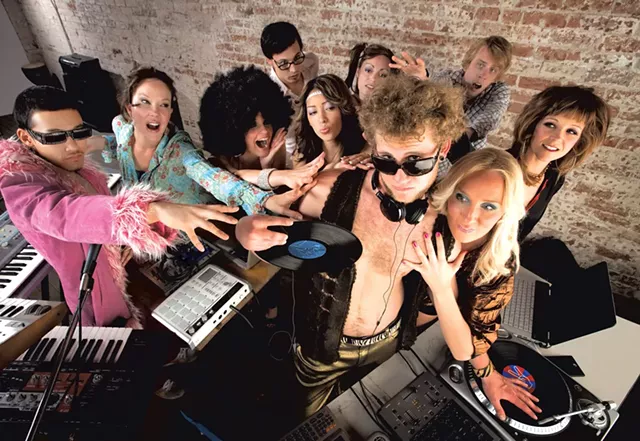 © Scott Griessel/dreamstime.com
Local mix masters weigh in on an age-old debate of taking requests
Club DJs can endlessly debate the subject of song requests. Some view them as a disruption, a monkey wrench in the well-oiled machine of a groovy playlist. Others think honoring audience feedback and appeals for specific tunes makes them a better, more hospitable host. There's no right or wrong answer — but there is a right and wrong way to approach a DJ with a request. (Hint: Be polite.)
People who view mix masters and turntablists as the human equivalent of shuffle mode — mindlessly putting on song after song with no consideration of continuity or vibe — likely don't understand the time and effort that goes into planning and crafting the perfect mix. Maybe those folks are still stuck in middle-school dance mode, an arena where requests are king. For whatever reason, certain clubgoers have a sense of entitlement regarding what music gets played. One thing is for sure: That kind of attitude will get you nowhere with your typical DJ.
To explore the issue, Seven Days asked a number of local DJs the following: When you're deejaying a club or similar event space, do you take requests? Their answers were varied and nuanced. Keep them in mind the next time you find yourself tempted to ask a DJ to play your "jam."
Lee Anderson, DJ Lee J
I only play vinyl, and I only bring the music I intend to play. If the floor is dead, or if most people on the floor seem to be together, I'll fulfill a request if I can and it "makes sense." If the floor is jammin', then fuck off, this is my show.
Evan LeCompte, DJ Cre8
I don't have strong opinions about requests. Some DJs do. My feeling is this: Some requests are good. Some are not. I play some requests, and others I don't. I am more apt to play your request or at least react positively if you ask verbally rather than jamming a smartphone in my face. That has become an annoying trend in the past few years.
I do. It's the nature of the beast. It does depend on approach, though. If they are too demanding or rude, then I let them have it — verbally.
Llu Mulvaney-Stanak, DJ Llu
I am open to requests, but I rarely actually play them because they often don't match the vibe of the party or the set. The worst is when folks bring me their phone and say, "Play this." So obnoxious. DJs are meant to curate a playlist that surprises and creates joy, not replicate your silly Spotify playlists. I don't usually get into it. I just say, "I'll see if I have it."
There is a time and place for a DJ to consider accepting requests — for example, at a wedding or most private functions. When it comes to a club/bar/festival, the rules are a little different. Each stage is unique and will generally call for a specific musical genre. Also, the DJ could have a preplanned set that won't change regardless of any requests.
If a patron requests a song that does not fit with the current playlist, there are two perspectives here: Just like any job, the person fulfilling the job doesn't want to be told how to do their job. [But] the DJ could accept a request as an opportunity to learn something new about their audience.
Kyle Thompson, DJ Fattie B
I do if these factors are met: It fits in with either what I'm spinning or the theme of the night, [and] it's asked with kindness and manners. Generally, if the person is friendly and asks for a tune that "fits," I always try to help them out. Bad attitudes and rudeness get nada.
Yes, I'll always take requests. However, whether or not I play that request is a different story. A DJ's job is to help facilitate the vibe of an environment. Part of that is making decisions on what is best for the greater good. If a request is right in line with the vibe and will fit appropriately, honoring that will not only make that person happy but most likely everyone else. If not, tough luck to that individual who wants to hear "their" song, as I'm just looking out for the greater good.
Bob Wagner, Local Dork
Because Local Dork is vinyl only, it really simplifies the situation. If we have it and it's the right call, then maybe. We're hired to curate a particular vibe, and we try to honor requests that fall in line within our preferred sphere.
I have always hated requests as a DJ. There's a whole Instagram page about it called @angrydjlife. They talk about how a request can ruin your mood you're trying to set for the dance floor and a whole bunch of stuff as to why DJs like myself are disturbed by requests.
It depends. Either no, or no bad requests.
I will, but I prefer not to. Usually, I have been prepping for sets all week and, nine times out of 10, [a request is] not the best song choice. I don't think folks realize how much DJs care about what they play. DJs are encyclopedias of jams, and we want folks to have a good time. So just trust us.
Adrian Sackheim, Haitian
House, techno [and] EDM sets, no. Top-40 weekend club music, absolutely.
I always listen to requests, but I make the final decision on whether I play it or not. I think of it as a positive thing, because most of my job as a DJ is trying to read the room and find songs everyone likes. So the most direct way is just for them to tell me. That saves me having to read their body language or watch for what they're singing along to. The problem is, a lot of people request a little selfishly and don't take into account what might work for the room.
Sam Machiros, Moochie
When I am commissioned for weddings/private events, I'll play a request if I have it. Spinning at a club or a party I'm throwing, I don't like requests.
I have never done a set where I haven't taken requests. Being a DJ that plays a specific kind of music — reggae, dancehall, some Afrobeat and other Caribbean music — it's easier to turn down requests by letting [them] know what we are playing. It's always awkward responding to people with bad requests or music that doesn't fit your night.
The big thing DJs deal with nowadays is people not understanding [that] DJs don't download music on the spot. They say stuff like, "Can you play it off my phone?" which isn't something we do.