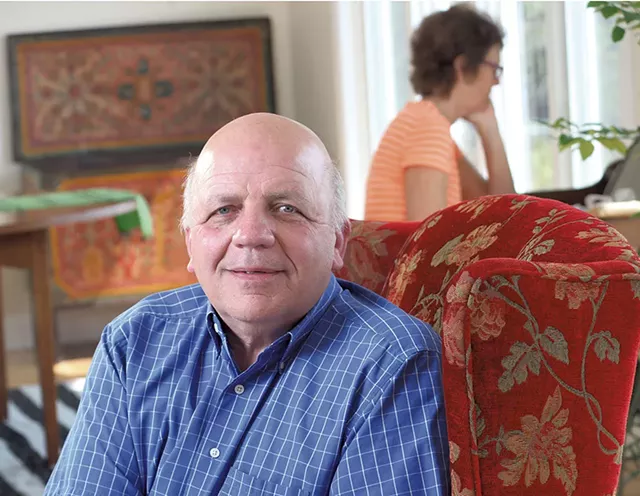 Matthew Thorsen
Peter Clavelle
Former Burlington mayor Peter Clavelle spent much of the past five years living in a ninth-floor apartment a short walk from cafés, restaurants and the opera house in downtown Tirana, Albania.
But beyond those amenities, the capital city was pocked with ugly, randomly sited buildings, many of which lacked sewer hookups or other basic services. The urban problems in mostly rural Albania dramatized what Clavelle learned during his 25-year career in Vermont municipal government: Cities prosper or falter in sync with the quality of their planning.
In Albania, Clavelle, 67, oversaw a U.S.-funded project to promote decentralized governance in a country shaped — or misshaped — by a 45-year communist dictatorship that ended in 1990.
Five weeks after his return, the seven-term mayor settled into a leather chair in his lakeside home in the New North End to reflect on his experience abroad and on changes at home.
"Disasters can occur," he said, when development fails to reflect sound political, environmental and aesthetic principles. Some of Albania's Adriatic beaches, for example, have been marred by houses constructed — in ostentatiously self-indulgent styles — without approval from local authorities. Zoning rules are nonexistent or routinely broken, one of the problems Clavelle worked on during his consultancy.
In Burlington, he said, the impact of poor planning was perhaps most acutely felt in the destruction of the working-class Champlain Street neighborhood 50 years ago to make way for a downtown "revitalization" initiative.
That historic urban renewal project and its mall offshoot, Clavelle said, not only displaced unwilling residents but damaged the layout of the downtown core by closing portions of Pine, St. Paul and Champlain streets.
Clavelle returned to find his home city considering a proposal intended to correct some of urban renewal's mistakes. Developer Don Sinex is proposing to replace the Burlington Town Center indoor mall with individual retail stores along Cherry Street, and to reopen Pine and St. Paul streets.
"In broad terms, I support it," Clavelle said of the proposed development, adding that he's unfamiliar with its details.
Clavelle also expressed approval of Sinex's plan to construct 14-story buildings in the middle of the space the mall now occupies, a proposal that has riled opponents who argue that it is out of scale with the rest of downtown.
"It's not going to obstruct views, and I don't consider a building of that size to be a skyscraper," Clavelle said.
Sinex's $220 million plan, which has preliminary approval from the Burlington City Council, is philosophically consistent with the approach to development Clavelle championed during his 14 years as Burlington's leader, from 1989 to 1993 and again from 1995 to 2005.
He promoted the same precepts of greater downtown density and overall population growth while working earlier under Mayor Bernie Sanders as the first head of the Community and Economic Development Office.
Adding hundreds of residents to Burlington's core will enhance its vibrancy while indirectly discouraging suburban sprawl, Clavelle said.
"The alternative of doing nothing would be a disaster," he said emphatically. "You'll end up with a dilapidated, largely vacated, suburban-style mall in the heart of the city."
But "there continues to be no consensus on growth and development in Burlington," he acknowledged. Vocal opposition to increased density is one of the features of the Queen City that, he said, "hasn't changed at all."
What has changed, Clavelle added, is the cost of parking downtown, a price hike he found "shocking." He is also dismayed by the "greater concentration of panhandlers" and the "heartbreaking opioid epidemic" ravaging rural as well as urban Vermont.
He also sees changes to like, including the new waterfront skate park. As the Queen City's mayor, Clavelle oversaw the construction of the Burlington Boathouse and adjacent boardwalk. He approves of in-fill development in the center city that Mayor Miro Weinberger, his successor-once-removed, has encouraged.
The current and former mayors share a general view of how Burlington should evolve. That includes persisting in efforts to redevelop the Moran Plant on the waterfront, which Clavelle had proposed converting into a new home for the YMCA. Voters rejected that plan in a 2005 referendum.
It was the ex-mayor's expertise in local government that got him the Albania gig financed by the U.S Agency for International Development. With a smile, Clavelle demurred that "an expert is someone who has learned from their mistakes." He's the program's sole fulltime American employee.
The push in Albania for more decentralized decision making and greater grassroots participation in planning has been "generally successful," Clavelle said, though small budgets have impeded the empowerment of local authorities. Albania, which is about the size of Vermont but has five times more residents, has been hit hard by the economic collapse of neighboring Greece, one of its main trading partners.
Its legacy of dictatorial rule is further slowing moves to modernize, Clavelle said. First Italian fascists and then Nazis occupied the country before hardline communists took charge after World War II. Their Stalinist-Maoist ideology kept Albania poor and isolated for decades.
As a result, "the notion of teamwork is very difficult to implement," Clavelle said. "The dictators simply told you what to do. Brainstorming and creative thinking — 'What does that mean?' Albanians say."
The expatriate did find it easy to relate to Albanians themselves. "Albania is one of the places where the people really love Americans," he said. Language was also seldom a problem, since most educated Albanians speak English.
Clavelle and his wife, Betsy Ferries, lived comfortably in their high-rise apartment building and enjoyed the city's culture — opera tickets cost just $10.
The Balkan nation's location across the Adriatic from Italy also enabled them to visit half a dozen countries within a few hours. While most Albanians travel by bus, they used a car. The couple roamed farther afield as well, visiting their daughter Jae in Australia and returning at regular intervals to Burlington, where their son Luke sells real estate while his brother Will completes a graduate degree at UVM. Clavelle and Ferries are also the legal guardians of Awil, a Somali refugee who works at a machine shop in Winooski.
Ferries, 68, a former teacher and counselor in the Essex schools, joined the living room conversation to talk about her work as a marketing and fundraising specialist for three non-governmental organizations in Albania. One focused on combating sex trafficking, which enslaves many Roma women, and another helped care for abandoned babies. The third functions as a foundation affiliated with a maternity hospital — a vital facility in a country with the highest maternal mortality rate in the Balkans.
Soliciting private donations isn't easy in Albania, Ferries said, noting that "philanthropy was not exactly a communist byword." Because corruption is endemic, contributing money is widely seen as a wasteful exercise; Albanians assume "it just goes into someone's pocket," she said.
Ferries and Clavelle offered a sober assessment of the country's prospects. Albanians are making fitful progress toward democratic governance, Clavelle said, and are currently governed by a left-leaning coalition. But funding municipal social services and regulatory agencies is very difficult when an Albanian with an average public-employee salary of $7,500 may pay as little as $6 a year in property taxes.
It's not a particularly happy society, the couple found. "Albanians are pretty negative about their country," Ferries said. "Young people are losing hope and faith that things can change."
Ferries said she plans to become a volunteer in Vermont, perhaps for a restorative-justice program in Chittenden County. As for the bald, round-faced and increasingly round-bodied former mayor fondly known as Moon, semiretired life is proving "to be a bit of a transition." After working "crazy hours for 44 years," he's unaccustomed to open-ended days, Clavelle confessed. He'll make three two-week trips to Albania over the course of the next year to complete work on the decentralization project.
"The good news is, I can now say no" when asked to work on something less than fascinating, he said. He hopes to find "some interesting things to do" in the nonprofit sector — but never again in politics, he added.
Of course he's followed the presidential campaign of his former boss. "In Albania, we were 'Feeling the Bern,'" said Clavelle, who added that he was "pleasantly surprised and excited that [Sanders] has been able to unleash a wave of enthusiastic support." Clavelle predicted that, in the end, Sanders would endorse Hillary Clinton and urge his followers to vote and work for her. "He understands how important it is to defeat Donald Trump," he said.
The former mayor's own adventure reaffirmed his belief that small-scale is a big deal. Overall, he reflected, the Albania experience "made the importance of local government completely clear to me."
Think about it, he urged — "pretty much everything government does that matters most in people's daily lives is delivered at the local level." Schools, streets, water, lights, policing, fire services ... "it's all down to the locality."