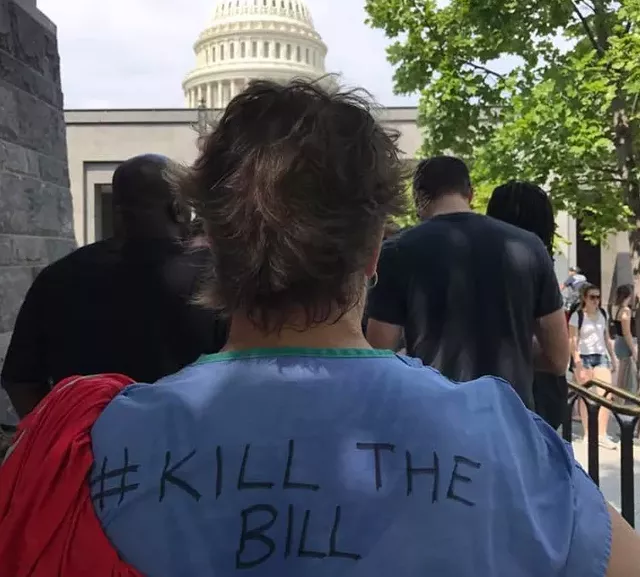 courtesy of Mari Cordes
Mari Cordes brings her message to the Capitol.
Sen. John McCain (R-Ariz.) was acclaimed as the hero of last week's dramatic health care showdown. He returned from cancer surgery to cast the deciding vote against the Republicans' "skinny repeal" of the Affordable Care Act. He bucked his party. For once, the maverick lived up to his billing.
McCain's stand was made possible, of course, by the sustained resistance of fellow senators Lisa Murkowski (R-Alaska) and Susan Collins (R-Maine). Once again, as many a female observer noted, the women did the work, and the man got the credit.
But none of it would have happened if not for the crowds of protesters who brought public attention to the issue. As the American Civil Liberties Union's Twitter feed put it, "Senators Collins, McCain and Murkowski deserve gratitude — but the real heroes are the millions of Americans who showed us what democracy looks like."
And whether or not you agree with their views, their commitment is undeniable. Dozens of Vermonters traveled repeatedly to Washington, D.C., turning their words into action in ways that most never do.
"I went to D.C. three times this summer," says Emily Ahtúnan, a Montpelier resident who was arrested inside the Capitol on one of those trips and, she adds, "was willing to be arrested all three times."
That's saying more than you know. For one thing, she's a dedicated law-abider. "I've never had a parking ticket or a speeding ticket, never been arrested," she says.
And Ahtúnan lives with systemic lupus, which can turn simple everyday tasks into an ordeal — let alone being marched out of the Capitol and kept in custody for eight hours. In fact, on her second trip to Washington, she had to sit out a protest because her body just couldn't handle the midsummer heat.
Her travels have taken a toll, but she remains committed — and willing to go back again if needed. "People ask me, 'Why are you risking your health?'" she says. "If I'm going down, I'm going down fighting."
Sixty-seven-year-old Kevin Kilpatrick made the long trip from Irasburg and got handcuffed for his troubles. "I had a good time getting arrested. We were voicing our opinion loudly. When the Capitol Police arrived, we continued to voice our opinion loudly."
Kilpatrick remained in custody for about five hours. "I was among the first to be released," he says. "I have congestive heart failure and an implanted defibrillator. I think they didn't want anything to happen to me while in custody."
Yeah, that wouldn't have been a good look.
Mari Cordes of Lincoln is a longtime activist, a former president of the Vermont Federation of Nurses & Health Professionals, and an unsuccessful candidate for the Vermont House in 2016 who plans a second run next year. She was arrested, along with Ahtúnan, outside the office of Sen. Marco Rubio (R-Fla.).
"I was zip-tied and taken into custody for eight to 10 hours," she says. "I got to sit in a big building with more than 100 people and talk about how we were going to change the world."
Well, they say incarceration can lead to recidivism.
Cordes was also arrested on another of her four trips to Washington. And last week, she was in the crowd outside the Capitol early Friday morning as the fateful roll call took place.
"We feared the worst," she recalls. "When the final moment approached, the mood was somber." But then the news broke. Repeal was defeated.
"We were elated in that moment. I will never, ever forget that night," she says. "But we cannot stop fighting."
State Rep. Kiah Morris (D-Bennington) went to Washington last week, acting as an informal legal observer for the protest.
Morris describes the trip as a "life-changing experience, hearing stories of individuals who will die without health care. One young man with cerebral palsy was on the steps of the Senate Office Building for three days. He said, 'I'd rather die trying to make my voice heard than die quietly.'"
Like her fellow protesters, Morris returned home with profoundly mixed emotions. Elation at the victory, inspiration from the courage of others, but "it was difficult to feel true joy after seeing what people had to do just to get to that point."
And, like her colleagues, Morris is "still worried" about what comes next.
Skeletons Rampant
Take care when you step into the spotlight. It will illuminate, but it may not flatter.
Jon Svitavsky is learning this lesson the hard way. The social worker and advocate for the homeless has declared himself a Democratic candidate for U.S. Senate, challenging none other than Sen. Bernie Sanders (I-Vt.).
He now finds himself with closets flung open, revealing some apparent skeletons within. They include a handful of Facebook posts discovered by an unknown person with the since-deleted Twitter handle @joeprince___. "Prince" spent hours upon hours combing through Svitavsky's thousands of Facebook posts and found a few unfortunate ones. Such as his thoughts on the issue of bathroom access for transgender persons.
"So if a lady boy in high school, wants to shower with the girls, we just take his word for it?" Svitavsky wrote. He doesn't deny it now. In fact, he doubles down.
Svitavsky complains to Seven Days about a "lack of tolerance from the gay rights movement. You're not allowed to disagree." And then he returns to the shower argument. "It's a serious question. What if a 17-year-old boy feels transgender and wants to take a shower with girls?"
Um. Well, I'm sorry, but that betrays a real misunderstanding. Transgender life is not about stubble-faced meatheads in dresses. It's about people who were born with anatomies that don't match their internal identities — and who adopt the outward appearance that matches their true selves. I hate to break it to Mr. Svitavsky, but if he has ever used a public restroom, he has shared that space with trans men. He just didn't realize it — because they looked like men.
In another post, Svitavsky claimed a link between childhood vaccines and autism, a notion unsupported by the scientific community. He points to the use of thimerosal, a mercury derivative, in vaccines. Problem is, thimerosal was long ago removed from all childhood vaccines. To which his answer is, "I don't trust the integrity of the Centers for Disease Control."
OK, if you say so. For many, that's a deep dive into the conspiratorial end of the pool.
Elsewhere on Facebook, Svitavsky called for the hanging of former secretary of state Condoleezza Rice. Kind of a no-no, what with those pesky reverberations of racial violence. But Svitavsky won't back down.
"She should be tried fairly and hung," he says. "Bush, Cheney, Rumsfeld, at least six or seven people were complicit in crimes against humanity."
Now we must turn to Svitavsky's brief, unhappy residence in Bristol. In mid-2014, he and his wife moved into her mother's apartment in a building owned by the local American Legion post. In less than a year, he had several encounters with the law. "He came up on our radar and seemed to stay there," says Bristol Police Chief Kevin Gibbs. "We ran into him a lot."
One time, Svitavsky allowed a drug addict to stay in a tent on the property. The man was later arrested for breaking into a local creemee stand and stealing some cash, according to police records provided by Gibbs. The man confessed — and was convicted.
There were disputes with a neighbor and a very loud argument between Svitavsky and his mother-in-law, which caused her to move out. Svitavsky was also, according to police records, ticketed on multiple occasions for driving with a suspended license, without insurance or both. Eventually, he was threatened with eviction for failing to pay rent, although no legal proceeding was ever filed. He and his wife left Bristol — and now live in Bridport.
Svitavsky blames it all on small-town dynamics. "The whole thing is bullshit," he says. "Absolute bullshit." He threatens to file suit against the Legion and possibly others for slander.
The truth is not easily discerned. Aside from the traffic stops, he was never cited or arrested. But the record is what it is, and when people declare intent to seek high elective office, they should expect a level of scrutiny that may prove uncomfortable.
Media Notes
A bunch of changes to report at Vermont Public Radio. Its flagship program, "Vermont Edition," has promoted producer Sam Gale Rosen to managing editor. He replaces departing executive producer Patti Daniels as its top staffer. The station has also hired New Hampshire Public Radio reporter Emily Corwin to serve as its first dedicated investigative reporter/editor.
VPR is also promoting a number of its digital staffers: Angela Evancie will serve as managing editor for podcasts, while Emily Alfin Johnson and Meg Malone will form a new "digital creation team."
While VPR is in expansion mode, the Burlington Free Press is dealing with the shrinkage of the print medium. One of its efforts to attract advertising dollars is Hometown — a bulk-mailed fistful of advertising inserts wrapped in a thin layer of news, like a glossy, colorful Free Market Burrito. The weekly Hometowns are delivered to 42,000 Chittenden County households every Friday, according to the company's website — whether those households want the rag or not.
Enter Llu Mulvaney-Stanak, a self-described "digital media pro and fierce community activist." A dangerous combination, that.
"One day, I collected all my junk mail and went down the wormhole of how to get off all those lists," Mulvaney-Stanak says. Many of the frequent junkers were obliging, but the Morning Friendly? Not so much.
"When I tried to do the Free Press, it was a task worthy of Sisyphus," Mulvaney-Stanak continues. "There was no information about how to unsubscribe on their website. The customer phone tree was the worst I ever experienced. After three to four hours of trying to reach a live human being, I decided to just start Tweeting them."
Every day Llu posted a tweet, soon adding the hashtag #TakeMeOffHometownMailer. And the days went on. And on.
Day five: "Is this thing on? (Tap...Tap)."
Day seven: "WHY IS THIS SO HARD TO GET THE FREE PRESS TO RESPOND ON TWITTER?"
Day nine: "Is this why newspapers are failing?"
Later that day, a breakthrough — but no thanks to the Free Press' Twitter account. It was a reporter, name withheld to protect the complicit, who offered the name and email address of FreePressMedia distribution coordinator Bianca Hanks.
"She said she'd update the system and I should be off the list in a short while," Mulvaney-Stanak reports.
(You can try it yourself by emailing bhanks@gannett.com.)
"We don't know if this has actually been done," Mulvaney-Stanak hastens to add. "If they're blowing smoke, I'll have to restart the Twitter campaign."
For the record, we note, as usual, that Free Press officials did not return requests for comment on this story. And they say they're in the communication business.
Correction, August 3, 2017: A previous version of this story misstated which state Sen. Lisa Murkowski represents.