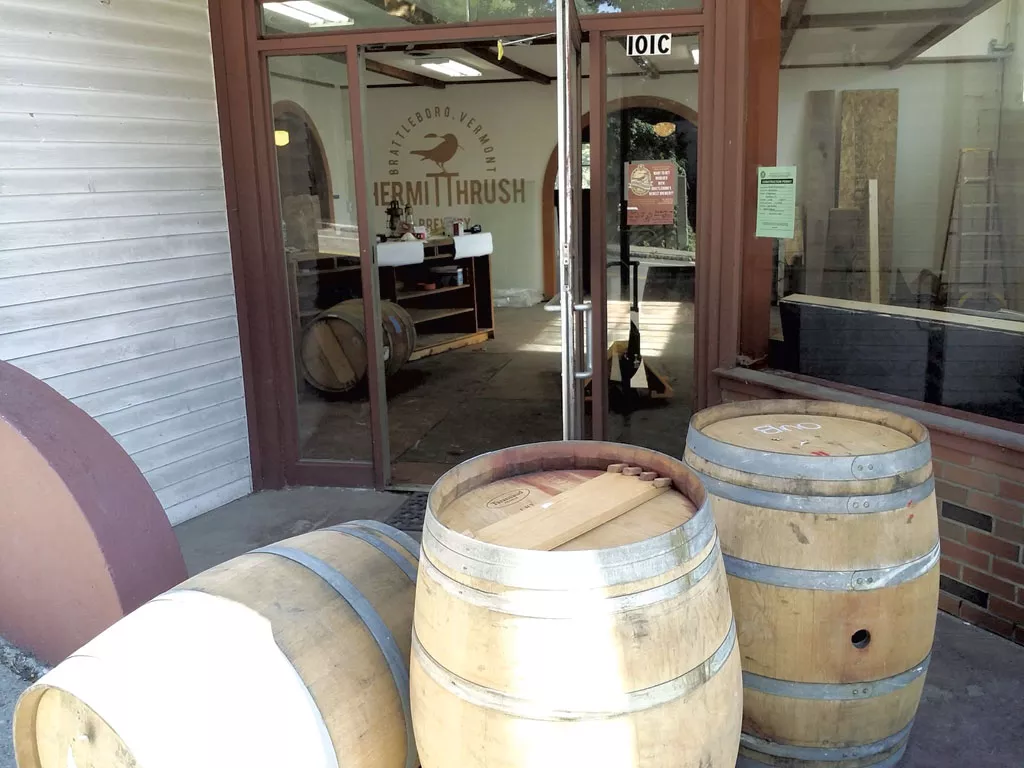 On November 22, Hermit Thrush Brewery will host its grand opening party in Brattleboro. Joining brewpubs Whetstone Station Restaurant & Brewery and McNeill's Brewery, it's the third such establishment in the town. According to co-owner Avery Schwenk, Hermit Thrush will specialize in barrel-aged Belgian-style beers.
"We really want to introduce people to the more subtle flavors of sour [beers], rather than trying to blow your mouth out," Schwenk says. "We'll be brewing really accessible sours." All of the beers will pour at sessionable low ABVs, topping out at less than 5 percent alcohol.
The seven-barrel brewhouse is heated by boilers converted to run on Vermont-made wood pellets rather than oil, a measure to reduce the brewery's carbon footprint. The beers will be fermented and aged in reused oak barrels that once held wines, whiskeys and tequilas. "We have a couple steel fermenters," Schwenk says, "but a lot of the fermentation will be going on in the oak barrels themselves."
The barrel fermenting influences a beer's flavor and plays a role in the Belgian tradition that Schwenk and co-owner Christophe Gagné are looking to follow, but it's also inspired by environmental consideration. "[Fermenting in wood] is cutting down on our stainless-steel use in the brewery; steel has a really high environmental impact," Schwenk explains. What's more, wooden barrels are cheaper than steel tanks and can be stacked and stored for long periods, which will enable the brewers to age beer for years.
One of Hermit Thrush's flagship beers, a sour ale called Brattlebeer Cider Ale, is made with 20 percent local apple cider; in time, Schwenk and Gagné plan to use it as the base for a more time-consuming — and rarer — beer. "In the long term, [Brattlebeer] will work out like a lambic," Schwenk says, "but you need three years to make a lambic, so this will be our proto-lambic."
For now, he says, the cider-pils is an excellent sipper as is. Modeled after a French-Belgian brew fortified with cider to increase its shelf life, "[Brattlebeer] has a crisp, apple-y, almost Champagne-like head on it," Schwenk says. Adding cider, he notes, "makes a really exciting beer."
Other early brews include Brooks Brown Ale, traditional Belgian-style nut-brown ale; and High Street Wild IPA, a funky, hoppy brew made with locally captured and developed natural yeast.
When the brewery opens, Hermit Thrush beers will be available on draft in the tasting room. They'll move into growlers, kegs and taps at restaurants statewide in the weeks and months to come.