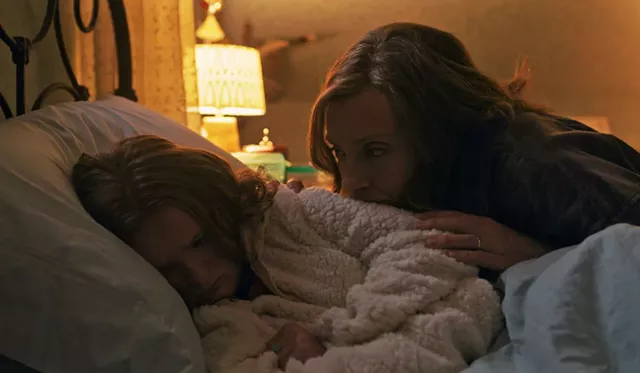 KITH AND SIN Collette plays a mom who discovers distressing branches on her family tree in Aster's psychological horror flick.
Hereditary, the feature debut of writer-director Ari Aster, is one of those films for which I recommend using a flow chart of caveats. Do you like horror movies? What about horror movies that are emotionally grueling and taboo breaking? Do you enjoy the experience of sitting in a theater after a film ends trying to catch your breath and asking yourself, "What the hell was that?"
If you belong to the small portion of the moviegoing populace that answers "yes" to all these questions, prepare for a ride. Hereditary plays masterfully with your head, starting with its stunning opening shot, which introduces us to the mountainside home of the ill-fated Graham family.
That shot also introduces us to the portent-laden art of Annie Graham (Toni Collette), a painstaking creator of tiny dioramas. The camera pans slowly from a window to one of her miniature rooms — which, as we pull in, seamlessly becomes the actual room in which her teenage son, Peter (Alex Wolff), is sleeping.
Are the events we're seeing real or constructed? Are the characters acting freely, or are they dollhouse occupants, manipulated by unseen hands? Encapsulated by that opening now-you-see-it, these questions only grow more urgent as the film progresses.
The Grahams are mourning the death of Ellen, Annie's mother — although "mourning" is perhaps the wrong word. Ellen was mentally ill, as we learn during Annie's tormented eulogy and subsequent session at a grief support group. She was also a practitioner of spiritualism. While Dad (Gabriel Byrne) serves as the family's rock, only 13-year-old Charlie (Milly Shapiro), a budding artist with a distinct interest in the grotesque, appears to miss the dearly departed.
Soon Annie begins seeing apparitions in dark rooms. The simmering tension between Peter and his mom boils over into a series of bad decisions, and ... things happen.
Any more plot summary would be a disservice, because Hereditary throws us for several loops, playing with and on our expectations. While genre-savvy viewers will guess where the story is ultimately going, the genius of Aster's film is how skillfully it forces us to care about the people trapped in this sadist's dollhouse. Not since Rosemary's Baby, perhaps, has a film been so nasty and so tender at once.
Much of the credit for that emotional punch goes to the actors. Shapiro is peerlessly creepy, Wolff sells some incredibly difficult character turns, and if horror performances got the big awards, Collette would be a shoe-in. Brittle, neurotic and volcanically angry, her Annie comes this close to the line between classic and camp. Sometimes we feel tempted to laugh at her, but we can never ignore her.
As a horror film, Hereditary delivers the goods, with crack pacing and a third act of sheer gothic madness. But viewers who come solely for scares may leave distressed, because the movie also has psychodrama written in its DNA. While most horror flicks permit us to watch from the safe perspective of the diorama artist, here we're all too likely to empathize as Annie flails in the snares of what may or may not be her destiny.
Like last year's The Killing of a Sacred Deer, Hereditary is rife with Greek tragedy references. But while that film is an arch joke that never lands, this one is a ride on the back of a Fury. Come for the spookiness, stay for the drama (and trauma) — and revel in the power of cinema to make us tremble for the poor souls stuck in the dollhouse.