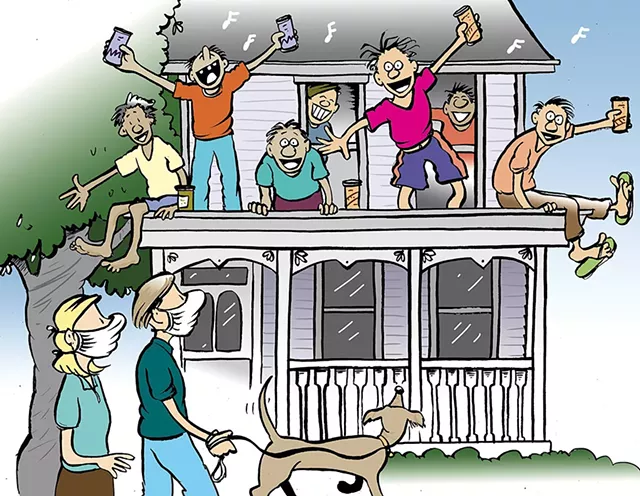 June 1, the traditional moving day for thousands of University of Vermont students, means headaches for the city of Burlington even in the best of times. Most student apartment leases begin and end on that day, and a legion of young renters pack up their lives to move to new quarters. Cars and rental trucks jockey for parking on clogged city streets. Unwanted furniture piles up on the greenbelt, abandoned for waste collectors to deal with.
The annual upheaval is expected in a college town and usually ends quickly. But as Vermont continues to combat the spread of the coronavirus, concern is growing among city residents that the event may bring more than just some minor inconveniences. Anxious that an influx of out-of-state college students could put the state's hard-fought suppression of the virus at risk, some are pressing leaders for a concrete plan to prevent any outbreaks.
"Quite frankly, the university's been dead silent up to now," said resident Tony Redington, who is in his eighties and lives on St. Paul Street. "What we have is a situation where we have absolutely no information and everybody's sort of waiting for the university to let us know."
"It's really up to the university to set the tone," Redington added.
UVM informed students in mid-March that they would be transitioning to full-time remote learning after their spring break. At that time, university president Suresh Garimella told students not to return to Burlington and asked those who lived off-campus — about half of the university's 10,700 undergrads — to head home.
"Many of you share close spaces in a way that presents risks to you and to your roommates," he wrote. "What will you do if one of you becomes ill or needs to self-quarantine? Most of you will be better off back home with your family."
It's unknown exactly how many off-campus students followed that advice. Though city streets were unusually quiet during last week's final exams, a handful of students still splayed on rooftops or kicked back on front porches. Still, now that the university plans to resume in-person classes this fall, students who did heed the president's request are likely considering a return to the city, particularly those who would otherwise be paying rent for an empty apartment.
With this in mind, the university says it is working on an outreach campaign to inform students of the safest way to return to Burlington, including a request to self-quarantine.
The school plans to discuss how it will handle the return of off-campus students during an online briefing Wednesday, May 13, featuring university officials and a representative of the Vermont Tenants program at the Champlain Valley Office of Economic Opportunity. It has also developed a survey for off-campus students, to "get a better sense of the numbers," UVM spokesperson Enrique Corredera wrote in an email to Seven Days on Monday.
Survey respondents will receive tips, resources and guidance from the Vermont Department of Health, Corredera said. Those who arrive from out of state will also be asked to self-quarantine for 12 days — a time frame the university is basing on recent guidance from health experts. UVM will contact all rising juniors and seniors, and the school will work with city staffers to ask landlords to "reinforce communications to tenants moving in on June 1." The school is also considering a phased approach for on-campus students to collect their belongings from the dorms.
Vermont officials recently detailed a new testing and contact-tracing strategy that they hope will tamp down any potential coronavirus outbreaks before they spread further. Under the new guidelines, anyone who enters the state — including college students — can be tested after quarantining for a week. Students who wish to receive the free test can either call their doctor or the student health center, according to the health department. Those who test negative can then end their quarantine.
The health department also informed the university that out-of-state family members can help students move if they only stay in town "for a few hours" and depart later that day, Corredera said. Families who travel up to Burlington within the next month likely wouldn't be able to find lodging in the city even if they wanted to stay. Scott has ordered Vermont inns and hotels to remain closed to the general public until June 15 and has not said whether he plans to extend that date.
Speaking at his daily coronavirus briefing last Friday, Burlington Mayor Miro Weinberger outlined UVM's self-quarantining plan and said the city is working with the university to firm up guidance. He acknowledged the concerns about returning students and said they are well founded. But he suggested that the summer influx will actually help the city by serving as a trial run for the fall, when the rest of UVM's student body descends on Burlington.
"It's probably a good thing that we're getting an opportunity to try that on a smaller scale now," he said. "I'm sure there will be a lot of lessons learned from it and some additional guidance that will be developed."
Other city officials believe that UVM should take a more proactive approach.
City Council President Max Tracy (P-Ward 2), who lives in the heart of off-campus student housing on Greene Street, said he asked UVM to tell students that they should only return to Burlington for essential reasons, such as jobs or internships.
"If they come back and they don't have a job or some other thing to do, then it could just mean more large gatherings and parties," Tracy said.
Though city streets have been quieter since the university sent students home, Tracy said he has witnessed some worrisome lapses of social distancing, including a Cinco de Mayo gathering outside a nearby house at which both students and parents played drinking games.
"We need to really be vigilant about this, recognizing that although we have prevented a lot of community spread, that's fragile," Tracy said. "It's a recipe for disaster if people [who] are coming from out of state are playing games like beer pong."
Burlington police usually rely on the city's noise ordinance to break up big gatherings. An updated municipal ordinance gives the department a new tool to crack down on pandemic parties. It authorizes police to cite people for breaking the governor's executive orders, which currently ban gatherings of more than 10 people.
Deputy Chief Matthew Sullivan said the department has not yet cited anyone for violating the ordinance, nor has it had to deal with any of the traditional quality-of-life issues that often arise while the university is in session.
That is likely because many students are home — for now, anyway. The peace comes at a cost: If students did not return for the summer, that could impede recovery for businesses that rely on their patronage.
For Charlie Giannoni, a 54-year-old who lives on Rose Street, therein lies the challenge. Giannoni said the students who live in his neighborhood all seem to be adhering to the health guidelines, wearing masks and keeping their distance from others. He said he's worried that some city residents may aim their fear and frustration at students when it's not warranted. At the same time, he understands that a large number of out-of-state arrivals could lead to an outbreak.
"We're all concerned," he said. "But what do you really do about it? When does it cross a point where public safety has to buckle under the needs of the economy?"
"Is it fair to tell the students not to return?" he asked. "Is it fair for them to return to put other people in danger?"
Giannoni said he doesn't know the answers, which is why he plans to support city and college leaders in whatever they decide. "It's such a short period of time to make these important decisions," he said. "All the pressure is on them. The rest of us just have to basically wait and see."