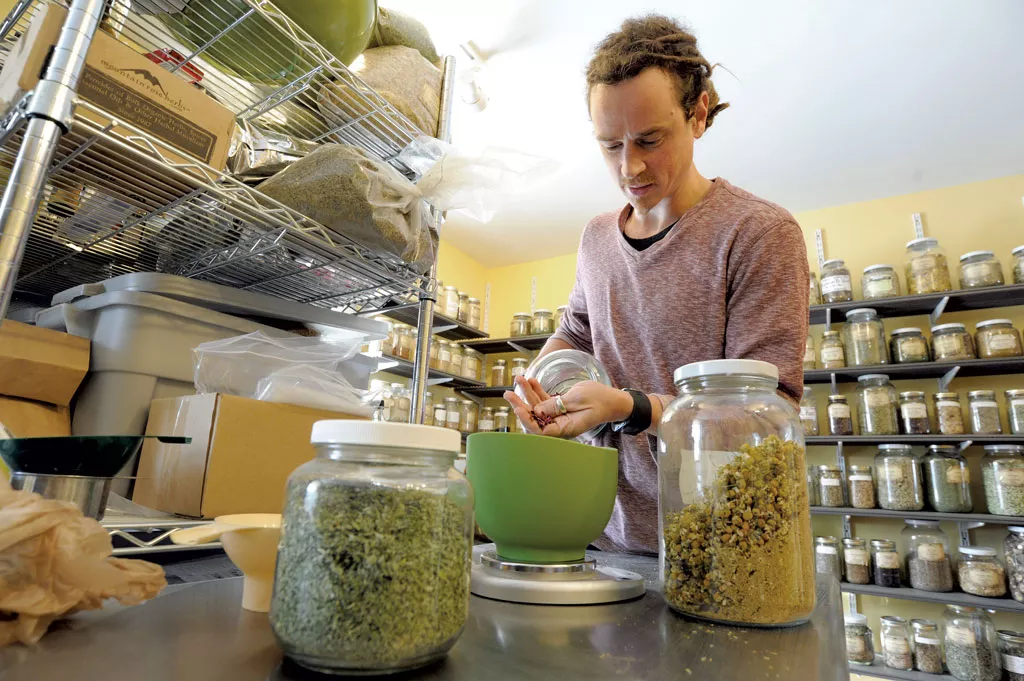 Jeb Wallace-Brodeur
Guido Masé at the Vermont Center for Integrative Herbalism
When Guido Masé was a teenager, he had what he remembers as a life-changing revelation. One day it struck him that the two seemingly opposed forces pulling on his life — his fascination with mystical spiritual traditions and his interest in chemistry, biology and other hard sciences — weren't diametrically opposed at all. Instead, he realized, those interests could work together to inform a discipline of healing: herbalism.
"I was sitting in a tree when I figured this out," Masé admits a bit sheepishly. "Herbalists feel like they talk to plants sometimes."
Now 39, Masé has been engaged in a dialogue with the botanical world ever since. He's a member of the American Herbalists Guild and founder and codirector of the Vermont Center for Integrative Herbalism, a nonprofit school and clinic in Montpelier. Masé also serves as the chief herbalist at Urban Moonshine, a producer of organic bitters and herbal tonics in Burlington. The company's mission is to "bring herbal medicine 'out of the cupboard and onto the counter' in everyday life," according to its website.
That's Masé's goal, too. He sees herbal remedies not necessarily as alternatives to or replacements for modern "tech medicine," as he puts it, but as a "whole cultural system that re-wilds, renews and strengthens our species and our ecology." The herbalist, he says, acts as the bridge between those two worlds.
To that end, Masé often works in conjunction with mainstream health care providers, including family physicians in Montpelier, cardiologists in Burlington and oncologists in Boston. Masé's wife, Anne Dougherty, is a gynecological surgeon who specializes in global women's health at the University of Vermont Medical Center. For a time, the couple worked together at a clinic in Tanzania using their respective specialties to treat the local population.
Masé stocks 300 herbal species in his Montpelier apothecary and has worked with more than 1,000 varieties. He's tried them all on himself to explore their medicinal effects on the human body, a luxury unavailable to physicians, nurses and pharmacists.
"Herbal medicine has the potential of doing a lot of good in the context of the modern medical system," Masé says, "relieving the burden on primary care and empowering people to take care of themselves with things that are very accessible and low cost."
But as herbalism gains wider acceptance by the public and the medical establishment, legitimate herbalists wrestle with protecting their industry from less-scrupulous players — while keeping their methods open and accessible to everyone.
Is some form of state licensure or national certification the answer? Not in Masé's view. He calls himself a "professional herbalist," but he readily acknowledges that the designation is one he's bestowed on himself. In 2006, the American Herbalists Guild peer-reviewed his education and experience — but, he admits, "that's as good as it gets" for professional certification in his field.
Other healing professions that emerged from age-old folk traditions, such as midwifery and osteopathy, have standardized their training and sought licensure to legitimize their professions in the eyes of mainstream medicine. But Masé says most herbalists view such standardization as antithetical to their cause.
Instead, he says, herbalists relish their organic, nonhierarchical and "dirty, in the best sense of the word," relationship to the world. Masé believes that herbalism needs to defend its roots as a body of knowledge that for thousands of years was available to and practiced and understood by everyone.
In Masé's view, modern society's disconnect from the natural world has contributed greatly to the prevalence of chronic diseases, including heart disease, diabetes, obesity, cancer, and various digestive and immune disorders. His aim, through his teaching and clinical practice, is to help people reconnect with their ecology and discover the seeds of their own healing in their kitchens and gardens.
Jeb Wallace-Brodeur
Guido Masé handling ingredients
"If you want to start learning about herbal medicine, just go to the produce department [and get] garlic, thyme and ginger," he suggests. "If you have those three, you can do so much."
Garlic, he points out, is a major cardiovascular remedy with antibiotic properties. Ginger is anti-inflammatory and great for any and all digestive complaints. Thyme has long been a respiratory remedy of choice. Added to steaming hot water, it can clear your nasal passages.
"Once you get a handle on that," Masé says, "you'll realize that herbalism is as much a part of our culture as food is."
Ann Armbrecht, a writer, anthropologist and herbalist who lives in central Vermont, describes Masé as "incredibly knowledgeable" about a wide variety of herbs. Unlike many in their field who specialize in a single approach to herbalism, she says, Masé has a deep understanding of the underlying chemistry and physiology of plants' interactions with the human body.
Masé's herbalist roots were planted early in life. He grew up in Ferrara, Italy, a town dating to the Renaissance that he describes as roughly the size of Burlington. His father is from the Dolomite region, where Masé spent much of his youth. On a typical summer day, his father would wake him at 4 a.m. to drive an hour or more to reach a specific valley before other foragers arrived. Some days his father brought along a troop of Masé's cousins, who spent hours harvesting wild mushrooms, elder-berries and bilberries. Back at home, his father would set up "an assembly line of kids" slicing and drying the mushrooms and turning the berries into jams.
Most such outings were taken to supplement the family diet, Masé recalls. But his family also gathered certain plants for tisane, a medicinal infusion or strong tea used to treat colds and flu, and harvested arnica to make anti-inflammatory liniments for treating sprains and bruises.
"It was very much home first-aid stuff," Masé recalls. "My father wasn't especially plant-y or tending to the community. It was just part of the culture."
At age 14, Masé and his family relocated to his mother's native city of Kansas City, Kan. Young Guido soon discovered that none of the plants he was accustomed to harvesting in the Italian Alps was available there — and that most people in Kansas didn't do that sort of thing.
It wasn't until Masé began attending Wesleyan University in Connecticut that he realized he missed being outdoors, harvesting wild plants and making herbal concoctions. Recognizing that he couldn't learn those skills in college, Masé traveled the United States and talked to as many "plant people" as he could find to expand his body of knowledge. He later returned to Connecticut, where he'd met Dougherty, who would become his wife.
In 1996, the couple moved to Montpelier. They bought land in central Vermont where Masé could grow medicinal plants, make herbal extracts and sell them at farmers markets. In 2003, he held his first apprentice herbalism class, which included two students with whom he now works at Urban Moonshine. Masé's classes later evolved into the three-year program of the Vermont Center for Integrative Herbalism, which was founded in 2007 and annually draws 50 to 60 students from all walks of life. This year, the program will add a fourth year, reflecting students' burgeoning interest in the field.
In many respects, herbalism bolsters the arguments for the locavore movement. As Masé explains, horticulturalists are conducting a lot of interesting research on how plants alter their chemistry based on local conditions, including the air, water and soil. He says that various "stressors" on plants — air pollution, drought, pesticides — can cause them to produce stress-protective compounds. These are then transmitted to the animals that consume them, including humans, who also reap their benefits.
"If we eat the plants that endure the stress we endure, then basically we can tap into these cross-kingdom signals," Masé explains. "Essentially, the ecology is a being, and the [chemicals] these plants make are 'hormones' for the different organs to stay in communication with one another. We're an organ in the ecology, just like the plant is."
"Plants," writes author Michael Pollan, "are nature's alchemists, expert at transforming water, soil and sunlight into an array of precious substances, many of them beyond the ability of human beings to conceive, much less manufacture."
That quote is from Pollan's The Botany of Desire: A Plant's-Eye View of the World, a seminal book in Masé's evolution as an herbalist. But Pollan also hints at the occasionally uneasy relationship between herbalism and mainstream pharmaceuticals. In recent years, as new herbal-supplement companies have emerged to capitalize on the exploding popularity of herbal remedies, some unscrupulous, and at times criminal, practitioners have taken advantage of the boom.
Masé points to reports from China and elsewhere about herbal supplements contaminated with radiation, amphetamines, Viagra and other dangerous additives. As he puts it, "It's kind of the Wild West out there — and sometimes people do it here in this country, too."
Such findings have inevitably attracted the attention of federal regulators, who are beginning to crack down on the herbal-supplement industry. Recently, Masé and Urban Moonshine made headlines when the U.S. Food and Drug Administration demanded laboratory documentation of the ingredients the company's products contain.
"I wholly get where the FDA is coming from," Masé says. "I feel like we were doing a really good job, and I felt super-confident in our products. I wish I could have caught that and been a bit more proactive in communicating with them sooner." Urban Moonshine and Masé are now providing the FDA with monthly updates on their regulatory compliance.
With unscrupulous and potentially dangerous activities threatening the legitimacy of their industry, why do Masé and others still oppose standardization?
If herbalists went that route for legitimacy, Masé suggests, "in 50 years, we'll be talking about isolated curcuminoids [anti-inflammatory molecules] instead of cooking with turmeric root." In short, herbalists would lose their organic connection to the world of cooks, gardeners and folks pulling up plants in the backyard. Ultimately, he says, modern herbalists should not be gatekeepers, but guides on that journey.
While technical standardization might bolster herbal medicine, Masé adds, it would lose the heart of the discipline and obscure the "great gift" it has to offer: roots that predate recorded human history.
"It's always been organic and relational," Masé says, "and I don't want to lose that."
The original print version of this article was headlined "Roots of Healing"