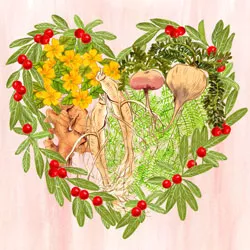 Chalk it up to aging, hormones or just stress: Eros sometimes takes a vacation. While Big Pharma offers a temporary fix for men — Viagra — finding a long-term remedy for waning desire has proved more elusive.
So the libidinally challenged sometimes follow a well-worn path, looking to traditional herbs, roots, teas and infusions to help reignite their fires. Aphrodisiacs concocted from plants and other ingredients are a multimillion-dollar (and growing) business, and the market is crowded with elixirs ranging from Screaming O Intimate Tea (with peppermint, suma and ginseng) to an Herbal Virility Male Performance Booster laced with bovine-testes extract.
Vermont herbalists suggest sexual solutions need not be so far out. "So much about sexual dysfunction is about expectation of penetration, which is a very hetero idea," says Dana Woodruff, a Plainfield herbalist who offers workshops on herbal aphrodisiacs. "Men expect to have an erection, regardless of age, and then think they're supposed to buy pills instead of addressing a circulation problem or prostate health."
Through her company, Dandelioness Herbals, Woodruff sells a few sensual formulations of her own, such as a Chocolate Spice Elixir "to stir you up" and a Heart Elixir of hawthorne berries and rose petals.
Sylvia Lio, proprietor of the Vermont Herbal General Store in West Rutland, says the sexually challenged make up a sizable portion of her clientele. "I get some women, but mostly men," Lio says. The latter often suffer from erectile dysfunction. "They're pretty open about it. People tell their pharmacist everything."
Though she is, indeed, a certified pharmacist, Lio opened her shop about 12 years ago to offer natural alternatives to medicine, she says, an approach she learned early in life from her grandmother. Lio carries a few products for her low-libido clientele, including a lotion laced with ylang-ylang, musk, jasmine and rose ("It smells so good and gets the desire going," she says); and a powdered Vermont Herbal Love Potion filled with ginger, ginseng, yohimbe and damiana.
Local herbalists often cite damiana, a shrub native to Mexico and Central America, as a sexual salve. "You can't ignore damiana. It's warming and dispersive and can give you that rosy glow," says Andrew Wolf, a Burlington gardener and certified herbalist with a specialty in erotic herbalism. He adds that damiana helps melt away one of the most stubborn barriers to sex: stress. "It has an immediate relaxing effect."
Wolf practices Ayurveda, an ancient Indian alternative to Western medicine. For his own "personal virility formula," he uses a combination of exotic-sounding herbs and roots such as ashwagandha, maca, tribulus and kola nut. What Wolf prescribes for clients, though, differs according to their constitution. "You have to take everything in the context of your own body," he says.
That holistic approach is also central to the practice of Liz Geran and Brendan Kelly, certified acupuncturists who own Jade Mountain Wellness in Burlington. Kelly is resistant to citing any botanical as a one-size-fits-all solution to sexual or fertility problems; such issues can have deep roots in the body and psyche, he points out. "In our practice, the question is, why are these symptoms appearing? Symptoms are branches of the root cause," Kelly says. That could be a complicated web of emotional and physical imbalances. "There's no one herb that's always going to be effective," he adds. "We're not taking the usual Western medical approach."
Some of these herbalists' suggestions were esoteric: More than one mentioned deer-antler velvet as an aphrodisiac, and one even recommended pumpkin seeds for prostate health. What follows is a list of more easily procured botanicals. Just consult with an herbalist or physician before trying them.
Damiana
Damiana's cred as an aphrodisiac harks back to the Aztecs, and its renowned powers as a love cultivator are reflected in one variation of its Latin name: Turnera aphrodisiaca.
The plant, which smells a bit like chamomile, can be so relaxing that its use has been outlawed in Louisiana. Yet admirers still flock to the herb for its libido-boosting properties. "The first time I had damiana, it was with a pinch of honey and cayenne, and I thought it was musky and pleasant," Woodruff says. Within minutes, however, "I felt like it heightened my senses," she continues. "Colors were more vibrant, and I felt more aware of my surroundings."
Wolf calls damiana the ultimate herb for relaxation. "It helps you get out of that stressed-out head space," he says. A few Vermont herbalists suggest drinking it in a tea.
Horny goat weed (epimedium) and rehmannia
Kelly says that male sexual problems often result from a deficiency of yang, the universal male principle. In his practice at Jade Mountain Wellness, he and Geran sometimes draw on epimedium — aka yin yang huo, or horny goat weed — to increase virility. "It can help with those who are lacking in the drive and desire of sexuality," Kelly says.
Horny goat weed was allegedly discovered when a Chinese herder of yore noticed his goats got erections after grazing on the stuff. Whether that story is apocryphal or not, the stimulant — a staple of Chinese herbal medicine for more than 2000 years — has been scientifically shown to boost testosterone. Icariin, an extract of horny goat weed, helps inhibit obstacles to erection.
On the flip side, a lack of yin in women can give rise to low libido. For that, Kelly taps rehmannia root, or shu di huang, something to increase a client's ability to "take in sensuality," he says. Rehmannia's droopy, bell-shaped flower makes it a popular ornamental plant, but its roots are chock-full of vitamins and other compounds that boost a flagging libido and counter vaginal dryness. ("Yes, yes, yes!" exclaims Kelly, when asked if rehmannia helps in that regard.) Once the root is dried and ground, it's often taken in capsule form.
Shatavari
Another powerful enhancer for female sexuality is shatavari, a feathery herb with a bittersweet root that has been used for centuries in India to treat infertility and other reproductive problems. "It's pretty amazing and broadly useful, both calming and stress reducing," says Wolf.
In English, "shatavari" translates to "a woman who has 100 husbands." It can be taken in teas and tinctures.
Ashwagandha, ginseng and maca
As Wolf puts it, "One of the major reasons people have sexual problems is a lack of energy," so botanicals that counter fatigue can double as sexual aids. Ashwagandha, which translates to "smell of a horse," is a bushy nightshade herb related to eggplant and tomatoes that has anti-inflammatory and stress-fighting properties. Compounds such as alkaloids and steroidal lactones are plentiful in its roots, and in Ayurveda, ashwagandha is used for enhancing male virility. "It's a pretty great sexual tonic," Wolf says.
Some herbalists don't like to talk about ginseng, because the plant is endangered (its harvest is regulated in Vermont). But this key component of Lio's Love Potion is also a trusty source of sexual oomph. "It's energy raising and strengthening," Wolf says, though he's reluctant to say much about ginseng until its cultivation becomes more sustainable.
Sometimes called Peruvian ginseng, maca is a hardy plant that grows high in the Andes. Though its radish-like roots are sometimes eaten as a vegetable, Wolf says they also "increase stamina, boost libido and allay fatigue." He suggests boiling the ground root with water and drinking the slurry.
Yohimbe
A modern botanical rock star, yohimbe has garnered press in recent years as a natural alternative to Viagra and Cialis. The ground bark of the yohimbe tree — an evergreen that grows in West Africa — is the key ingredient in yohimbine, a drug for erectile dysfunction. The bark itself is a powerful stimulant; some people report that it makes their palms sweat, their hearts beat faster and their nether parts spring to attention. But, warns Wolf, "It's not something to mess with on its own unless you're a 20-year-old guy who can handle everything." Used incorrectly, yohimbe "can damage the spongy tissue of the penis for the rest of your life." Bracing words.
Chocolate
OK, it's not an herb, root, bark or flower. But the Aztecs knew that the power of love lurked inside the cocoa bean — phenylethylamine, a distinct mood lifter. "It increases the blood flow to your skin, and its sensitivity," Wolf says. In Woodruff's Chocolate Spice Elixir, she pairs Fair Trade chocolate with cardamom and ginger "to get our circulation moving." And high dosage is never a problem, except for your waistline.