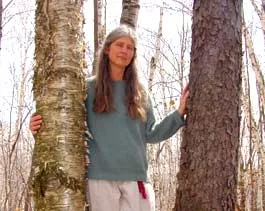 If Vermont's hills are alive with the proverbial sound of music, in Lincoln it's probably Annie McCleary singing or chanting to the wild flora around her bucolic home. The 54-year-old herbalist also chats with growing things. "It's an exchange," she explains matter-of-factly. "I get messages back."
McCleary will teach a number of classes in Addison County this spring, including the daylong "Communing with Plant Spirits" and "Spiritual Dowsing." In another session, she plans to lead an herb walk at the Weeds Farm in Lincoln, where owner Susan Borg will encourage participants to warble to the vegetation. Other workshops seem more prosaic but no less noteworthy — Menopause: Holistic and Herbal Wisdom; Kitchen Medicine; and Women's Health: Herbal Allies and Tea Making.
In addition to her pedagogical pursuits, McCleary operates Purple Coneflower Herbals, a cottage industry she started in 1989 that provides nine different plant tinctures to health-food stores and co-ops along the East Coast. She now produces and bottles 60 gallons of herbal extract a year, from burdock to motherwort, in her bright yellow kitchen.
Herbs are McCleary's chief focus, but her belief system is all-encompassing. "Once you start listening to plants, you have to listen to animals — and crystals, too," she suggests. "I once bought a rose quartz, which you're supposed to soak in salt water in the sun for a few weeks to cleanse and dedicate it to your purpose. It wouldn't stay put. People kept toppling it over. My intent was to seek guidance about my business, but it was just a little rose quartz; a tool of the heart, not my business partner."
McCleary's conclusion about such signs and wonders: "It's a dance."
Make that a song and a dance. Native Americans had tunes for individual plants, she explains. "I work with the spirit of each plant."
McCleary's not the first person to talk to greenery. Remember Findhorn? In 1962, several spiritual seekers settled on a sandy, wind-whipped Scottish peninsula. In that improbable place, they grew giant vegetables by communicating with plant "devas." There were documented reports of 40-pound cabbages and at least one broccoli — too heavy to be lifted single-handedly from the ground — that fed the entire group for four months. As word got around, Findhorn was invaded by hippies and new-agers. By 1980, the pioneers had left and the vegetables had returned to normal size.
Annie McCleary, a willowy woman with long, graying hair and blue eyes, has no particular interest in prodigious cabbages. "The goal is not bigger or better," she says, then adds a thought that's music to her ears. "It's about harmony."
To reach this goal, McCleary is helping others tune in to the plant world, she says. "Many people feel isolated in this culture. So I'm trying to create a mini-community. Ideally, we all would live in some connection with the Mother."
McCleary's not alone. "If you're open, a plant can teach you things," says Laura Brown, owner of Purple Shutter Herbs in Burlington. "That's what Annie brings to her work. She deals with what a lot of people would call 'woo-woo,' but there are plenty of gardeners who sing or talk to their vegetables and flowers, maybe telling their plants that they're beautiful."
Brown's store stocks Purple Coneflower extracts and offers only McCleary's brand of echinacea, an herb credited with strengthening the body's immune system and improving respiratory problems. "A good Echinacea is going to give you a tingling sensation in the mouth," Brown says. "Customers tell me they've been taking other companies' products for years and never had that happen before, or had it work so fast."
In Brown's view, "Herbal medicine is much more than just the chemical composition. It's the intention behind it. It's caring about the Earth. I also like to know who's making the medicine. We have an affinity for plants as our healing allies. My concept is that there's more going on in the little bottle than you might think."
Indeed. McCleary's potions are as much about ritual as ingredients. She always gets ready to work "in the lab" with some spontaneous singing and meditation, while "smudging" herself and the room in the Indian manner with smoke from smoldering sage, cedar and sweetgrass. Sometimes a prayer and a walk outside are part of her process.
Then, as McCleary harvests various herbs throughout summer and fall, she puts roots, tops, leaves and flowers from her harvested herbs in separate jars that are almost half full of 80-proof Gordon's vodka. These batches sit for six weeks. The decanting involves straining the liquid through cheesecloth and composting the dregs. The herbalist mixes some tinctures together. Then each extract is bottled, sealed, labeled and shipped.
The results of her handiwork are long-lasting, McCleary says. "The shelf-life of an alcohol-based tincture with a tight lid is 10, 30, 100 years."
Purple Coneflower's hand-crafted formulations include St. John's Wort, Goldenseal, Echinacea-Burdock-Dandelion-Yellowdock, Echinacea-Goldenseal-Osha, and Vitex, a hormone-balancing extract derived from agnus-castus berry. The herb has "been around for thousands of years," McCleary says. "In Europe, doctors prescribe it for PMS, menopause or any reproductive issue."
McCleary is careful to alert potential customers about any contraindications. Pregnant women should avoid osha and goldenseal, for instance, and motherwort is not good for anyone with heavy menstrual flow.
Cold and flu season is McCleary's peak time of year. She's starting to think about expanding — opening a lab that's not in her kitchen, and hiring employees. The idea of taking on a partner who could handle the business end of things is also appealing.
McCleary's suburban up-bringing was not the least bit "woo-woo." She is the daughter of a church organist/choir director mother and a chemist father — relevant roots for a woman who now gets musical with plants and does something akin to alchemy.
McCleary's introduction to herbs took place in the early 1980s, when she managed to cure her chronic bronchitis with echinacea. At the time, she had been teaching young children for 14 years in the inner-city schools of Hartford, Connecticut.
After studying with a re-nowned herbalist in the Catskills. McCleary came to Vermont in 1985. "I wanted to go north and grow my own food organically," she recalls. The trek brought her to a 180-acre East Hardwick land-trust farm populated by fellow idealists.
McCleary built a house there, worked at an elementary school in the morning, grew echinacea and goldenseal, and launched Purple Coneflower Herbals. She stopped teaching school about seven years ago, when the business began expanding.
She has a scrapbook with photos from this semi-communal era. Some shots depict the farm's splendid field of 2500 purple coneflowers — the common name for echinacea — that people from miles around came to see each year. In one image, she poses with a remarkable-looking visitor dressed in black. Mc-Cleary says the short, elderly British woman, Juliette deBair-acli Levy, "learned about herbs from the gypsies."
Somewhere along the line, McCleary took up dowsing. The age-old practice is commonly used by farmers to divine underground sources of water in order to drill wells. But the tools of "water witching" have taken on more metaphysical implications. People use a forked stick, L-shaped metal rod or dangling pendulum to make inquiries about anything and everything. And the cosmos is presumably listening.
"I use a moss agate pendulum to ask if a batch of herbal extract is well formulated," McCleary explains. "Or I ask the St. John's wort spirit, 'How many pounds may I harvest this year from the field?' I hold the pendulum over numbers I've written on a piece of paper. It moves in one direction for yes and another for no. A circle means maybe."
McCleary always heeds the answers she derives from dowsing. "I would never go against the plant spirits," she vows.
One summer at the East Hardwick farm, she got a reply that was strikingly explicit. "It was very dry that year and I was wearing an amethyst pendulum that suddenly wrapped itself around a small echinacea. That was a message: 'Buy a hose and water us. Now!'"
The plant world apparently gets rather snippy when parched.
Although life in the Northeast Kingdom was largely idyllic, McCleary "felt a calling" to the Lincoln area and rented a house there in July. Her sunlight-filled home is nestled between Deerleap Mountain and the Bristol Cliffs. "This area is known as a sacred space," she points out.
Her roommate is George Lisi, a naturalist who leads weekly bird walks. He and visual artist Janet Fredericks will collaborate with McCleary on a two-day class, "Drawing Plants & Herbal Wisdom." Students are asked to bring sketchpads along with their pendulums.
Another McCleary gathering, entitled, "Kitchen Medicine," will allow novices to make tinctures, comfrey salves, ginger-and-jewelweed compresses, onion-and-cabbage poultices and "pillballs" — tiny herbal pastes that are rolled into orbs and hardened in a freezer. McCleary always informs her classes about which plants are "tonic, nurturing or nourishing" — plantain, chickweed, dandelion — and which are toxic, such as pokeroot and bloodroot. "There's no such things as good plants and bad plants," she cautions. "You just need to know what you're doing."
What McCleary's doing is predominantly holistic, but she's not a vegan. Her diet includes fish, and she wears leather shoes.
"It's an imperfect world," she says with a shrug. "In nature, animals do eat each other. I ask permission from plants before I harvest them, and I never harvest anything to extinction. These plants offer their lives to us if we honor them."
For information on McCleary's herb classes, call 453-6764.