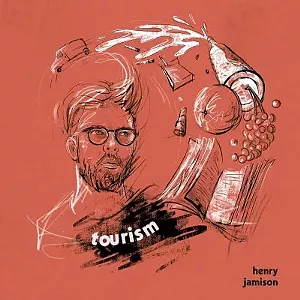 (Color Study, digital)
When Billboard debuted Burlington folk singer-songwriter Henry Jamison's 2019 LP Gloria Duplex, writer Gary Graff noted that the release boasted "a more muscular impact" and "more pronounced dynamics" than Jamison's previous output. If Graff found Gloria Duplex, a quietly contemplative album on which Jamison reexamines his boyhood and masculinity, to be muscular and varied, the musician's new EP, Tourism, might make his head explode.
The amped-up sound of these five songs is partly due to an impressive lineup of guest vocalists and players, including Joseph, Fenne Lily, Lady Lamb and Grizzly Bear's Ed Droste. Boston indie-folk band Darlingside serve as Jamison's backing band throughout.
"Still Life" opens the EP with a burst of sound, bolstered by harmonies from sibling trio Joseph. The sound is bigger and fuller than longtime Jamison listeners might expect but still features his familiar instrumentation of banjo, guitar and piano.
Lady Lamb steals the show on "Orchardist" with her impassioned background vocals that ring out in welcome contrast to Jamison's overly restrained singing. "Orchardist" is the EP's final and standout track, and it spotlights some of Jamison's most memorable lyrics: "It's not just growing trees, it's husbandry, and knowing what the seasons mean."
Jamison described the five-song collection in a press release as a breakup record written on and off the road. The aptly titled tune "Tourism" chronicles the ennui-inducing aspects of traveling from club to club for a living in a way that, unfortunately, borders on whiny. "The club bars can really gin me up / Hendrick's or Tanqueray, I'll pick my poison / Back in the van to the Super 8 when we had enough / Time's got me swimming in it."
I'm hard-pressed to think of another profession in which one can be paid to complain about their job. As a music fan, it strikes me as a backhanded way of entertaining one's ticket-purchasing audience.
The evolution of Jamison's indie-folk sound from sparse to more robust is on trend with the likes of national acts such as Noah Gundersen and Burlington expat Caroline Rose, or local Francesca Blanchard. But Jamison's voice and delivery fail to match the intensity of the bold production.
I relate to the songs on Tourism the way I do to songs by Bob Dylan or Carole King: The songs are special, but I'd prefer to hear them sung by somebody else — in this case, someone like Irish indie-folk singer Dermot Kennedy, red-faced, veins bulging as he projects his feelings to the whole world.
Tourism is available on Apple Music, Spotify and other streaming services.