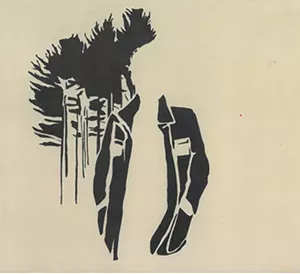 (Akira Records, CD, digital download)
The gents behind Color Study seem to be carving out a niche for the recording studio, record label and artist management company as a go-to creative space for folktronica artists. For instance, Boston duo Tall Heights tracked multiple sessions at the boutique shop in Goshen. More recently, Burlington's Henry Jamison recorded and produced his debut LP, The Wilds, with Color Study's Ethan West and Spencer Kelley. (Fun fact: Jamison and Tall Heights toured together in May.)
The narrative surrounding Jamison is that he is the progeny of many celebrated writers, including George Frederick Root, who famously penned the Civil War-era anthem "The Battle Cry of Freedom." While that's certainly notable, it's not exactly interesting, nor does it have any real bearing on who Jamison is as a songwriter generations later. Fortunately, The Wilds should give curious listeners a pretty good idea.
What is most obvious throughout these gorgeously produced 12 tracks is that Jamison lingers, most often on seemingly immaterial moments, memories and places. This could be a nonstarter for fussy listeners. His musings and recollections seem so utterly real and personal that they can be more alienating than inviting and sometimes fail to convince us that his self-seriousness is warranted.
But there's a lot to love about this record, too. The songwriter masterfully plays every instrument, including synths/keys, drums, guitar and banjo. He and sonic wizards West and Kelley sculpt a symbiotic fantasyland where organic meets synthetic. Jamison's James Blake-esque electro-quietude wouldn't be as savory without the levity of his banjo pickin'.
"The Jacket" begins with a pulsing, widespread bass synth and simple drum machine kick. As his fingerpicked acoustic guitar dances in, Jamison describes a paralyzing moment. He leaves a bread-crumb trail of clues that hints it's a breakup song, yet he seems to cherish the memory. "What was I supposed to say to her? / In the grocery aisle / In the air-conditioning," he repeats.
"Through a Glass" is split in two: a shapeless, dreamy introduction and an aw-shucks electro-country ballad. Jamison sings of a woman, "But she weren't mine, and I weren't hers," before telling us, "She was talking to a 6-foot-5 marine / Who was living out of his truck / She said, 'He is very fragile' / I said, 'I don't give a fuck.'" It's Jamison at his most flippant, standing out against his more subdued deliberations.
Fans of the folksier side of the man's duality will love "Black Mountain." The Appalachian lullaby begins as a campfire song before unfurling into a grand work of layered strings and roiling percussive elements.
Fans of all things precious and pristine will lovingly add Jamison to their music library. Several cuts are a bit interchangeable, but that only adds to the record's overall meditative palette.
The Wilds is available on iTunes.