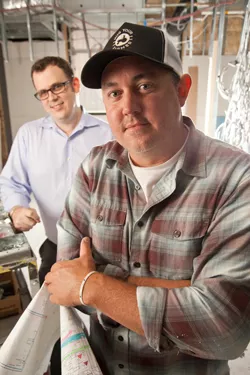 William McNeil and Eric Warnstedt
On Wednesday, October 9, Hen of the Wood Burlington opens its doors to the public. Of course, back in 2011, we were told that historic day would arrive in April 2013. So what happened?
"The new construction collaboration with the hotel was a big project for them and a big project for us," explains HOTW executive chef and co-owner Eric Warnstedt. "You lose a week, it actually ends up being a month. Next thing you know, we're six months behind." Still, Warnstedt says the delays left his team stronger and better prepared for success.
At a soft opening last Sunday, the abbreviated bar menu was headed with the words "Finally! Right?" And the crowd seemed to be in agreement. Warnstedt and co-owner William McNeil say the 95-seat restaurant was completely full that night and the preceding one from 5 p.m. until nearly 10.
Sous-chef Justin Wright shaved sweet and smoky Southern ham for guests while chef de cuisine Jordan Ware prepared small bites, including smoked-bluefish toast and winter squash fritters. Both dishes will likely be on the opening menu.
Besides a ham plate with cider aioli and onion jam, starters included puntarella crêpes and the classic Hen of the Wood mushroom toast.
Fresh Tracks Farm rabbit leg and loin with buttered celery root and roasted dogfish with heirloom beans and baby fennel numbered among the entrées. A new staff addition, Calvin Hayes, butchers whole animals for the restaurant. Everything will be touched by fire, whether on the wood-fired grill or in the oven. The latter is manned by Paul Link, most recently executive chef at Bluebird Barbecue.
The new dream team also includes Andrew LeStourgeon, former pastry chef at New York's prestigious Fig & Olive. He's been with the HOTW family for nearly a year and provides desserts to the Burlington and original Waterbury locations, as well as chocolates to Hotel Vermont guests. Early sweet options at the Burlington restaurant include an opera cake with almond sponge layers in maple-rum syrup, and a Little Sweets plate dotted with treats such as "pine needle" chocolate, pâtes de fruits and maple fudge.
While HOTW now serves dinner each night from 5 to 10 p.m., the bar scene starts at 4 p.m. and doesn't stop rocking until 1 a.m. The bar staff includes Christopher Maloney, formerly of Bluebird Tavern, who was featured in Esquire magazine last year. His drinks include unconventional interpretations of the mojito and rum and Coke. Welcome to Burlington, Hen of the Wood.
The original print version of this article was headlined "Finally! Right?"