Courtesy Of Burton Snowboards
Burton staff are swapping lenses from mirrored to amber on some of the 1,300 Helix goggles Anon donated to Goggles for Docs. The amber tint will be easier to use in a hospital setting, and the Helix model fits over existing eyeglasses.
The snowboarding season ended early this year; by the end of March, ski resorts from Bolton to British Columbia had shut down because of the coronavirus pandemic.
Instead of wallowing in grief, the staff of Burlington-based Burton Snowboards took action. "Right now," reads a post on the company's blog, "the question on our minds isn't: When can we snowboard again? It's: What can we do to help?"
Photos Courtesy Of Burton Snowboards
Surgeon Catherine Logan, MD wearing a pair of donated goggles.
Burton is just one of dozens of local businesses that have stepped up to help Vermont communities during this unprecedented crisis. Local entrepreneurs and their staffs have devised creative ways to strengthen our communities and fill the gaps in our social safety net. Some are making donations; others have shifted their businesses to respond to local needs. Read on to learn about some of their efforts.
We hope they inspire you to buy local next time you make a purchase, rather than looking for the cheapest item on Amazon. Jeff Bezos is not going to make face masks for you or deliver pastries to your town's first responders.

---
Skirack in Burlington is donating ski goggles to Goggles for Docs, which distributes goggles to doctors who need protective equipment.
---
Birchgrove Baking
in Montpelier now offers
"Sweeten a Day" boxes
. From their Facebook page: "When you order one, we will box up a selection of our day's pastries and distribute them to the local hospital, police and fire department. Support a small business and our community's frontline workers all at once."
---
In a blog post entitled
"How We're Joining the Fight Against COVID-19 and How You Can, Too,"
Burton Snowboards lists the ways it's aiding the effort. These include:
Donating half a million KN95 masks to hospitals. The first shipment of 200,000 went to hospitals in Vermont and to Dartmouth-Hitchcock medical center in New Hampshire; the next shipment is bound for New York City.
Transitioning its Burlington prototyping facility from producing snowboards to making face shields for hospitals.
Donating 1,300 Anon goggles to Goggles for Docs.
Giving health care workers access to a 50 percent discount on Burton merchandise, "so when you've made it through the front lines, you can enjoy your own line in the mountains."
---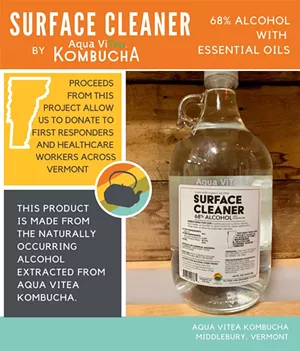 Aqua ViTea Kombucha
of Middlebury has come up with a new use for the alcohol it extracts from its kombucha. According to its
Facebook page
: "We're diverting this resource to make Surface Cleaner for our medical community, and partnering with Barr Hill Gin (made by
Caledonia Spirits
) to produce
Hand Sanitizer
. Every time you purchase our Kombucha, the extracted alcohol from your bottle will end up in the hands of people that need it. We're all in this together."
Silo Distillery
has also started producing
alcohol-based hand sanitizer
. Other businesses producing sanitizer include
Lunaroma
and
Sail Vermont
.
---
The Skinny Pancake
is feeding Vermonters in need through a new program called ShiftMeals: a local food response to COVID-19. Created in partnership with the Intervale Center, the Vermont Community Foundation and the High Meadows Fund, ShiftMeals are prepared in the Skinny Pancake's food commissary in Winooski and delivered to sites in Burlington, Montpelier, Waterbury and Quechee. According to the website: "We serve anyone and everyone who needs a meal: laid-off restaurant workers, musicians, artists, gig workers, farmers, anyone affected by this crisis. You might not have the cash, you might not have access to the store, it doesn't matter, if you need help, we're here for you." An April 10 Facebook post noted that ShiftMeals had delivered 640 meals that day to more than 200 individuals and families. Sign up for a meal or donate to the cause at
skinnypancake.com/shiftmeals
.
---
Burlington-based virtual bookkeeping service
Reconciled
is offering free 20-minute CFO consultations for business owners who need help applying for SBA assistance or who could use some expert bookkeeping advice. Learn more at
getreconciled.co/covid-19resources
.
---
Employees at
Vermont Teddy Bear
in Shelburne have switched from producing the company's signature product to making cloth masks with donated materials. Cathy Carlisle of Vermont Teddy Bear told WCAX-TV that the company hopes to make and distribute 3,000 of these now-essential items. "We are giving priority to anyone who is in the medical profession in one way or another, whether it is veterinary medicine, nursing homes — we have given some to janitors, those who clean our building," she said.
Seven Days
circulation director Matt Weiner picked up a donation of 20 of them for the paper's delivery drivers.
Fat Hat Clothing Co
. in Quechee is also giving away handmade cloth masks to local groups and individuals. The retailer's employees had sewn 1,200 of them as of Tuesday.
---
James Buck
Seafood tagine
Little Morocco Café
in Burlington's Old North End is closed for takeout, but the restaurant is serving free hot soup and rice three times a week from 3 to 5 p.m. on Tuesdays, Thursdays and Saturdays.
Stowe Street Café
in Waterbury is also making and distributing free community meals.
---
Businesses using 15 or more computers can get a free consultation with
NPI Technology Management
of South Burlington. Its website promises that NPI will "answer your questions and provide technical advice on remote-workplace issues — and we won't make it a sales call." The company has also compiled remote-working tips at
npi.net/making-the-remote-workplace-work
.
---
Trent's Bread
in Westford has been donating more than 100 loaves a week to local food shelves, including Feeding Chittenden. Bread baker Trent Cooper — who took over Gérard's Bread Bakery — said people who need bread can email him directly at
trent@trentsbread.com
.

Union Street Media founder Ted Adler, Nicole Junas Ravlin of JunaPR and former Burlington Free Press publisher Brad Robertson created Love Vermont, a free, pop-up directory of local businesses selling merchandise or taking orders online. The site also includes links to businesses' GoFundMe campaigns. As of press time, the site offered more than 200 options. According to the Love Vermont FAQ page: "It's our hope that by providing this resource, we'll be able to mobilize loyal customers to provide much-needed support for their favorite places in town."
How can you help local businesses?
Restaurants, retailers and other businesses play a vital role in our community, and right now, they're struggling. It's time to #SaveLocalVT.
Order from a local restaurant. Find Vermont restaurants offering takeout, delivery and curbside service at Seven Days' new directory: goodtogovermont.com.
Buy a gift card or season pass. For example, to support the Spirit of Ethan Allen III, you can order a gift card or a 2020 Season Passport. Paying for services in advance will help them stay afloat.
Shop local online. Some Vermont retailers are still fulfilling orders through their websites and even offering discounts on in-state delivery.
Call a local store to get the latest info. Don't just rely on online information or social media — pick up the phone. During the coronavirus chaos, many small businesses don't have time to update their websites.
Pay a little extra to support a local retailer. Consider it an investment in your community. Think you found a better deal on Amazon? Ask yourself: When was the last time Amazon donated to local charities or sponsored local events?

---
What are you doing to break the Amazon habit?
Share your story about buying local on social media with the hashtag #SaveLocalVT or fill out the form below. You'll be entered to win a gift card to a local restaurant or store — extra credit for creativity! Dazzle us, and we'll publish your contributions to inspire your neighbors.
This article was commissioned and paid for by Pomerleau Real Estate.