Jeb Wallace-Brodeur
L to R: Miriam Bernardo, Sarah-Dawn Albini, Lisa Raatikainen, Sara Grace, Nessa Rabin, David Symons, Ben T. Matchstick, Anaïs Mitchell, Ben Campbell
Founded on one of the world's most fertile granite quarries, Barre is no stranger to hellish racket spilling onto its streets. But in recent weeks, one devilish din has been emanating from the faded walls of the blue-collar burg's Old Labor Hall. There, a cast of musicians has been running through the latest incarnation of Vermont singer-songwriter Anaïs Mitchell's sprawling folk opera, Hadestown.
Since its construction in 1900, the historic brick Labor Hall has been the centerpiece of the Granite City's working-class community. It was originally a gathering place for the city's Socialist Labor Party and a venue for nationally renowned speakers who advocated for labor reform and worker solidarity. The hall's history is blood-stained, too: It was the site of the 1903 murder of stone carver Elia Corti, following a dispute between the city's Socialist and Anarchist factions.
So it seems fitting that this monument to the backbreaking toil and political strife of the Industrial Revolution should host rehearsals for Hadestown. Set in a post-apocalyptic "company town" and laced with striking thematic elements that evoke the darkest days of the Depression, the piece is an ambitious and imaginative retelling of the Greek tragedy of Orpheus and Eurydice. It opens this Thursday at the Barre Opera House, the first of a seven-date tour.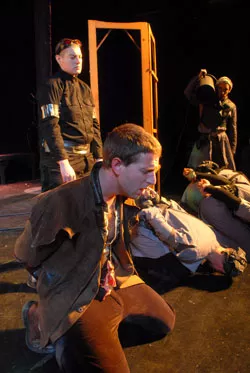 Jeb Wallace-Brodeur
Ben Campbell
While interpretations of the classical myth are hardly rare, Mitchell's version is unique in style and scope. It draws from a deep well of musical and theatrical ingenuity to present the tale in compelling and, at times, sinister fashion. Employing the considerable talents of a cadre of local performers, Montpelier-based Mitchell has painstakingly fleshed out the fated lovers' tale, injecting it with startling compassion and eerie parallels to authoritarianism past and present. "Deep in the bedrock," indeed. Welcome to Hadestown.
The legend of Orpheus and Eurydice is a sorrowful one. The son of Calliope, a Muse, Orpheus was said to be the world's finest lyre player and singer, with abilities rivaled only by the gods. Madly in love with Eurydice, he becomes despondent when, on their wedding day, his bride is bitten by a serpent and dies. So mournful are his resulting elegies that Orpheus is advised by nymphs to seek an audience with the King of the Underworld — Hades.
Orpheus' lachrymose tunes move the heart of the king's wife, Persephone, who persuades her husband to allow the couple to return to the land of living. The King agrees, on the condition that Eurydice walk behind Orpheus the entire length of the journey. Should he turn to gaze upon her before they reach the upper world, she will be lost forever.
"It's a songwriter's wet dream to write this story," explains Mitchell, 25, "because the hero is a very powerful musician who can battle the powers-that-be with his songs." But the opportunity to craft a story around a character with otherworldly musical abilities was not the only draw — or even the most important one — for this songwriter. "The part of the myth that was most inspiring to me was the idea that the Under-world is this place where the rules are the rules. You can't get a dead person back, no matter how well you sing," says Mitchell, who plays the part of Eurydice. "There's a facelessness to that world," she adds. "People are numbers, and you can't get through to anyone. The forces are in motion."
That sense of finality inspired Mitchell to transform Hades' Underworld into Hadestown. The mundane hopelessness of life in a purgatorial mill town proved a strong setting with which to contrast Orpheus' desperate optimism. "He truly believes that if he can just make beautiful enough music, maybe he can reach somebody," Mitchell says. "I think, as artists, that's the dream: If you can just create something beautiful enough, you can move the world."
************
What Mitchell has created may or may not move the world, but it will certainly move and challenge audiences. Conceived over a period of several years, Hadestown is an intensive labor of love featuring some of the songwriter's finest craft to date. In some ways, it may also be her least accessible work.
Following a brief but successful debut run last year, in several Vermont venues, Mitchell returned to the drawing board. "It worked last year," she explains, pausing before adding, "I felt there was a lot missing, but it worked."
Aside from a few scenes and musical numbers, what was missing was a connection to the listeners — they tended to get lost during the play's more abstract moments. "I got a lot of feedback," says Mitchell, laughing. "People would say, 'Wow! That was great! . . . What was going on?'"
Recognizing the enduring strength of her source material, Mitchell came to believe that she could allow the story to speak for itself. It wasn't necessary to force artsy aesthetics on her audiences, but she wanted to preserve and convey the poetic beauty of her interpretation. "There's a 'pulling-it-out-of-the-ether' quality to this show that I don't want to sacrifice," she says, "but I also feel that it's such a powerful story — all those Greek myths are — that it could be an emotionally cathartic experience for the audience if they could really comprehend what was happening with the story, and if it was paced right."
Sensing the need to "meet the audience a little closer to halfway," Mitchell focused on character development and streamlining the story. "In order to bring it to the next level, it's been this real push and pull," she concedes. "I don't want to break what's there, but on some level you almost have to in order to move it along."
Mitchell's personal love of storytelling equipped her to handle the task of simplification gracefully. "My main desire for this version of the show," she says, "is that we not sacrifice the metaphor and the poetry of it, but that people really understand who these characters are.
"I love to be invested in a story," Mitchell continues, "and musical theater has that power, because music expresses something that you can't say in words or even show on stage."
************
To help express what words alone couldn't, Mitchell nabbed local avant-jazz guru Michael Chorney to score her opera. Chorney, 46, and Mitchell have a long history of collaboration, culminating most recently in her solo album The Brightness — her first for Ani DiFranco's Righteous Babe record label.
Chorney's contribution to Hadestown is remarkable both for its inventiveness and its sensitivity to the material. The opening tune, "Epic I," is reminiscent of Sufjan Stevens' gleefully elegant arrangements. "Everything Written," the song in which Eurydice dies, is haunting and elegiac. The opera's centerpiece, "Wait for Me," is perhaps the most stunning — and show-stopping — example of how Mitchell's writing and Chorney's score work in synchronicity. Here, folk opera becomes majestic pop opera as Orpheus, played by the silky-voiced Ben Campbell, descends into Hadestown, passionately determined to rescue his beloved Eurydice.
"We call it a folk opera, but the music isn't really folk," says Mitchell. "It's sort of a combination of this really dramatic show-tunes music and this very artsy music. I'm not really even sure what you'd call it."
If the music defies easy classification, it's nonetheless effective in relaying the story, thanks in no small part to Chorney's band Magic City, which the guitarist brought along to breathe life into his compositions.
"I've been fortunate to work with these folks a lot, which is a big advantage," says Chorney. "For the most part, Anaïs gives me the skeletons of the songs, and I sort of hang on to the tune and pluck ideas out of the air.
"For me, the most fulfilling moment is that first rehearsal when I hear the charts played," he continues, "because, until that point, it's all just in my head. But I love just to hear it come alive, especially with these guys."
"Coming alive" is about as apt a term as one could conjure to describe how the band and cast perform Mitchell's opera. From the moment Hadestown's opening notes take flight, the division between singers and instrumentalists disappears, and the group becomes a unit. Vocal arpeggio calls are echoed by Caleb Elder's graceful viola responses. Dynamic swells and lulls are buoyed by Geza Carr's deftly syncopated drum rhythms. Soulful turns by Cerberus, played by Sara Grace, are met with fiery twists from Andrew Moroz's trombone. The sultry, subversive Persephone, given life by jazz siren Miriam Bernardo, feeds off the band's hot-house jazz. Her sinister husband Hades, played by Inner Fire District accordionist David Symons, wraps himself in a cloak of musical mystery.
************
The skillful blending of band and cast is integral to the opera's staging, directed by Bread and Puppet veteran Ben T. Matchstick. A veritable theatrical Swiss Army knife, Matchstick, 32, also designed the set and plays Hades' messenger, Hermes.
"Obviously, I want the melodies to be interesting enough that they can be arranged by Michael in a compelling way," says Mitchell. "But a lot of my creative impetus comes from wanting the songs to work as a story and be compelling as a staging, too." Mitchell says Matchstick and his experience in various forms of alternative theater have proved inspiring to her: "It's really been this magical meeting of the minds."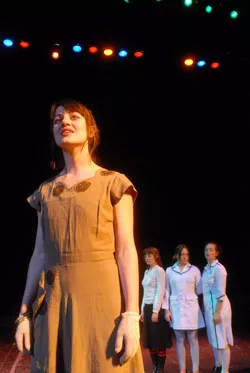 Jeb Wallace-Brodeur
Anaïs Mitchell as Eurydice
Given the production's modest budget, Matchstick's resourcefulness has been another invaluable asset. For example, a "utility chorus" acts not only as vocal backup but as stage crew, carrying makeshift lighting and scenery on and off the stage.
Like Chorney, Matchstick feels his involvement with the original production has served him well. "We know a little more about the show this time, so it helps to make the budget go a little farther," he says. "But it's still fairly scaled down in terms of the design, and we borrow a lot of stuff and get a lot for free.
"But the things we've been able to add have been really nice," Matchstick continues. "The biggest chunk of our budget has gone to adding more people, like the utility chorus, for the tour." Mitchell concurs, adding, "The design elements this year are through the roof, but they're much more deliberate and thought out."
The hunter-gatherer production approach is a good match for the show's aesthetic. "I really like to use the forms of theater to push the story," says the director. "There's no reason that we should try and make a realistic world here. We're basically doing the old Greek style of carving a hole in the sand and letting the show happen right there. After that's established, we can use every trick in the book."
With a grueling run of eight shows in 11 days — including one in Somerville, Mass. — the citizens of Hadestown will likely need them all.