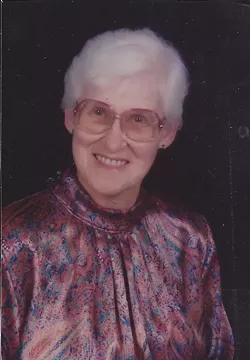 Helen Dudley Brownell, 91, passed away October 20, 2015.  She was born December 26, 1923, to the late John and Clara (Valliere) Dudley. During World War II she worked in the factories as a "Rosie the Riveter" and then went to work for GE, retiring as a tool inspector. She volunteered at University of Vermont Medical Center. Helen enjoyed traveling and spending time in the sun, knitting, jigsaws, and caring for cats.  She will always be remembered for her pleasant disposition and kindness.
A devoted and caring mother and grandmother, she is survived by her son George (Jennifer) Brownell, daughter Kathleen Kirstein, grandchildren Margaret Brownell, Christopher Kirstein and Benjamin Kirstein, brother Earnest Dudley, extended family, and many friends. She was predeceased by six sisters and two brothers.
Services will be private. Donations in her memory may be made to Chittenden County Humane Society. Arrangements are under the care and direction of LaVigne Funeral Home and Cremation Service. Condolences may be shared at lavignefuneralhome.com.