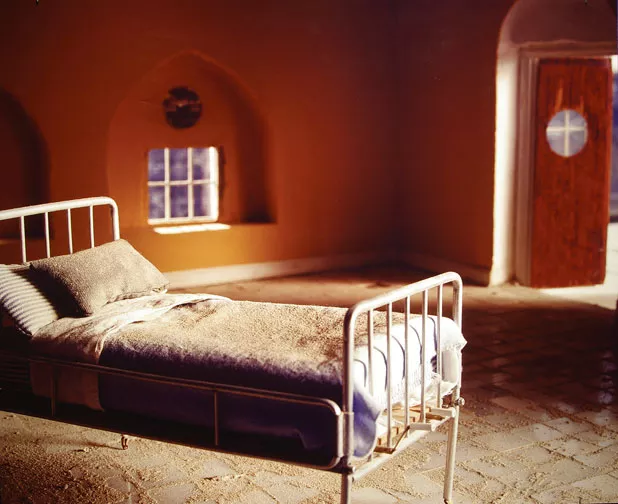 "Hospital Bed," Wafaa Bilal
The Helen Day Art Center's decision to exhibit a video game that gives players the chance to shoot George W. Bush was defended at a forum held last week at the Stowe gallery.
The Night of Bush Capturing: A Virtual Jihadi is one element in a show of mainly conceptual pieces by Iraqi American artist Wafaa Bilal. (Click here for a review.) His video game revises an Al Qaeda rewriting of a 2003 web-based game entitled Quest for Saddam, in which the aim was originally to assassinate the then-leader of Iraq. Al Qaeda's hack makes Bush the target. Bilal retains that focus and adds an image of himself as a suicide bomber recruited by Al Qaeda following the death of his brother, which occurred in a U.S. drone strike in Iraq in 2004.
Rensselaer Polytechnic Institute in Troy, N.Y., canceled plans for a Bilal show in 2008 in response to an uproar over Virtual Jihadi. RPI's Republican club termed the school's arts department "a terrorist safe haven." Bilal's show was subsequently presented at an independent media center in Troy — which was quickly shut down by city officials, supposedly for "building code violations." A documentary film about this censorship, created by the Sanctuary for Independent Media, accompanied a talk about free speech by Bilal last Friday night.
The explosive history of Bilal's work caused consternation among Helen Day board members, who spent five months discussing whether to sponsor the show, curated by exhibitions director Odin Cathcart. Nathan Suter, the center's executive director, said at the January 22 forum that comments ranged from "I don't think this is art; I don't think we should show it" to "Showing this is the reason I'm on the board."
Helen Day has suffered a drop in contributions as a result of the choice it made, Suter revealed. He said $4400 has been donated to support Bilal's show, which is about half the total raised for the gallery's previous exhibit. Suter added that financial factors do get weighed in decisions on whether to present controversial work." If a particular choice "cripples our ability to raise money, the board needs to say we have to moderate that choice or make a different choice."
Asked by an audience member whether artists should impose any limits on the content of their work, Bilal said he refuses to put limits on his own art. "The aim of my art is to engage people in a necessary and important dialogue," he explained. "The outrage here is because we now see ourselves as the hunted, not the hunter," Bilal continued. "Why is it OK to assassinate foreign presidents if we cannot even talk about this in a video game? Ideologically, the game is a real challenge, but as a free society, we should be able to take that challenge."
Bilal fled Iraq in 1991 after being detained for opposing Saddam's invasion of Kuwait. He said at the forum that he is grateful to the United States for "giving me a chance at a second life."
None of the roughly 40 audience members criticized the art center for including Bilal's video game in its show. And Tom Kearney, editor of the weekly Stowe Reporter, suggested that the center is acting in the spirit of the U.S. Constitution's guarantee of free speech.