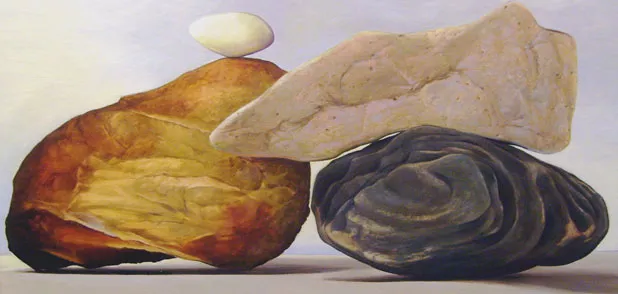 "Collection 2" by Lynn Barton
The 10th annual "Rock Solid" exhibition at Studio Place Arts was 380 million years in the making. The chiseled sculptures are primarily fine-grained Barre granite, which materialized during the Devonian period and has been quarried in the area since the early 1800s. The weighty exhibition includes 33 stone works by 19 sculptors, as well as 17 two-dimensional pieces by four painters and printmakers.
Welcoming viewers on the sidewalk outside the gallery is "The Supplicant," a kneeling woman carved from Barre gray granite in a somewhat art nouveau style. The 24-by-48-inch piece by Worcester artist Sophie Bettmann-Kerson has a triangular profile, like a small mountain. The figure is bent over so far that the top of her head rests on the ground. The subject's drapery is abstracted into graceful lines that hang like silk.
On view from the street, in SPA's front window, is "Learning to Fly" by Barre sculptor Giuliano Cecchinelli II. The roughly 24-by-36-inch portrayal of two birds on curved branches is frontally oriented; its oval negative spaces, reminiscent of fan coral, create an engaging rhythm. Cecchinelli's sculptor father also has several interesting figurative pieces in the show. His "La Mia Mamma" is an 8-by-12-by-15-inch sculpture of an aged woman slumped crossways in an overstuffed chair. Her weary posture seems to suggest she was a hard worker.
Phrases prominently etched into B. Amore's "Question II" include "...the mind keeps expanding into whatever space is opened" and "Do some people really figure things out?" A ghostly photo-transfer portrait looms mysteriously from the flat, 12-by-18-inch marble slab. A curious detail of the piece is four small wheels that give it the look of a child's pull toy.
A vertical, 40-inch-tall geometric abstraction called "Harmonies," by Windsor sculptor John H. Hikory, is made of black granite. The standing zigzag form has rows of uniformly angled lines running down its broad sides. Hikory has hewn an elegant shape that contrasts rough areas with smooth planes and emphasizes ascension.
The two-dimensional pieces in the exhibition are like portraits of gathered rocks. "Stones of Scituate Beach from Cherrie's Collection," numbered I-V, by René Schall is a collection of small, square paintings on panel. The rocks are shown from different angles — some with blue sky behind them, others from above with sandy backgrounds. The rounded beach stones from the Massachusetts shore are green, pinkish and gray. The way they're crowded into each picture plane makes them seem monumental.
Lynn Barton of West Rutland presents "Collection 2," a 20-by-40-inch oil painting of four rocks on a light background. It's a beautifully painted realist work with detailed lithic grains and engaging shadows beneath the stones. An egg-shaped stone is placed on top of the pile; the large stone at lower left has a bold swirl.
Two of Barton's abstract, mixed-media monoprints are also on display. Like details of the surface of granite, the 12-by-12-inch images have complex visual textures and a limited range of hues. "Fault" appears to be a view of rocks in a stream, rust colored with green highlights.
SPA's annual "Rock Solid" exhibitions are among the best indoor sculpture shows in the state. But, considering the gallery's location in the original "Granite Capital of the World" — as opposed to the upstart berg of Elberton, Ga., which also claims that title — perhaps that's no surprise. The 10th rendition is, indeed, solid.