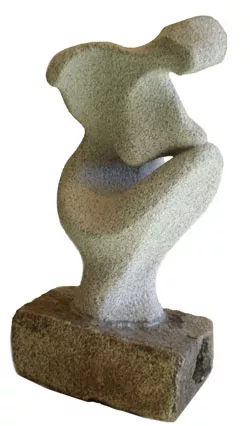 "Repose on a Barre Main St. Cobblestone" by Giuliano Cecchinelli
After eight consecutive years, the "Rock Solid" exhibition can be considered an enduring tradition at Barre's Studio Place Arts. The show reflects on the wondrous world of stone — a ubiquitous material in Vermont — and pays particular tribute to the town's history of granite sculpting. Sending stone-themed art to Barre is like bringing the proverbial coals to Newcastle, but the event nonetheless reminds viewers that rock art is alive and well in the Green Mountain State.
Giuliano Cecchinelli's "Repose on a Barre Main St. Cobblestone," dating from 1968, provides a tangible link to a distinguished stone-working heritage. The 22-inch-tall abstraction stands atop a raw granite cobblestone like a graceful spirit rising from the town's central thoroughfare. Cecchinelli was born and trained in Carrera, Italy, but his sensitivity to tight-grained Barre Gray, which is quite a bit harder than the famed Italian marble, makes his piece seem as light and pliable as pale Play-Doh.
Vermont has three official state stones — granite, marble and slate — and the most brittle of the trio, slate, dominates the work of Kerry O. Furlani. With 11 pieces, the Rutland artist figures prominently in "Rock Solid." Her aesthetic of simplified, curvy lines works well across media; several of her large, chiseled slate tiles are paired with charcoal drawings of the same biomorphic abstraction. Furlani's proportions are perfectly matched, even when she alters scale. For example, "The Lines Between Us," in charcoal, measures 21 by 30 inches, while the slate version is 17 by 23 inches. Furlani's slate pieces are gentle relief carvings, and her drawings achieve a similar effect by lightly blending the charcoal lines.
Like a Parthenon horse head from the Elgin Marbles, Joan A. Gaboriault's 22-inch-high marble "Horse" presents a steed's head posed in a staunch S curve. The artist's modeling of the equine bust is beautifully proportioned, and the gray veins of Vermont marble are vertically aligned to enhance the form's sense of thrusting movement.
Nick Santoro's "St. John Petroglyph," a relief carving on Danby marble, appropriates a symbol carved in the Virgin Islands by the Arawak Indians. The 30-by-18-inch slab presents a horizontally oriented, bifurcated and serpentine design; its rhythmic staccato chisel marks resemble the crosshatching of a pen-and-ink drawing. The textural contrast between the smoothness of the abstract serpent and the crosshatching is very pleasing. The slab itself looks ancient, with coarsely worked sides and an irregular, roughly rectangular shape.
Stone's mass, color and plethora of forms inspire two-dimensional artists, too, and their insights into the medium are in evidence at "Rock Solid." Leslie D. Bartlett, from Gloucester, Massachusetts, contributed a dynamic, 5-by-7-foot photographic print on satin; the tall, vertical triptych is entitled "Caribbean Blue (Rockport, MA Quarry)." Bartlett focused on the multihued striations of a sheer wall of stone. Colors range from distinct reds to subtle greens to a deep indigo waterline running along the bottom of the quarry.
The exhibition also features half a dozen highly realistic pastels by Rene Schall, one of Vermont's premier artists in that medium. Her well-organized compositions portraying smooth stones of various colors range up to 30 by 40 inches.
There's nothing aesthetically rocky about "Rock Solid" — the show has no rough spots. Considering the typical high caliber of SPA shows, it is no surprise that this one is also topnotch. And, after eight years of these weighty exhibitions, the gallery's floor doesn't seem to be feeling the strain.