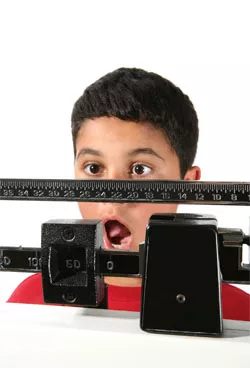 Green Mountain kids are growing — and not in good ways. Between 1999 and 2007, the rate of childhood obesity in Vermont increased by 42 percent, according to the Rudd Center for Food Policy and Obesity at Yale University. Sure, we're better off than plenty of other places — 43 other states have higher rates, reports the Childhood Obesity Action Network — but, in a nation staggering under its own weight, that's like comparing Twinkies and Ho Hos. Everyone knows kids need to move more and eat better — the question is, how do parents make that happen?
Seven Days asked some local experts on exercise or nutrition for their take. Some clear themes emerged: Start feeding kids the good stuff early, model healthy habits and don't make exercise all about competition. Finally, our consultants suggest that, rather than just laying down the law, parents should try to make veggies and fitness fun.
******
Nicci Micco, deputy editor of features and nutrition, EatingWell Media Group
Eating a diverse range of nutritious foods even when you're pregnant can help encourage your child to be open to lots of tastes, as it seems that a growing baby can actually taste the food it is getting from Mom late in pregnancy. One research study showed that when mothers drank carrot juice during the third trimester of their pregnancies, their babies were more open to drinking it when it was given to them later.
When you're introducing solid foods to your infant, offer a range of different vegetables and fruits. I made my own baby food for [my son] Julian, who's now 2, which allowed me to offer him puréed beets and parsnips from our CSA share — stuff that wasn't available in commercially prepared jars.
But there's never a time that's too late to help your child cultivate a taste for healthy foods … Keep trying and keep mixing things up.
While I don't recommend offering vegetables only in disguised form, I do recommend making sure that your kid gets some veggies this way: Finely chop (a mini food processor works great) cooked vegetables and put them into quesadillas, omelets, even pastas.
At restaurants, the kids' meals are usually the least healthful things on the menu. Share part of your meal instead — restaurant meals are usually too big for most adults, anyway — some chicken from your salad, black beans, etc. I love Mexican restaurants for kids.
If a kid keeps refusing meals, take a look at what he or she is getting in snacks. Too much juice, snack crackers, even milk can crowd out the healthful foods you're trying to feed him or her at meals.
Linda Berlin, director, UVM Center for Sustainable Agriculture, and nutrition specialist, UVM Department of Nutrition and Food Sciences
If you look at the research and health behavior change theory, it's about modeling; kids look to their parents. If your children are not seeing you eat certain things, it matters.
Vermonters have an advantage because we have a culture here today that is favoring exposure to CSAs and farmers markets and gardening. People have happy, fun attitudes about it; it's not just, "You must eat your vegetables!" And when kids are in the garden picking the green bean off the vine or at the farmers market, it builds their self-efficacy, or locus of control.
Positive reinforcement matters. Don't make food a battleground. Our emphasis on wanting kids to eat healthfully has, in some cases, backfired. We want to keep people focused on the positives; it tastes good, and it's good for the environment.
Abbie Nelson, education coordinator of Northeast Organic Farming Association of Vermont and director of VT FEED
If the child has some form of interaction — has been introduced to it, helped prepare it, etc., or if there has been any interaction with the farmer — the food has value.
And the value could be "I know that food; I've experienced it before in a different way, so I trust it," or "I know that food because it's from the farm I visited."
Parents can bring that involvement with food. They can go to the vegetable department of a grocery store and ask the produce stocker, "When did you get this? Where did it come from?" Involve the child in the cutting up and the making of the food. Cutting up the green pepper, sampling it, putting it on a tray with other vegetables. If they already eat carrots and celery, put one more vegetable on the tray with the carrots and celery.
Develop a culture in the house: "We are a family that tries new foods."
Carrie Jacques, after-school program coordinator, King Street Youth Center
Turning off the TV is one of the best things parents can do. When kids are forced to use their imaginations, amazing things can happen. Parents [who may not have access to a safe place for kids to play outside] can encourage their children to do science activities, put on plays, draw, cook, build forts, build with blocks, read a book or play a game.
Then, if children need to get out energy, need to be inside and don't have a lot of room, they can do things like sit-ups, push-ups and jumping jacks. These are high-energy, small-space activities.
Janet Franz, chair, Vermont Governor's Council on Physical Fitness and Sports
The most important thing a parent can do is to role model healthy behavior. [Kids should learn] that exercise is a part of life, just like brushing your teeth. It's what you do. Being active should be a lifestyle, and if parents model that lifestyle, then their children will be active.
I give my 6-year-old choices for his activities. We've asked him about T-ball, lacrosse and soccer. But, no, he wants to do drama club and French club. And that's OK. He's going to do a family karate class in Shelburne with my husband.
With the Governor's Council on Physical Fitness and Sports, next winter we're going to have a video contest statewide — short videos to encourage Vermont kids to move more, eat more colors and turn off the video screen.
Lindsay Simpson, physical education consultant, Vermont Department of Education
Technology can be a very engaging way to encourage youth physical activity. Parents can work with their children to set individual and family goals for physical activity. Pedometers, accelerometers or heart-rate monitors can be used to track progress by recording steps or time spent in aerobic activity. Progress can be recorded in journals, and then achievements can be celebrated.
Incidentally, I strongly discourage use of either physical activity or food as punishment or reward. Both are necessary for healthy growth and development. Instead, parents should seek alternative reinforcements such as stickers or an active toy. Engaging children in the selection of such rewards can be very empowering.
Nancy Heydinger, executive director, Girls on the Run Vermont
Parents should be careful about pushing children beyond their limits; be careful of burnout and injury from overexercising.
Keep competition healthy and not too extreme. Kids who are on competitive teams in college are more the exception than the rule. Let your children be the lead when it comes to playing competitive sports. Self-esteem should not be based on winning or achievement.
Make the activity a fun and social experience; don't focus on it as exercise in the beginning. Once they have been moving, they may feel the benefits of the activity that they are getting. This usually helps the kids to be more energized and want to be more active.
The Girls on the Run curriculum focuses on playing games and participating in activities that involve movement. The focus is on lessons introduced as games. The lessons include examining goals and values, how to recognize and change negative behaviors into positive actions, team building, cooperation, bullying, standing up for oneself, and the girl's role and responsibilities to her community. I think one of the key reasons that GOTR is so successful in Vermont and throughout the country is [that] it is not a competitive program; the girls naturally bond with and support each other.
Girls are encouraged to set their own goals; they are told that they are perfect the way they are … special and unique individuals.