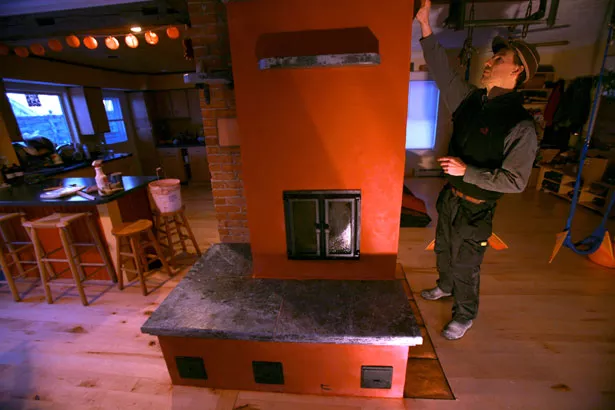 With the price of oil hovering around $90 a barrel, heating a home in the frigid months can daunt even the hardiest of Vermonters. Enter William Davenport, a 33-year-old mason who builds super-efficient indoor heaters from bricks, mortars and more. The son of a restaurateur (father) and domestic-violence counselor (mother), Davenport grew up in Mechanicsburg, Pennsylvania, before graduating from the University of Vermont in 1996 and entering into the masonry business shortly thereafter.
Typical heaters, says Davenport, take one to five weeks to build and cost $12,000 to $18,000, a price that is eventually offset by reduced heating costs. Davenport is now a father himself, traveling from his Burlington home nearly every morning to jobsites around the state, where he crafts special chimneys and bake-ovens for other families' hearths. He's also the vice president of the Masonry Heater Association of North America, which has about 180 members. "The first generation of heater builders in the association tell me that whenever fuel prices go up, they get jobs," says Davenport.
Recently, Seven Days warmed up Davenport with a few questions about his craft.
SEVEN DAYS: So, how did you get started in masonry heating?
WILLIAM DAVENPORT: In 1996 I started working for a stonemason. I came across The Book of Masonry Stoves by David Lyle. I opened the book and that was the moment. "This is pretty amazing," I thought. "I want to learn how to do this." It took a while to get started, but eventually I did some apprenticeship.
SD: How do masonry heaters work?
WD: It's a heating technology from Europe - several hundred years old, but they've just been built here for the last 35 years in North America. In this firebox, you're burning cordwood really hot and really fast, and you're getting the combustion temperature really high, which makes it a clean burn, a complete combustion. Then there is secondary combustion, so you're superheating gases and keeping them inside. With an armload of wood, you're heating a 2000-square-foot house for 12 hours during the coldest months of the year. It's radiating energy at about 150 degrees average - a fairly gentle heat, but it's pretty powerful.
SD: I read on your website that, as a kid, you liked to work with your hands?
WD: Yeah, for me it was building dams and streams with rocks and sticks and building forts and stuff. A friend says that when I was little, I told him I was going to be a mason when I grew up, but I don't remember that. When I first started to work with stone on a job, it felt really natural to me. It's always felt really natural.
SD: What was your major at UVM?
WD: Sociology. [Laughs.] I've been on a lot of jobsites in Vermont and there's someone with a Master's or PhD on every one. I know a stonemason who's an ex-lawyer; it's the most "overqualified" state.
SD: What's it like to build masonry heaters in Vermont?
WD: I think it's super. The population around here is fairly receptive to the technology. I work for a lot of really nice families - people who want to have an efficient wood-burning hearth in the center of the home. I feel like I make a lot of friends. I feel really lucky - I get to build something that's personal for them.
SD: Where do you get materials?
WD: A lot of basics come from the masonry yard. When I use soapstone, I get that from Québec; veneer stones usually come out of New York State. Whenever possible, I try not to use stuff that comes from very far away.
SD: What other tools do you bring to the job?
WD: The masonry wet saw, all the masonry hand tools, levels, trowels. A large portion . . . is done with a mortar pan, a mortar hoe, hand trowels and levels and a wet saw. Oxyacetylene torches for stone, even brick. Routers, belt sanders. Woodworking tools for soapstone. I do some metal work, so I have a small forge at my shop in Essex.
SD: What kinds of skills do you need to be a heater builder?
WD: The psychological skill set? We're pyromaniacs. [Laughs.] That's what helps us endure. Because it's pretty hard work. I forget how hard it is sometimes. If I hire someone, the first week all they're telling me is, "I went home last night and I was asleep at 8 p.m." You have to be determined. But I'm never just focusing on, "This is hard," because my mind is really enjoying working out other details. I like it because, when I work the inside, it's combustion science - the technical realm - and then the exterior is really artistic. I enjoy that part of it, how it joggles those two sides of my brain. That keeps me happy.
SD: What's the hardest project you've done?
WD: The Living Futures project in Huntington - it's just a massive, crazy sculpture of stone that was physically incredibly demanding. I have a pain in my head caused by some sort of spinal trauma - occipital neuralgia - and I'm pretty sure it was caused by that project. I can do things to reduce it, but it's there.
SD: Have you had any fires or explosions?
WD: Disasters? [Laughs.] Well, nothing major. The beauty of it is, heaters are really safe, because while you are burning faster and hotter than any other wood-burning appliance, it's embedded in so much masonry that it's really hard for it to get out. They only function when the door is closed. [A problem might be] not lighting a house on fire but, more typically, a stress crack. [The heaters] always work. There might be a few adjustments that need to be made, but they've done what people expected them to do.
SD: How often do you get feedback on your work?
WD: I wish more. At the Green Mountain Monastery they had a dedication, and half of it was dedicating the hearth. I was touched. I was tickled.