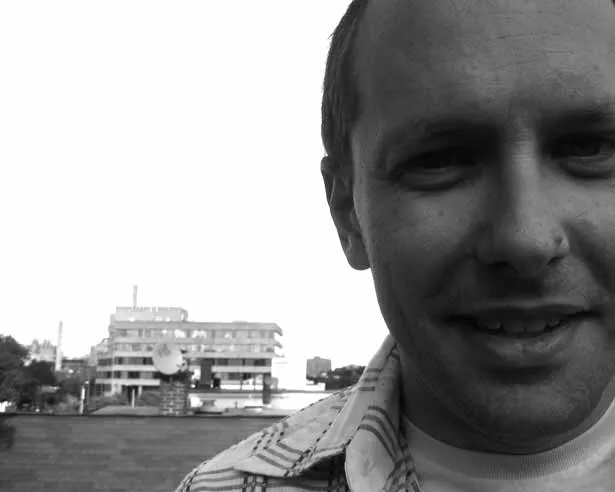 It's fun to play the villain," says Neil Cleary with a wry smile, stirring his Bloody Mary in a secluded booth in the back of a dimly lit Irish bar in Somerville, Massachusetts. "They get all the best lines."
Cleary is as about as mild-mannered and unassuming as they come, so those words might come as a surprise to people who think they know him well. The 35-year-old songwriter has been a working musician for more than 15 years and has built a well-earned reputation as a gifted writer with a knack for earnest, heart-on-sleeve musings - as evidenced by his well-received solo debut, the alt-country-tinged Numbers Add Up. He's also blessed with a razor-sharp wit, which takes a turn for the devilish on his new album, the pop-rockish I Was Thinking of You the Whole Time.
A departure from his earlier work both in style and scope, the record allows Cleary to assume the role of charming rogue and pose a question seldom heard in modern pop songwriting: Just who the hell is the guy breaking hearts in all those sad love songs? The answer might shock you. It's Neil Cleary.
"It's actually a phrase that was said to me once," Cleary explains, referring to the provocative title of his latest effort. "At the time, it really didn't help at all," he admits. "But I realized that the person who said it really meant it."
Cleary became enamored of the contradiction implicit in that "I was thinking of you" sentiment: There's a brutal honesty in coming clean about betrayal, yet it's rooted in deep, heartfelt regret.
"I had that phrase in my head for a while," he says. "I almost tried to write a song with that title, but I couldn't quite get all the pieces together. I decided I wanted to make it an album." He pauses before continuing, with a grin, "And I knew I wanted it to be a sleazy album."
Two heavy influences on Cleary's new record are Aimee Mann's Bachelor #2 and Liz Phair's gender-bending masterpiece Exile in Guyville, in which the songwriter turns convention on its head by assuming the part of the reckless philanderer. "I was very attracted to that," says Cleary. "She [Phair] talks very openly about hurting and getting hurt and takes the idea of this womanizing posturing and translates it to the woman's point of view." He clarifies, "Not that she's the one doing it so much as she's sort of parodying it and examining it."
"There are so many songs about heartbreak that, specifically, women have written that I admire," Cleary says, then adds, "But who is the person on the other side? We never, ever see them, and we certainly never hear from them in a song."
Cleary decided that voice needed to be heard, if only to provide a clearer picture of the full spectrum of romantic heartbreak. The album's centerpiece, "That Girl's in Love," is the first song he wrote from his new perspective of a ruthless Lothario. "She'll never see it comin' now / 'cuz no one's ever let her down. / Well that's about to change, 'cuz tragically / that girl's in love with me," he croons deviously, setting the tone for the entire album.
"I typically write pretty earnest stuff, or I at least want to be artful about it in some way" he explains. "But with that song, it was just evil. Not at all like I typically flatter myself to be."
Cleary was as surprised as anyone by the words spilling into that song. But, rather than shy away from his newfound persona, he embraced it. "I just said 'fuck it' and finished the song as pessimistically and comically as I could," he says. It ended up being the cornerstone of an entire concept.
"It encouraged me to write more songs like that," Cleary explains. "Because Numbers Add Up was so earnest and heartfelt, it became fun to explore hook-ups and letdowns and sort of take on this roguish character who says and does everything that you thought they might."
One of Cleary's greatest songwriting strengths is his ability to engage listeners by making his subject matter accessible and identifiable, using witty turns of phrase and a boyishly charming delivery. Or, as Toronto Globe & Mail music writer Carl Wilson put it, Cleary has "the mellow tone of James Taylor and the psychological acidity of a young Elvis Costello." However, when the speakers are miscreants like the ones found on I Was Thinking of You the Whole Time, the singer's charm could be a double-edged sword. How will the album's wily duplicity affect fans expecting the bashful sincerity they've grown accustomed to in Cleary's previous work?
"I was pretty sure I was going to make a lot of women angry," Cleary says with a chuckle. "But in fact," he continues, "I've had a handful of women say to me that they're really glad that I wrote about that, because nobody says it." He pauses, smirking and stirring his drink, before summing up his album with typical conciseness. "Songs of the super-villain," he quips, as our eyes wander toward the waitress leaving our table.
**************
Neil Cleary wasn't always a lady-killing libertine. Actually, it's not really fair to say he's one now, either. But how did he go from wide-eyed troubadour to reckless romantic rapscallion who might make even Tom Waits uneasy?
Though Cleary was born in New York, he moved to Vermont when he was 3 years old with his exceedingly musical family. (His cousins are Joe and John Cleary, of local bluegrass stalwarts The Cleary Brothers.) Neil discovered his interest in music through his older brother Tom, now a noted local jazz pianist. At the time, the elder Cleary was a "four-track Svengali," according to his younger brother.
"I used to beg him to let me play on his recordings," remembers Neil. "All through high school and college he was, like, a basement rock star. And he was inspired by my dad." Cleary's father, Bill, was rooted in traditional American songwriting and even penned a few theatrical musicals himself. "He was really a student of songwriting and passed that along to my brother, which eventually trickled down to me," Neil says. "But I only really started writing when Tom went off to college."
After a brief stint as an undergraduate creative-writing student at the University of Iowa, Cleary returned to Burlington and got his start - like many a local musician before and since - playing open mikes. "I was in this poetry class and discovered that I had no interest in poetry, but really was into words in songs," he explains. "I was not cut out to be a poet by any means, but it really got me to thinking about songwriting."
Finding the singer-songwriter gig to be a lonely endeavor, Cleary began seeking out other musicians, eventually collaborating with current Activists/ Dictators co-founder David Kamm to form the experimental rock group Famous Potato. "We'd just get together and make the most aggressive noise you could imagine," says Cleary. "We'd pretty much just jam and then reassemble those parts into songs. That was really fun and hasn't been topped in my band experiences."
Cleary followed his stint in Famous Potato with one as the drummer for legendary local rockers The Pants. "That was really more of a straightforward rock songwriting experience," he says. "But I really responded to [singer/guitarist] Tom Lawson's songs, being a songwriting geek."
By the time Cleary parted ways with The Pants, he'd invested his energies in creating his own music with a project called Stupid Club. But, like so many good local musicians, he became frustrated with the professional limitations of Burlington. Wanderlust set in, leading the songwriter first to Austin, Texas, and then, in 1998 - perhaps predictably - to New York City, the ultimate melting pot for aspiring artists.
"I think I was really just looking for a peer group of songwriters, and to some degree I found that in New York," says Cleary. "But I also wanted the band experience," he adds, explaining, "It's really lonely, playing songs on your own."
Cleary started a Hank Williams tribute band, which helped introduce him to a community of musicians and ultimately led to a solo residency at a rough-and-tumble East Village bar called 9C.
"9C led to a lot of really great experiences and people in the city," says Cleary. "But meanwhile, I was touring with a lot of other bands."
For instance, he toured as a drummer for The Essex Green, composed of members from former Burlington alt-rock outfit Guppyboy. The arrangement suited Cleary until the band started to see some degree of legitimate success, and he found himself on the outside looking in. "I just started to care too much," he explains. "The first time I got offended by a decision I wasn't included in, I was like, 'Wait. This is lame.' I just wanted to be in their band . . . but I'm just the drummer." He smiles, then goes on, "I've seen enough 'Behind the Music' episodes to know that the drummer really doesn't have any direct input with the rest of the band. You're not a songwriter; you're not a singer. You're a drummer, and if you're happy doing that, do it. Otherwise, shut up."
Cleary's departure from the band was amicable - they remain friends to this day. His time with The Essex Green engendered connections and collaborations with a number of artists in the college-rock mecca of Atlanta - most notably Bill Doss of Olivia Tremor Control, one of the original three Elephant Six collective projects. Those connections would soon serve him well.
In 2004, Cleary left New York and set out on an ill-fated solo tour of the Southwest that would have major ramifications for the arc of his career. He was back in Austin when a small creek near the house where he was staying overflowed its banks, flooded the place and destroyed his equipment. Adding insult to injury, his car was towed the following day, depleting his funds and sending him home to Vermont. "I had no intentions of ever returning to Burlington," Cleary says.
But his stay would be brief. Almost immediately, Cleary was contacted by singer-songwriter Erin McKeown, who needed a drummer for an upcoming tour. He accepted and toured the U.S. and UK, along the way appearing with the singer on "Late Night with Conan O'Brien." He followed that with a stint as Boston-based songwriter Laura Cortese's touring drummer, which enabled him to avoid extra-musical employment for two years.
Cleary's work as a touring sideman has afforded him the time to focus on his burgeoning solo career while maintaining a modest income. It's an arrangement that many solo artists would kill for, but he's starting to feel the strain of juggling freelance gigs.
"It's great when you're playing music," he says of working as a professional musician, "but a lot of times you don't know where your next check is coming from. Not that I'm saying I'm, like, getting on in years. But there comes a tipping point when getting a check for $500 every week becomes more appealing than the sporadic $800 check."
While not as lucrative as his hired-gun work, Cleary's solo career has seen modest gains since his days in New York. He's been able to travel around the U.S. and to Europe, touring behind his first album. And he's developed artistically. The thematic continuity of Numbers Add Up was more coincidence than focused intent, he says. "It just kind of happened that all those songs covered similar territory. But Thinking of You is the first time I've set out to explore one concept in a single album." Four years after he embarked on that journey - "I work slowly," Cleary explains - he glows like a proud father as we examine the finished product. It's time for the album's promotional push.
"Now, this is when the real work begins," Cleary says. "I've always kind of gotten that backwards . . . I still don't know who to shop my record around to. I still don't know any managers."
**************
On I Was Thinking of You the Whole Time, Cleary's Don Juan anti-hero eventually begins to understand the folly of his womanizing ways. He even sounds repentant by the time he sings, "You never knew / all of the lies I was telling you were true," on the album's closer, "You Never Knew."
In real life, Cleary - now living in Boston - has discovered that, for better or worse, the choices he's made will inform the decisions he makes in the future. His willingness to play second fiddle has certainly aided his own success, but one gets the sense that he can't help feeling he's sacrificed some personal artistic aspirations by aiding others in their pursuits.
There are certainly parallels between a rake who exploits the trust and naïveté of a romantic conquest and a music-industry exec who takes advantage of an unsuspecting artist. Perhaps that knowledge is what gives Cleary pause as he discusses the next step in his development as a solo artist.
"I've always been fairly idealistic about it, but I'm only now beginning to understand the professional side of things," he admits. "It's knowledge that you pay for." Don Juan would surely agree.