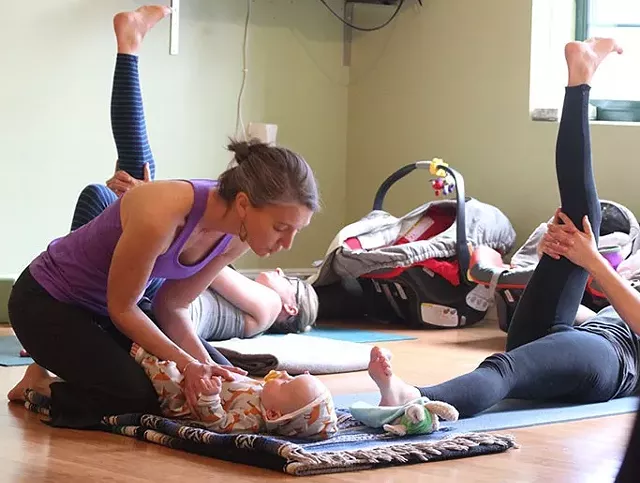 matthew thorsen
Cline Lucey teaches postnatal yoga
Susan Cline Lucey was in the middle of demonstrating goddess pose in front of a postnatal yoga class when she glanced at her shoulder and noticed a wet spot. Was it spit-up? Tears? A mark left by a baby's sweaty head? Whatever it was, she shrugged it off and continued teaching.
Cline Lucey, 42, embraces the unpredictability and messiness of babyhood. That's precisely the attitude that's made her a goddess of sorts to the new moms and moms-to-be who come to Evolution Prenatal & Family Yoga Center, Cline Lucey's studio in Burlington's South End.
Every week, the mom of three leads prenatal classes for pregnant women and postnatal sessions for women who often have infants in tow. She also teaches childbirth classes and works as a doula, helping women before and during childbirth, and after their babies are born. And she employs several other instructors who offer classes for pregnant and postpartum moms, kids and families.
More than just a yoga studio, Evolution Prenatal & Family Yoga has built a culture that supports the reality of pregnancy and parenting — that, in the early years, fatigue and stress coexist with joy and tenderness. As a result, Cline Lucey — and her studio — have developed a devoted following in Chittenden County.
matthew thorsen
Cline Lucey teaches postnatal yoga
Erica Hutchins of Williston met Cline Lucey at a childbirth class. "We fell in love with her, and I started taking prenatal yoga classes," Hutchins said. She now attends postnatal sessions with her 4-month-old daughter, Emery.
Kirsten DeLuca of Burlington started coming to classes when she was pregnant with her son Leif, and now brings the 8-month-old along. As soon as DeLuca became pregnant, she said, "I knew [I] was coming here."
As women arrive for Cline Lucey's classes one weekday morning in April, the instructor slides around in wooly booties chatting with them, using sisterly honesty and a playful smile to set the tone. She'll drop a knowing joke and a second later, with obvious pleasure, sit on her heels and sing to a baby.
Cline Lucey has a dancer's delicate frame and efficient strength. Her wide, often merry eyes tend to reveal her thoughts before she speaks.
"My goal is that through compassion and love and openheartedness, I can give pregnant women in labor the tools" to get through the intensity of birth, she said. "Or the mom at 3 a.m., [the tools] to take a deep breath and say, 'OK, I'm getting up with my baby — again.'"
What Cline Lucey provides women in her classes, she said, is "calm in a vulnerable time in their life."
That, and interaction with others who share their experience. "The hope is these mothers can be muddy together," she said.
The moms say this matters. "The biggest thing is the sense of community," said Hutchins. When she began taking prenatal classes, she said, she realized, "Wow, all of a sudden there are all these other moms going on this same journey."
DeLuca agreed. "The support during my pregnancy was amazing," she said.
During a postnatal class later in the day, around a dozen new moms and caregivers stretched and strengthened their bodies while their babies lay next to them. At the beginning of class, Cline Lucey said, moms often can't close their eyes. "They're too tired; they're too distracted; they're running on overdrive. You have to meet them where they are." But at the end of class, she continued, "they've let go of some of that adrenaline through movement. They're much more able to relax."
Immediately after the postnatal session, Cline Lucey greeted another group of women for a prenatal class. This one had a gentle, inward vibe — women started by breathing with their hands on their hearts and pregnant bellies.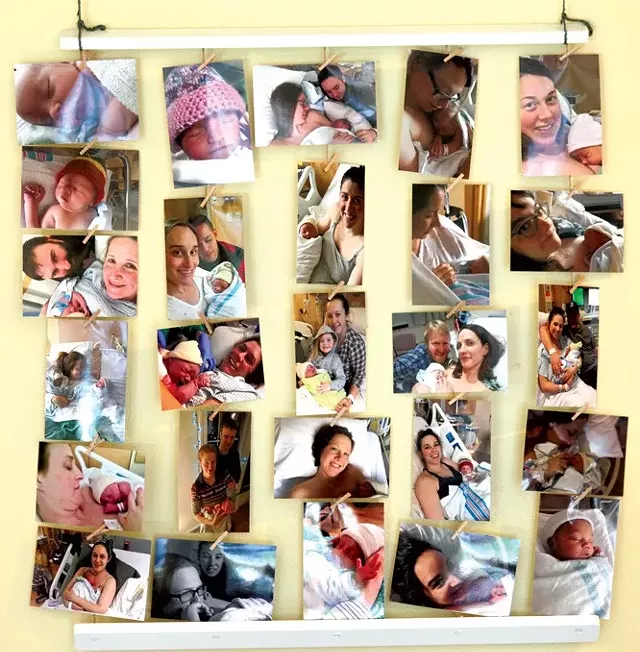 matthew thorsen
A wall of birth photos in Evolution's lobby
When class began, the women sat in a circle, introduced themselves and talked about how they were doing. In the prenatal class, women shared how far along they were in their pregnancies and one woman displayed her freshly hennaed belly. "You're the one everyone is looking at!" Cline Lucey told a woman who, at 39 weeks pregnant, was ready to deliver any day.
In the postnatal class, moms talked about older siblings adjusting to new babies and what they're doing to get out of the house and stay active. Several women mentioned shoulder pain from holding their little ones.
This introduction period, Cline Lucey said, builds community but also allows her to develop a catalog of modifications for each participant. Her thought process is something like this, she explained: "Oh, they pointed to their low back, their back is hurting, and their hand is off to one side? I need to have them do a lunge with their back heel lifted."
DeLuca, a self-described "yoga snob," confirmed that Cline Lucey is especially good at leading women into postures that are right for them. "It's not a super gentle class, for sure," Cline Lucey said. "We do sun salutations modified for pregnancy, we do pushups. We work. But everything has options."
To add to the sense of community in Evolution classes, everyone connected to the baby is welcome. "I've had surrogates and moms. I've had aunties," said Cline Lucey. In a postnatal class, Sarah Haggerty of Burlington stretched out with her twin nephews, 4-month-old Lucas and Andrew, whom she nannies. Sarah's mom Linda Peet of Stowe — the twins' grandmother — was also there to help out.
There aren't many activities you can do with two little babies, Haggerty said. This class offers activity, "especially in winter — and it's safe," she said. "It feels weird at first to close your eyes ... but there's four people watching them." In addition to Peet and Cline Lucey, two studio volunteers on yoga balls are ready to hold or bounce babies so their moms and caregivers can stay in their poses.
Cline Lucey encourages participants to do as much yoga as they can in class. "That's what our practice is, right? Caring for another, but also caring for ourselves," she reminded her postnatal class. As one mom deepened her downward dog pose, Cline Lucey remarked, "I can see your mom shoulders exhaling."
Cline Lucey's interests in movement, teaching and children developed early in life. As a sixth grader growing up in Lexington, Va., she helped her dance teacher with younger students. By seventh grade, she was teaching her own class. She studied dance and choreography at Connecticut College and, shortly after graduating, moved to Brooklyn where she danced, taught and completed her yoga teacher training.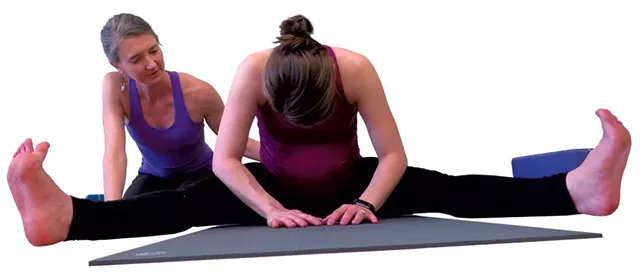 matthew thorsen
Teaching a prenatal class
She began teaching prenatal yoga while pregnant with her son Emmett. He was born shortly after Cline Lucey and her husband, Mark, a high school teacher, moved to Burlington. Two months later, her friend Janet Carscadden approached her about forming a combination physical therapy and yoga studio. In 2006, Evolution Physical Therapy & Yoga opened, with Cline Lucey as yoga studio director.
Evolution's business grew, the yoga industry grew, and Cline Lucey's family grew. She and Mark now have three sons — Emmett, 12; Zinn, almost 9; and Jay, 3. Cline Lucey began teaching postpartum classes during her own postpartum experience. As her classes filled, she added more. And when she realized there was "a part in the middle" of motherhood she wasn't experiencing along with her clients, she followed her passion and became a doula and certified childbirth educator in 2010.
In 2015, Evolution divided into two businesses within the same space. The original business is still owned by Carscadden, while Evolution Prenatal & Family Yoga is owned by Cline Lucey. The change allowed both businesses to focus on specialized services.
One indicator that the maroon brick building holds two studios is the separate Prenatal & Family Yoga lobby. The room is both cozy and spacious, with bookshelves, a wraparound lavender couch and an oversized ottoman. There's a wall of photos showing moms with their new babies in the moments after birth. Toddlers can keep busy in one corner of the room with a play kitchen, wooden toys and dolls.
"This room is always open," she said gesturing widely, her pendant earrings and ponytail swinging. She recalled a recent text message from a client saying she was nursing her baby in the empty lobby. The new mom was shopping downtown, far from home, and was uncomfortable nursing in public. She "needed a comfy space, and came and hung out on this couch," Cline Lucey said, delighted.
Cline Lucey's attention to the details that make women feel calm and supported extends to the language she uses. "I invite people to feed their baby. I don't say nurse. It's that subtle," she explained. "You might have a mom with low milk supply who's feeling vulnerable."
This is important to moms like Hutchins. In Cline Lucey's childbirth class, Hutchins said, "Susan gave equal weight to vaginal delivery and C-section. She always called it a cesarean birth, and never diminished anyone who had a C." Hutchins ended up needing an emergency C-section, and afterward she contacted Cline Lucey to thank her for the preemptive support. "It's the one thing that got me through it. At the end of the day, I'm giving birth, regardless of how it happens."
When postnatal classes draw to a close, moms lie on their backs in a chest-opening heart pose, their babies resting on them. True to Cline Lucey's observation, their eyes are closed. Some may still be exhausted, but they've worked toward a moment of real relaxation.
Outside, it was pouring. So Cline Lucey — wise to the difficulties of schlepping a car seat in the rain — informed her class that they could leave their little ones with her while they pulled their cars around. And she reminded them that there was no rush. They could relax, feed their babies and snuggle on the couch for as long as they wanted.