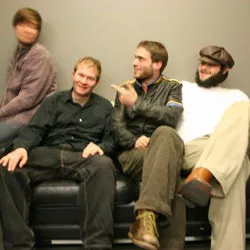 Bryan McNamara and Souls' Calling
Arturo Sandoval. Sonny Rollins. Levon Helm. The 2010 Burlington Discover Jazz Festival is loaded with marquee talent, as it is every year. Heck, even the names on the undercard — Luciana Souza, Sharon Jones & the Dap-Kings, et al. — would be marquee acts in the Queen City any other time of year. While the big-ticket shows justifiably grab most of the local headlines, the essence of the BDJF is less obvious.
What makes these 10 days every June so special has less to do with the cavalcade of stars gracing the stages at the Flynn or on the waterfront than it does with one simple idea: The real stage is the city itself. It is the lesser-known, and often local, acts heard on the street and in small nightclubs, cafés and restaurants all over town that give Jazz Fest its character, and its heart.
What follows is a primer on some of the options — jazzy and otherwise — that may not be among the first you think of when planning your BDJF itinerary. Consider it a starting point on your road to, yes, musical discovery.
Big Joe Burrell Sculpture Dedication with the Unknown Blues Band, Church Street Marketplace Fountain Stage, Friday, June 4, 4:30 p.m. Free. Finally! After years of fundraising and planning, the life-size, bronze statue of the late, great Burlington sax man, Big Joe Burrell, will be unveiled. And who better to welcome him home than the hepcats with whom he made his indelible mark, the Unknown Blues Band.
Ensemble V, Wednesdays, 7 p.m., free; Shane Hardiman Trio, Thursdays, 9 p.m., free; Anthony Santor Group, Thursdays, 11 p.m. $3. Radio Bean. No discussion of local jazz is complete without mentioning the weekly sessions that keep the Queen City bopping (and bebopping, and postbopping) all year long. The steamy, late-night romps with Santor, overloaded with special guests this time of year, are especially electric.
Jesse Dee, Church Street Marketplace City Hall Stage, Friday, June 4, 7:30 p.m. Free. One of these years, the energetic, Boston-based soul man will end up on the BDJF marquee. For now, count yourself lucky to swoon, gratis, to his classic R&B vibe on the Marketplace.
Anna Pardenik & the Holy Smoke Off, American Flatbread, Saturday, June 5, 5:30 p.m. Free. Relax with a cold brew at this late afternoon outdoor show in the American Flatbread alley featuring retro jazz classics and Americana-inflected originals from a beguiling Burlington vocalist.
The Relics, August First Bakery Café, Saturday, June 5, 2 p.m. Free. One of a number of unofficial Jazz Fest shows citywide, piggybacking on the BDJF cachet. This one features a local R&B all-star band of sorts with Mark Ransom, Dana Lavigne, Jeff Salisbury, Don Sidney and "Little" Joyce Cooper.
Hey Mama, Red Square, Sunday, June 6, 9 p.m. Free. The first of several BDJF appearances from Burlington expats Avi & Celia. The new group finds the prodigal roots rockers plugged in and amped up. It ain't jazz. But, hey, neither is Levon Helm, right?
Pat Ormiston Group, Nectar's Garage Door Stage, Friday, June 4, 5 p.m. and Monday, June 7, 7 p.m. Free. Nectar's Garage Door Stage is one of the best hidden-in-plain-view secrets of the BDJF. Ditto this slinky side project from Japhy Ryder bassist Pat Ormiston.
Screening: James Harvey: A Master at Play, Firehouse Center for the Visual Arts, Monday, June 7, 7 p.m. Free. Filmmaker Alison Segar has been following the local jazz legend for the last year or so and documenting his life in Burlington's Old North End. She claims the film offers a glimpse at the mercurial pianist that has enlightened even his longtime acquaintances. More importantly, the film, premiering at this year's BDJF, serves as a welcome new vehicle to showcase Harvey's enigmatic compositions.
Tom Cleary Trio, Parima Main Stage, Monday, 7 p.m. Free. Cleary is among Burlington's most highly regarded pianists and is playing roughly 1478 times during the BDJF as a member of various ensembles. This performance — another "rogue," or unofficial, Jazz Fest gig — offers a chance to catch him at his best.
Fragile Zoe, Church Street Marketplace Fountain Stage, Tuesday, June 8, 7 p.m. Free. This collection of elite local talent features the face-melting compositions of ace guitarist Alec Julien and his wife, Patricia Julien, aka the funkiest flutist in town.
Bob, Ray & Russ, Halvorson's Upstreet Café, Wednesday, June 9, 8 p.m. Free. In its own funny way, Halvorson's epitomizes Jazz Fest. Walk through a narrow hallway past the main dining area and into the lively back patio, and you feel like you've entered a speakeasy. This night, catch guitarist Bob Wagner, organist Ray Paczkowski and drummer Russ Lawton tearing through sinewy blues and funk jams.
Bryan McNamara and Souls' Calling, Red Square, Wednesday, June 9, 8 p.m. Free. Monster saxophonist McNamara is among Burlington's hottest young players and leads this star-studded ensemble through scorching original compositions inspired by the likes of Monk, Coltrane and Coleman.
Miriam Bernardo and Michael Chorney, 1/2 Lounge, Thursday, June 10, 5 p.m. Free. Few local musical combinations are as purely sublime as this sultry vocalist and her longtime musical companion, composer Michael Chorney.
Will Patton, Leunig's, Friday, June 11, 8 p.m. Free. The French café is the BDJF's beating heart, with live local jazz all day, every day of the the festival. It doesn't get much better than ace gypsy-jazz guitarist Will Patton.
Motortown Revival, Halvorson's Upstreet Café, Saturday, June 12, 8 p.m. Free. A supergroup featuring some of the finest musicians and vocalists from Vermont's capital city, mining R&B hits from the Motor City.
Strength in Numbers and Japhy Ryder, Nectar's, Saturday, June 12, 9 p.m. $5. Two of Burlington's most exciting live bands heat up the House that Phish Built: explosive hip-pop ensemble Strength in Numbers and funky-as-hell prog outfit Japhy Ryder.
A Tribute to Sandra Wright featuring the Sandra Wright Band, Church Street Marketplace City Hall Stage, Sunday, June 13, noon. Free. The festival pays tribute to late local blues diva Sandra Wright, who tragically passed away earlier this year. Expect a star-studded celebration of the singer's life equal to her outsize voice and irrepressible charm.