Banana bread is a fall staple in our house. There's something soothing about the warmth of fresh bread on a chilly day. This recipe puts a healthy twist on your everyday banana bread recipe. Not only is it quite tasty, but you can feel good about the ingredients. Enjoy!
Healthy Flax and Bran Banana Bread
Ingredients:
1 1/2 cups all-purpose flour
1/2 cup wheat bran
1/4 cup ground flax seed
1 teaspoon baking soda
1 teaspoon baking powder
1/2 teaspoon cinnamon
1/4 teaspoon salt
1 1/2 cups mashed ripe banana
3/4 cup plain yogurt
2 eggs
2 tablesoons butter, melted
1 teaspoon vanilla extract
1/3 cup dark chocolate chips
Preheat oven to 350 degrees. Spray a 9x5 loaf pan with cooking spray.
In a large bowl, combine flour, wheat bran, flax seed, baking soda, baking powder, cinnamon and salt.
In a medium bowl, whisk together bananas, yogurt, eggs, butter and vanilla. Add wet ingredients to dry ingredients and stir until just moistened. Fold in chocolate chips.
Spoon batter into pan. Bake for about 50 minutes or until a toothpick comes out clean.
Cool in pan for a few minutes before cooling completely on a rack.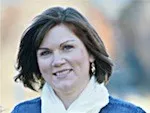 Tasha Lehman is a regular contributor to Kids VT. She lives in Vermont with her husband, Matt, and their three sons.