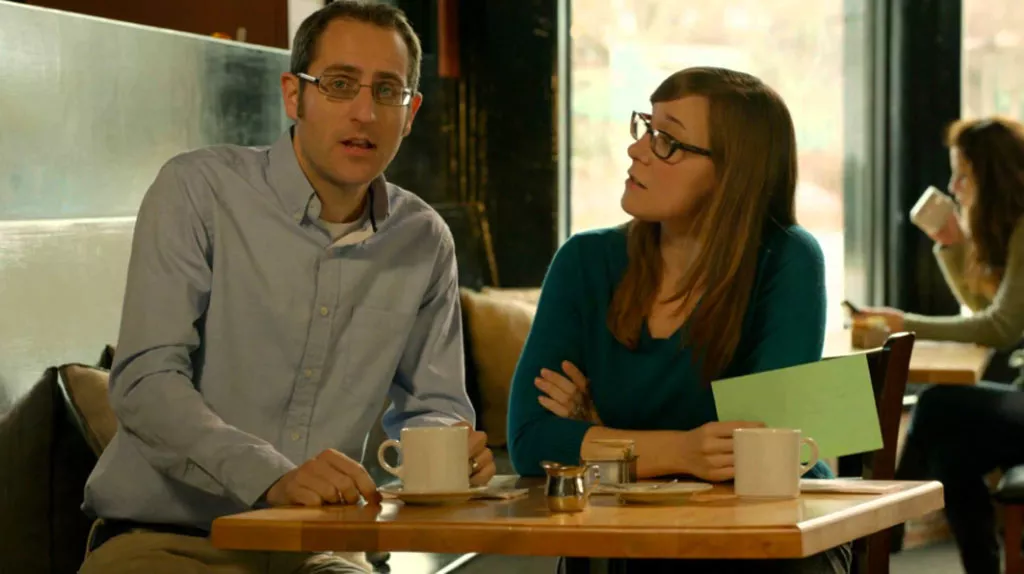 Still frame from a Vermont Health Connect TV commercial
In a typical election year, the recent spate of setbacks at Vermont Health Connect might spell trouble for Gov. Peter Shumlin and his fellow Democrats, coming just five months before voters go to the polls.
But this is no typical election year.
As expected, last Thursday's filing deadline passed without any top-tier Republicans jumping into statewide races. And the guy who did step up to the plate to challenge Shumlin, Pomfret Republican Scott Milne, is hardly a health care flamethrower.
Milne, who runs a family-owned travel agency, calls himself "agnostic" over whether the state should follow through with its plan to adopt a single-payer-like, universal health insurance system. Though he criticizes Shumlin for refusing to reveal how he would pay for such an overhaul, Milne says he agrees with the gov that Vermonters deserve "quality, affordable, accessible health care."
"I think we should put a price tag on it and let that drive the debate," he says of Shumlin's single-payer plan.
And unlike most Republican candidates outside Vermont, Milne says he has no beef with the Affordable Care Act, commonly referred to as "Obamacare," though he believes Vermont should have signed up for the federal health insurance exchange instead of building its own.
"We made a big mistake by going with Vermont Health Connect over a less costly solution," Milne says, pointing to the system's $171 million price tag, which is financed by federal grants. "Now that we're here, it's not perfect, but in theory it can make [health insurance] more affordable to people and can help provide universal access. So I think we should work with it, not abandon it."
That's a far cry from the position held by 2012 Republican gubernatorial nominee Randy Brock, who announced early last week that he would not seek a rematch. Brock forecast many of Vermont Health Connect's failings last fall and surely would have made the issue a centerpiece of his campaign.
"Clearly, with Randy Brock choosing not to enter the race, I think Republicans lost their best chance to make health care a real issue," says longtime health care reform proponent Peter Sterling, whose Vermont Leads political group plans to push pro-single-payer candidates this fall. "Randy Brock had real credibility with the work he did to unearth the problems at Vermont Health Connect. I don't think Scott Milne really has the chops to push Shumlin on health care."
There's certainly no shortage of material.
Vermont was the only state in the country to require small-business employees to purchase health insurance through the exchange. But when Vermont Health Connect launched last October, technical setbacks kept the website from enrolling such employees. After failing to fix the problem, the Shumlin administration decided in November to allow small businesses to continue buying insurance through carriers such as Blue Cross Blue Shield and MVP.
More than half a year later, the problem still ain't solved. Last week, administration officials said they will continue to rely on carriers through next year's enrollment period, which runs from November 15 through February 15.
"It's a long way after [the deadline] ,and people were expecting it to be done. I agree and share that frustration," says Department of Vermont Health Access Commissioner Mark Larson, who oversees the exchange. "As we have continued our work, things certainly have become more complicated, when you are making changes to an environment where people are actively using the service."
More problematic for individuals who actually managed to enroll through Vermont Health Connect is that many find themselves unable to make basic changes to personal information that might affect their coverage. According to Larson, more than 10,000 Vermonters have been stuck in a queue — some for months — as they wait for customer service representatives to manually update their income, number of family members and contact information.
The state and its information technology contractor, CGI, recently blew through two more self-imposed deadlines to fix Vermont Health Connect's so-called "change of circumstances" functionality so that customers can update their own account info online.
"It just takes a lot of testing with a lot of different partners and we just simply need to keep working through those until they're all complete," Larson says.
As a result, the state recently signed a six-month, $5.7 million contract with yet another firm, OptumInsight, to assess the problem and clear the backlog.
To Milne, the episode perfectly illustrates Shumlin's failure to competently implement the Affordable Care Act. By spending nearly $6 million to clear a backlog of 10,000, he notes, the state is paying nearly $600 per person to fix a problem that never should have happened in the first place.
"That speaks volumes as to why we need to have some scrutiny and much greater levels of transparency about what's going on at Vermont Health Connect, and whether that's a viable foundation on which you're going to build a single-payer program," he says.
Will Milne's performance-based critique find more resonance with Vermont voters — who, at least in concept, tend to support health care reform — than Brock's anti-single-payer approach would have? Quite possibly, but it might fail to energize voters and donors and it could downright alienate conservatives.
On the other side of the spectrum, Progressive lieutenant gubernatorial candidate Dean Corren is taking the opposite approach. The former state rep from Burlington is banking on voters wanting a die-hard single-payer supporter to replace Republican Lt. Gov. Phil Scott, who calls himself a "skeptic."
"We're in this race because what we're doing right now with health care is too important," Corren says. "We can't go backwards."
Corren's chances improved considerably last week when he qualified for $200,000 in public financing and when the sole Democrat in the race, activist John Bauer, dropped out hours before the filing deadline.
"That's a race that looks interesting to us," says Tess Taylor, a former Democratic House majority whip who resigned in April to take over another pro-single-payer political group, Vermont Cure. "We definitely want to be supportive [of Corren]. It looks like it could be a great way to get the issue out there."
Taylor and Sterling, whose organizations compete for funding but plan to work together this fall, think the final list of legislative candidates looks good for single-payer supporters.
In the 150-member House, 123 Democrats, 80 Republicans, six Progressives and 26 independents or minor-party candidates are running. The Democratic totals include nine candidates who are also running as Progressives.
In the 30-member Senate, 32 Democrats and Progressives are running, as are 15 Republicans, two Liberty Union party members, and nine independents and minor-party candidates.
Taylor and Sterling both say they expect their organizations to focus on roughly a dozen House and three Senate races they see as competitive and crucial to passing a single-payer financing plan next legislative session. Both have received five- and six-figure contributions from labor unions.
What will they do if problems keep popping up at Vermont Health Connect in the months leading up to Election Day?
Taylor says she's not worried, because she believes Vermonters want to move beyond the Affordable Care Act to a fully universal single-payer system.
"What we're trying to do is not improve Vermont Health Connect," she says. "I think it just makes it clear that we need to work beyond it."
Knock, Knock
When the legislature voted in April to require the labeling of genetically engineered food, several top lawmakers said they'd changed their mind after hearing from more constituents than ever before.
Behind much of that organizing was the Vermont Public Interest Research Group, which sent dozens of canvassers into the field last summer to rally support for the bill. According to VPIRG executive director Paul Burns, the college-age corps knocked on 80,000 doors, conducted 50,000 conversations and gathered 32,000 signatures on postcards supporting GMO labeling.
With that victory behind it, VPIRG is turning its attention this summer to reducing the role of money in politics. Two weeks ago, some 55 canvassers began hitting the streets to make their case.
"So far, the reaction canvassers have been getting at the door has been very positive," Burns says. "I think it would be fair to say that nine out of 10 heads nod when you describe [corporate money in politics] as a problem. The question is whether they're so jaded about the problem that they think nothing can be done."
VPIRG is pitching four specific measures, all of which could be passed at the state level and, Burns argues, withstand judicial scrutiny. The group wants to ban direct corporate contributions to candidates; prevent registered lobbyists from donating to politicians or "bundling" donations from their clients; expand the state's public-financing system to legislative races and require large super-PAC donors to appear in their ads.
Lending his name and ice cream to the effort is Ben & Jerry's cofounder Ben Cohen, whose Stamp Stampede advocacy group has been traveling the country trying to raise awareness about the role of money in politics.
"We're really happy to see that VPIRG is recognizing that getting money out of politics in Vermont is kind of a gateway issue. It's the thing we need to do first in order to get decent legislation passed," he says. "The takeover of the Statehouse by lobbyists and lobbyists' money is corrupting our political process in Vermont."
Media Notes
Citing increased competition from Vermont Public Radio, the state's sole commercial classical music radio station, will sign off the air at the end of the month. Replacing it will be a new "contemporary" music station called "101 — The One," according to Radio Vermont Group vice president Eric Michaels.
"There's only so much audience there to begin with," Michaels says of the classical music market. "We'd like to try something different."
Radio Vermont Group, which is best known for its news and talk station WDEV, has been in the classical biz since 1997, when it started broadcasting WCVT from Mount Mansfield on 101.7 FM.
At that time, VPR had been broadcasting a mix of classical and news programming for two decades. In 2007, VPR split its format — creating a new, classical-only service and devoting its major frequencies to news and talk. In recent years, the public radio station has expanded VPR Classical's reach throughout the state, most recently acquiring a translator in Montpelier last winter.
"We're pretty much surrounded," Michaels says. "They took over an area that we served pretty well."
In search of something "more commercially viable," Michaels says his company decided to replace its classical service and a sister station — Rutland's 101.5 "The Fox" — with a single new offering, which will be aired on both frequencies. Michaels wouldn't reveal more, except that "The One" will feature live and local talent, not syndicated content.
While longtime WCVT host Brian Harwood will retire when the classical station goes off-air, Michaels says the format shift will result in net employment gains at the company. Despite the change in direction, he says, "we've had a few very, very strong years."
Meanwhile, VPR recently promoted morning host Kari Anderson to serve as managing producer of VPR Classical.
The new position was created in February when the station laid off afternoon host Joe Goetz. At the time, management said it planned to hire a third staffer to run the service and join Anderson and host Walter Parker on-air. But after conducting a nationwide search, says VPR spokeswoman Michelle Owens, the station determined that Anderson had "the enthusiasm, drive, skills and talent to move VPR Classical forward."
For now, Anderson and Parker will remain the station's only weekday hosts, Owens says, "but we plan to increase locally hosted music programming in the coming months." m
The original print version of this article was headlined "Healthy Debate"