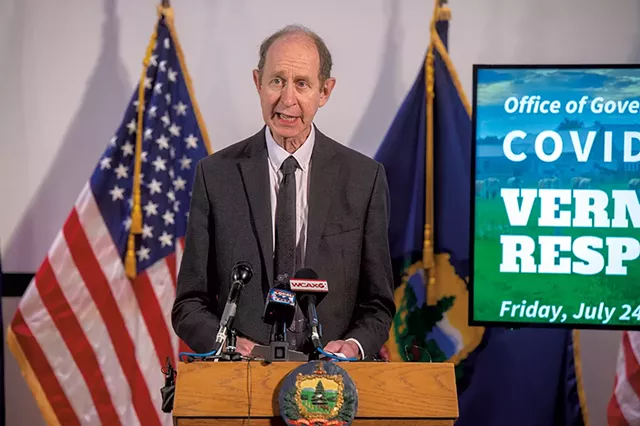 Jeb Wallace-brodeur
Dr. Mark Levine
At least twice a week, in a room full of television cameras, state Health Commissioner Dr. Mark Levine steps up to a podium, removes his yellow surgical mask and reports on Vermont's vital signs during the coronavirus pandemic.
At 6 feet, 5 inches, he's too tall for the microphone in Montpelier's Pavilion Auditorium, so he leans into it, like a tree in the wind, to give the "health update" during Gov. Phil Scott's press conference. His diagnosis combines the medical terminology of an experienced physician with the simple, slow talk used by people who work with kids. Precise and plodding, with references to "viral suppression" and "pre-symptomatic transmission," his long-winded explanations are weirdly reassuring.
Levine's deep-baritone delivery had the same salubrious effect on me for the 24 years he was my primary care doctor. From 1993 to 2016, he listened to my health complaints — once a year, at least — when he worked at Given Health Care, a group practice with an office in Essex. His second job, running the program for medical residents at the University of Vermont, was apparent when he would ask, as if I were a doctor in training, "What do you think you have?"
If I embraced my hypochondria and answered "brain tumor," as I did on more than one occasion, he'd hear me out with an open mind, ask a few probing questions, then systematically and respectfully disprove my hypothesis. "You said you're sleeping well," he'd reason kindly but firmly. "That wouldn't be the case if you had a brain tumor."
In the case of real health problems, such as the chronic shortage of platelets in my blood, he was practical and comforting. There's no real treatment, so he advised: "I wouldn't worry too much about it. If you get little red spots on your legs, something called petechiae, call me."
Post-exam, I'd go home feeling less anxious, thoroughly examined and lucky to be alive.
In 2017, Levine traded his responsibilities of patient care and training doctors for a job safeguarding the well-being of an entire state, population 626,000. His current job and the mission of the department he leads is "to protect and promote the health of all Vermonters." In normal times that involves creating and administering programs in areas such as maternal-child health, nutrition, substance-use disorder and physical exercise, the effects of which might not be measurable for decades.
But since March, when the global coronavirus shut down Vermont, Levine and his team have been fully occupied with pandemic response and communication. "Early on, it was like a 24-7 thing where, you know, Saturday or Sunday didn't seem any different than a Monday or a Tuesday," Levine said in a phone interview between one press conference about opening schools and another announcing a long-expected statewide mask mandate.
On the positive side, the benefits have been almost immediate. "To get our population to stay six feet apart from each other, or to stay at home for weeks at a time, that's, like, incredible, and we did that in Vermont," said Levine, referring to some of the state's COVID-19-related achievements: smallest number of new cases per day; lowest positivity rate in the country; no deaths since June 16.
Levine had been reluctant to respond to media inquiries outside the press conferences in which reporters grill him and other administration officials. "Busy to the point of insanity" became "I just didn't feel it was good timing to, you know, in the midst of it," Levine explained. "Now we can kind of reflect ... and look back a little. And even though we have some trepidations about the present and the future, it's a different time than we have been in for all of those months."
Levine broke his silence on July 22 in a 10-minute segment on CNN, praising Vermonters for their compliance and stating unequivocally that here, at least, it's the "right time to open schools." He got as political as he ever does, calling for a coherent national response to the pandemic so that states don't have to compete with each other for testing materials and personal protective equipment.
On the same day, after four months of prodding, he talked to Seven Days about how he wound up standing in the spotlight next to Scott, explaining the science of this public health crisis to a frightened citizenry. Levine is the Vermont version of President Donald Trump's infectious disease expert, Dr. Anthony Fauci, except that Levine fully approves of the way his own boss has handled the crisis. He's full of praise for his team, too.
"In one sense, it's an incredible honor to be presiding over a once-in-a-century event like a pandemic," said Levine. "But on the other hand, is this what I really signed up for? My gosh."
Levine's geeky humility belies his qualifications to meet the challenge. A Sharon, Mass., native who attended the University of Rochester School of Medicine, he landed in Burlington for his own three-year residency in internal medicine — a specialty that requires problem-solving skills to fathom a wide variety of diagnostic dilemmas. From there, Levine went to the multispecialty Geisinger Medical Center in Danville, Pa., where he spent a decade running training programs for doctors in ambulatory care, pediatrics and internal medicine.
Vermont's medical school had him in mind for similar work. Levine and his wife, Nancy, liked Pennsylvania but wanted to get back to the mountains and lakes of New England to raise their two kids.
Levine happily accepted the academic position: mentoring and guiding newly minted physicians in pursuit of specialized training. But he also wanted to continue in clinical practice, according to Dr. Charles MacLean, Levine's former colleague in Essex and current associate dean of primary care at the medical school. "He valued the idea of seeing people, interacting with them, keeping ... in touch with the real problems of the day."
Describing Levine's doctoring as "methodical, careful and thorough," MacLean added that Levine embraces new challenges, including the transition to electronic health records, without complaining or being overwhelmed by them. "Adaptability would be another trait of his."
For his part, Levine brought a wealth of knowledge to his medical partners, said Dr. Patricia King, a fellow internist who worked with him in Essex. She had been a medical student and resident at UVM when Levine was running the program in internal medicine. "As a residency director ... he was seeing everything — not just his patients. Difficult cases," King said. At Given, "When I got something I didn't know, I'd immediately walk down the hall and talk to him. If you wanted a second opinion, or to discuss a case, you couldn't do better than Mark."
Levine is "the right person at the right time" to lead the Department of Health through the pandemic, she said. Giving credit to his predecessor, Dr. Harry Chen, for having the right skill set to tackle the opioid crisis, King said, "Likewise, Mark, who had no idea he was going to be facing an epidemic, is a real practitioner and student of evidence-based medicine. He continues to say the science and data will guide our decisions, whether it be testing or opening up or whatever."
That approach makes sense for a med school professor, but it may be unsettling for those who expect authoritative answers from state officials during a pandemic. Case in point: Levine has seemed just as puzzled as everyone else about what happened at Manchester Medical Center in July when rapid-result antigen tests turned up a suspected cluster of 64 positive results, sparking a public health scare.Subsequent and slower PCR tests — favored by the state health department — on 56 of those individuals revealed that only four of them actually had COVID-19. To further complicate matters, the antigen test has a reputation for false negatives, not false positives.
Levine offered no comforting conclusions on Vermont Public Radio's "Vermont Edition" on July 17, a week after the alleged outbreak, despite host Jane Lindholm's best efforts to get to the bottom of it. In fact, he ran through various possibilities to explain the discrepancy, including some alarming ones, such as "another coronavirus in the community" and faulty PCR tests.

Even in press conferences, Levine lights up every time someone asks a good question, no matter how potentially damning. Inquiry is an opportunity to test his own assumptions, he explained, and shed light on the subject.
But this is not a science lab; we're talking about a pandemic threatening our lives and livelihoods in real time. Levine said communicating clearly about the situation in Manchester was — and still is — a challenge. Even after consulting with the Centers for Disease Control and Prevention and the U.S. Food & Drug Administration, he called it a "work in progress."
"We got what we got, and now we have to try to explain it. And if we're going to reassure the population of that region, we have to have data to back that up. Do we have enough data? What do we need to do next so we make sure we have enough data?" Emergency testing on 1,623 people in the region turned up just five positives, indicating a very low community infection rate.
Levine said the "critical thinking" he employs as a doctor is guiding him through this uncharted territory. "You have to be humble, too. I mean, you need some self-confidence, but you also have to have humility, and you have to be very willing to engage others. I say this a little bit tongue-in-cheek, but not totally: For much of the pandemic, you're making it up as you go along." He draws on the "evidence base that's out there," including "trying to learn from places that encountered the virus before us ... around the world — and in this country."
He has a personal interest in that info, too. Levine's son, Michael, is a Seattle-based marine biologist who spends several months of the year doing research on the Bering Sea. Daughter Rachel is a schoolteacher in Memphis, Tenn., who gave birth to her first child 11 months ago. Levine and his wife were visiting them in the first week of March, when the pandemic hit. He spent the entire time on the phone with the health department and canceled a planned vacation to Hilton Head, S.C., in order to fly home. That's the last time he has seen his daughter and first grandchild, Amelia.
Does he worry about his daughter going back to school in Tennessee, where the virus is surging?
"As you've seen at the press conferences, I spend a lot of time telling Vermonters that part of why we think we can open schools here is: The time is right. We have suppressed the virus to a level where this will be safe. And we know how to handle it if cases appear here or there. We have a good testing and containment strategy. I would not say that for so many other parts of the country. I find it hard to believe they'll be opening schools."
I knew a little bit about Rachel from my quarter century of checkups with Levine. Although he and I talked mostly about me in the examining room, over time I learned some things about him: He's an avid runner, for example, who participates in the Vermont City Marathon & Relay — most recently on the "Spare Parts" relay team that raises money for organ donation.
During our last meeting, on June 22, 2016, Levine opened up about the limitations of doctoring. He told me that the ailments of a huge percentage of his patients stemmed from poor self-care: bad eating habits, not enough exercise. Telling them year after year to shape up was not working. He said he wanted to be in a position to have a bigger impact.
Now he can. "When you look at the determinants of health, health care is only responsible for about 10 percent of health," he told me last week. "The biggest percentages are the behaviors that we all do or don't do and the socioeconomic and environmental circumstances we find ourselves in.
"I've always been sort of excited about that, too, and the opportunity to really integrate health care, health, public health, population health, prevention, and then health policy," Levine continued. "That's what this job is. And that's pretty cool, I have to say. It's pretty daunting, but it's also pretty cool."