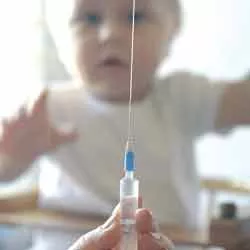 Ten years ago, Vermont boasted one of the highest rates of childhood immunization in the country. Today, it's almost dead last, despite near-universal health care coverage for Vermonters under the age of 18. Among children between 19 and 35 months old, Vermont's vaccine rate is an abysmal 65 percent, the lowest in New England and among the worst in the country.
Why the sharp reversal? Last week, more than 250 health care providers from around the state, including many who work for public schools and pediatric practices, gathered in Stowe to discuss why a growing number of Vermont parents are delaying or refusing lifesaving vaccines for their kids — and what can be done to change their minds.
A quick show of hands in the room revealed that the vast majority of attendees at the 2011 Vermont Immunization Conference, organized by the Vermont Department of Health, have encountered parents who either refuse entirely to vaccinate their children or delay their scheduled shots until the kids are older. A smaller but still significant number of health care providers in the room acknowledged that they have dismissed patients who refuse vaccinations from their medical practices.
Bill Raszka is a pediatric infectious disease specialist at Fletcher Allen Health Care in Burlington. He says the trend in Vermont is consistent with what he hears from physicians across the country: More parents are questioning the safety and efficacy of vaccines or express concern that adverse reactions to them could be worse than the diseases they prevent.
In one respect, Vermont's immunization program is a victim of its own success, Raszka suggests. Most Vermonters, including many health care providers who've never treated patients outside the United States, have never seen the painful and often debilitating consequences of vaccine-preventable diseases such as polio, measles, pertussis and diphtheria.
About 92 percent of Vermont children receive the measles-mumps-rubella, or MMR, vaccine by age 3. State infectious-disease experts warn that anything less than 95 percent isn't enough to guarantee the "herd immunity" necessary to prevent sporadic outbreaks of measles, which is highly infectious and still common in much of the developing world.
Why? For one, no vaccine is 100 percent effective. Moreover, some children including babies under 12 months old and kids with compromised immune systems, cannot be vaccinated.
All 50 states allow exemptions from vaccines for medical reasons; 48 states allow them for religious reasons. About two dozen states, including Vermont, let people refuse to vaccinate their kids on purely philosophical grounds. But, as Raszka points out, states that permit a philosophical exemption have twice the infectious disease rates of ones that don't.
Bottom line: Parents who choose not to vaccinate their kids, or delay vaccines until their children are older, may be putting others at heightened risk.
Who are the refuseniks? They tend to be highly educated, well-read parents. Some distrust the U.S. government or question the influence that vaccine manufacturers have over policy makers at the Food and Drug Administration and the Centers for Disease Control and Prevention. In fact, several major pharmaceutical companies, including Merck and Eli Lilly, had roving representatives and exhibit booths at last week's conference in Vermont. State health department officials insist that neither company paid anything more than the standard registration fee. And the front page of the conference schedule offered this disclaimer: "There are no conflicts of interest for planners-presenters and no commercial support is being provided for this conference."
A more common concern among parents, Raszka says, is fear of complications, often fueled by the now-discredited link between the MMR vaccine and autism. This issue first arose in a 1998 article that appeared in highly respected British medical journal the Lancet.
The article was discredited as fraudulent when it was discovered that its lead author, Andrew Wakefield, manipulated his research data. He was accused of serious ethical breaches and stripped of his British medical license.* Nevertheless, despite a broad consensus in the international medical community that the MMR vaccine is safe, Wakefield's paper caused a steep decline in MMR vaccine rates — and corresponding spike in measles outbreaks — in the United States and Britain.
Yet the media still perpetuate the myth. Raszka showed an excerpt from a 2008 CNN interview with actress Jenny McCarthy, who claims her son, Evan, developed autism from a vaccine — and was later "cured" of it.
The temptation to link correlation with causation is understandable, Raszka says. Children are often diagnosed with autism spectrum disorder around age 2, which coincides with the recommended timing of the MMR vaccine. It's worth noting that autism rates haven't changed since the mercury-containing preservative thimerosal, which was blamed for causing autism, was removed from most vaccines in 2001.
Currently, Vermont's vaccine schedule requires eight immunizations, and recommends four more, in order to register a child for public school or licensed daycare. Because children today receive more shots than their parents did a generation ago, some parents express a fear of "vaccine overload," or the belief that infants' and toddlers' immune systems cannot handle the growing number of shots the CDC recommends by age 4.
What can health care practitioners do to assuage parents' fears and boost their children's vaccination rates? Judy Orton, with Green Mountain Pediatrics in Bennington, says she's not above using scare tactics, such as hanging graphic photos of children with vaccine-preventable diseases, so parents see the possible consequences of their choices.
Unvaccinated patients who show up at her office with rashes and fevers may be triaged in the parking lot, Orton adds. In rare cases, she's had to "fire" unvaccinated patients from her practice.
Jeanie Cass, a nurse practitioner at Johnson State College, says she often has to prevent students from registering for classes because they're not current on their vaccines. Many of the same college-aged patients refuse annual flu shots. Last year, after watching a YouTube video showing a cheerleader who purportedly developed disabling Guillain-Barre syndrome just days after receiving a flu shot, members of JSC's basketball team resisted getting the flu vaccine. Although a swine flu vaccine in 1976 is believed to have caused rare cases of the autoimmune disorder, flu vaccines used today do not. The exact cause of the disease remains unknown.
Cass says her approach is to "go wherever the students are," such as classes, team practices and other public events, to explain to them the benefits of vaccines. For example, she says that whenever she informs a group of college-aged women that cervical cancer is a sexually transmitted disease that's preventable with an HPV vaccine, which the CDC now recommends for teenaged girls and boys, "I tend to see a lot of them the next day."
Jeff Heath, a public health nurse with the Vermont Department of Health in Addison County, says that medical practitioners need to acknowledge that many of their parents' fears derive from friends or family members who sincerely believe their child was harmed by a vaccine. But rather than denigrating such beliefs or taking offense, Heath urges practitioners to arm themselves with current and accurate medical data that counter the plethora of junk science available on the internet.
"Bring it back around to what the disease really is," Heath suggests. Remind patients that once community-wide vaccine rates fall below a certain level, it becomes harder and harder to "hide within the herd." Or as he puts it, "We're just one plane ride away from a disease penetrating our community."
Finally, while as many as one-third of all parents voice some concerns about vaccine safety, Heath urges medical practitioners to "walk the walk" by vaccinating their own kids — and then share that information with their patients. He says that personal "we're all in it together" approach goes a long way to assuaging parental fears — even when sound scientific evidence does not.
*The online version of this article has been corrected. The original version stated that Andrew Wakefield received a prison sentence, which is not the case.