Matthew Thorsen
Eli Harrington
Eli Harrington surveyed the Vermont Statehouse cafeteria as hemp growers bragged about their fall harvest and entrepreneurs offered free samples of cannabidiol-infused chocolate to lawmakers, lobbyists and even a burly state trooper.
The Cannabis in the Capitol education fair on January 9 clearly brought satisfaction to the 30-year-old Harrington, who, in his tweed jacket and dress slacks, looked more like a government bureaucrat than one of the most vocal advocates for legal marijuana in the state.
Harrington is cofounder of Heady Vermont, the Burlington-based business that staged the Montpelier fair. The company is part cannabis news outlet, part events planner and all cheerleader for Vermont's nascent legal weed sector.
The event gave unprecedented Statehouse exposure to an industry that's already taken root in Vermont — and showed what Harrington, who sometimes roams the building wearing a plastic pot-bud pin on his lapel, can achieve.
"I think that he works tremendously to promote the industry, to promote all of us," said Ashley Reynolds, president and cofounder of Elmore Mountain Therapeutics. Harrington can talk to legislators as well as growers, she said, and brings energy to the cause. "I don't think I've seen him sit down once at this event," Reynolds added, as she stood next to a table displaying her wares, including a high-concentration CBD oil that sells for $100 per ounce. The hemp plant extract has been touted as a cure for muscle pain and other ills, without the high that comes with marijuana.
Gov. Phil Scott didn't show up at the fair, but 13 days later, he signed a bill legalizing adult use of marijuana. It takes effect July 1.
"I did not exhale, no pun intended, until it had actually been signed," Harrington said. While he continues to push for full legalization — meaning a taxed and regulated retail market — he's "very excited" about the new law. "I will begrudgingly give the governor credit," said Harrington. "He could have vetoed the bill, and he didn't."
Since the signing, Heady Vermont has moved full steam ahead. In May, the company will host a cannabis and hemp convention in Burlington. And Heady announced a July 1 Post-Prohibition celebration at the Barns at Lang Farm in Essex Junction, complete with a seed swap and live grow demos. Also in the pipeline: The Headies: Vermont Growers Cup, a contest to find the best locally grown pot. Harrington plans to help pick the winner.
It's a busy schedule for Harrington and Heady, a small, loosely staffed organization that he and CEO Monica Donovan started two years ago.
With fees from events, merchandise sales, advertising and $40 Heady memberships that can be used as get-in-free cards to its events, the company is slowly growing. Harrington declined to discuss revenues or say how many members it has. But the budding biz employs three part-timers, including former VTDigger.org reporter Morgan True, and two interns.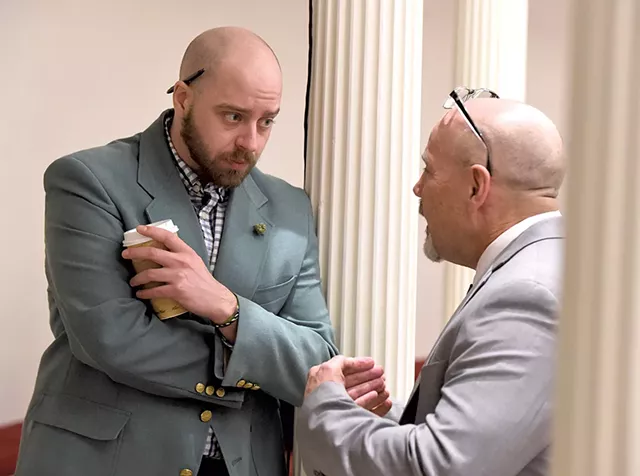 File: Jeb Wallace-brodeur
Eli Harrington (left) at the Statehouse
While Harrington is the Heady spokesman and Statehouse schmoozer, Donovan stays a bit more behind the scenes.
"We have very complementary roles and skill sets, and that's what makes it work," said Harrington. If he's live-tweeting and reporting on a hearing in Montpelier, "Monica's still working on the events and the publishing so that the other stuff we're doing is still getting out there," Harrington said.
Their concept for Heady was a platform where hemp and cannabis businesses — and consumers — could come together in a public way, according to Harrington.
"Let's raise the flag and say, 'It's OK to associate with this,'" he said.
Harrington attributes his people skills to his upbringing in the city where he lives today, Winooski. He attended school with immigrants and kids who lived in subsidized housing.
His own family was solidly middle class, and Harrington felt fortunate to have had steady support from his two moms: Jodi Harrington, who served on the Winooski City Council and published the now-defunct Winooski Eagle newspaper, and Morgan Kelner, a speech-language therapist. The women, who have since divorced, helped push for civil unions and gay marriage in Vermont.
That wasn't the only political topic in the household. His moms were friendly with Mark Tucci, who has multiple sclerosis and was one of Vermont's earliest advocates for medical marijuana. Tucci advised Eli Harrington's uncle, who has since died, on the use of marijuana to cope with symptoms of lung cancer.
That experience, Harrington said, underscored the "absurdity" of saying that people can't use marijuana but can be fed "crazy amounts of pharmaceuticals."
Harrington was the valedictorian of his Winooski High School class and graduated from Brandeis University in 2009 with a degree in global studies.
Then came five years of working "suit-and-tie" jobs in Boston and Vermont, followed by a freelance period. Harrington was dabbling in video production and public relations when he attended a Vermont Cannabis Collaborative event in 2015. He was intrigued by the entrepreneurs involved, including Will Raap, founder of Gardener's Supply; and former Democratic state senator and Jogbra cofounder Hinda Miller. The conference inspired Harrington to begin blogging about pot politics on his own website, Vermontijuana, before he and Donovan started Heady Vermont.
What Harrington called the "bootstrap startup" doesn't pay all his bills, so he picks up freelance public relations and event-planning gigs and works part time at a brewery he declined to name. Last summer, he cooked during the 4 a.m. breakfast shift at Skinny Pancake's two Burlington International Airport eateries.
"Like many other Vermonters, I have multiple jobs because that's what it takes to get by in this state," Harrington said.
Moonlighting hasn't prevented Harrington from making headway at the Statehouse.
Harrington and his team have brought people "out of the woodwork or out of the woods" who have long supported legal cannabis but were afraid to say so publicly due to "decades of Reefer Madness propaganda," said Lt. Gov. David Zuckerman, a longtime legalization advocate.
Familiar as he's becoming in Montpelier, Harrington is not a registered lobbyist. Individuals and groups are supposed to register if they seek to influence legislative or administrative action and are compensated or spend at least $500.
"I have yet to pay myself any money for lobbying, so I have not yet registered," Harrington said. Heady Vermont hasn't registered either, though the website includes an appeal to donors to help advocate for legalization through a campaign called Elevate the State.
Should it be registered? "I won't be able to give you a definitive 'They should' or 'should not be,'" said Will Senning, director of elections and campaign finance at the Vermont Secretary of State's Office.
Meanwhile, the advocacy site hasn't swayed everyone. Opponents say that legalization will make marijuana more available to young people and increase car crashes. Harrington agrees that driving while stoned is a bad idea. But he doesn't think prohibition is good public policy, and he advocates instead for education.
For example, Harrington has some straightforward advice for teens: Weed won't kill you, but it can hurt your motivation as you prep for the future. He says he rarely partook while growing up.
Harrington was more guarded when asked about his current pot use.
"I am not a registered patient or caregiver, so until July 1, use is still prohibited," he said at first, before eventually relenting: "I'm not going to lie and say that I don't ever smoke pot."
Regardless of what he does in his spare time, Harrington has a very sober assessment of what a regulated weed market could mean for Vermont. A 2015 study by the Rand Corporation estimated an annual state tax revenue haul of more than $50 million, a figure Harrington hopes the governor and legislature carefully consider.
Meanwhile, he's interested in delving into the dozens of subtopics that relate to the business and regulatory side of marijuana. Though he says he can't take credit for it, he likes to repeat the line, "Getting high is the least interesting part of this plant."