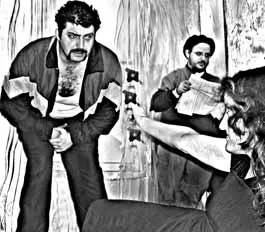 A little advice: If a masked perpetrator is holding you up with a 9mm pistol and tells you to put your hands in the air, do it. Even with your cheek mashed into the barroom floor, a faceless psychopath hovering above you, don't waste a second. Otherwise, it could mean three slugs in the back.
This is the first loud, bloody lesson of Stephen Goldberg's latest one-act, Rough Landing on a Soft Cranium. The random burglary-turned-murder scene — not unlike the famous opening to Menace II Society — introduces a drama of good old sex, crime and talk radio.
Cranium tears through the life of Charles, who gets jail time for the unanticipated murder, and would probably get the bottom bunk for the rest of his life if not for Edie, a radio shrink who helps him get parole. Edie is a mediocre psychologist, but an expert in kinky sex. With Charles newly sprung, she offers her apartment, bed and lousy advice, granting Charles a dim second chance at life.
This all changes when Charles loses Edie's dog. While scouring the streets for the mutt, he bumps into former cellmate Rubber Bud — so called because he could squeeze his head through the prison bars, hence the soft cranium reference in the play's title. As soon as the two ex-cons recognize each other, Rubber Bud invites Charles to become his partner in a big-bucks heist.
For a playwright who lives in Vermont, Goldberg's script is baroquely urban. Mobsters skulk confidently in the dingy streets with gym bags full of money; Edie's lonely apartment is connected to the outside world only by her omnipresent laptop. Goldberg's noirish world is peopled only by "bitches" and "motherfuckers" — a foul-mouthed tribute, perhaps, to the eminent David Mamet. The play's "world-premiere" setting in a Burlington nightclub establishes Cranium's gritty environment.
Club Metronome provides exactly the kind of shady underworld setting that Cranium requires. Making use of a generous thrust stage and bona fide bar, the play's vicious plot seems perfectly at home in the club's airy, hollow dance space. The audience, sitting in uncomfortable foldout chairs and laying their drinks on metal tables, may feel the reverberation of music from Nectar's downstairs.
But aesthetics can't fix everything: Metronome's stage is meant for bands, and the club's lighting and sound can't keep up with Goldberg's many precise scene changes. Actors are occasionally interrupted by a premature soundtrack, or speaking from the darkness when they should be in a glaring spotlight.
The actors bear these technical burdens well, led expertly from scene to scene by Jordan Gullikson, who plays Charles. He is exactly the type of no-account, exasperated loser that every male actor is dying to play, and Gullikson knows that a friendless, tortured social exile is a rare and luxurious role. His nose-rubbing and middle-aged slouch are perfect; he mumbles naturalistically through each brooding dialogue. When Gullikson says he was never literate enough to read past the first page of Moby Dick, his masterful delivery earns mournful gasps from the audience.
Pamela Formica, as Edie, tries to pull off a smirking, overbearing femme fatale, but instead looks like she doesn't know what to do with her hands. Granted, the role is a tough one: She's telling Charles he's "a good man" one minute; the next she's putting on a black wig and savagely slapping him with a dog collar. You could even blame Goldberg for creating such a draconian male fantasy — a manipulative broad who screws men during her radio program. But whatever her quirks, Formica can't seem to find them.
The same goes for Paul J. Soychak, who struggles to become a believably jaded thief as Rubber Bud. Soychak is too soft-spoken, his mannerisms too friendly. Where Pacino's ferocity is needed, Soychak is more reminiscent of Jason Alexander.
At the core of Goldberg's play is the age-old matter of fate: Edie asserts that Charles has complete control over his life, that he can simply walk away from the grief of prison and poverty. After all, she suggests, couldn't Charles just apply to locksmith school? Lease his own flat? Get a life, already? "Your success or failure is up to you," she says, inexplicably grinning.
Indeed. But Rubber Bud knows better: "You can't fuck with fate," he says. And there's Bud in a nutshell: Better to rob some schmo and fly to Latin America, humping loose women and drinking Bacardi till the end of your days. He even states, in so many words, that he is not likeable — and he seems cool with that. He understands that some people get dealt a lousy hand, so it's up to them to slip aces from the bottom of the deck.
Goldberg wisely avoids a final choice between destiny and free will, and instead opts for raised guns, eccentric rape and a pair of handcuffs. His one-act is so swift, so cinematically punchy, so jammed with manipulative repartee and harsh one-liners, that the playwright should really just make a damned movie. This would spare us the moments when the action stops and the characters turn to the audience to deliver an abbreviated biography of their lives.
These monologues are well written — Goldberg is a seasoned veteran — and they add some depth to the characters' many bad choices. But most plays require us to play a role as well — some reason to be present in the room, hearing the characters' problems and ideally giving a fig by the end.
Are we meant to be Charles' never-seen parole officer, glimpsing into his double life? Or Charles' real therapists, cutting through the crap that Edie is too shortsighted to notice? Or are we simply voyeurs, reading troubled minds, watching through keyholes? If Goldberg ever devises another draft of Cranium, perhaps for a larger stage, the audience's role must be clarified. Given his intimate human themes, Cranium shouldn't risk becoming too cerebral.