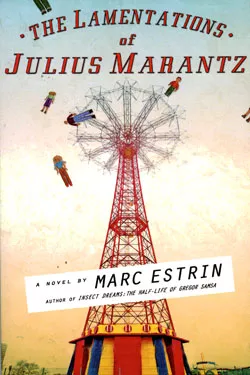 For one long moment during the currently waning Bush administration, it seemed like the government-backed religious Right was taking over life in America. What if it had? Burlington's Marc Estrin brings this alarming possibility to life in his fourth novel, The Lamentations of Julius Marantz.
Set in a sort of futuristic now, the book has an eponymous main character who's young enough to remember riding the Parachute Jump at Coney Island amusement park. But Julius Marantz now moves through a world — or rather, a New York City — in which secular fun has been replaced by frenzied faith. Subway ads read, "Before the end, come back to Bud" and "When the Lord calls, will your line be busy? Fibercellulars™. Used in the Oval Office." Roving street choirs fervently sing psalms, then hold out paper cups for change that read "Burger King o' Kings." Children clutch stuffed crucifixes.
One might expect to encounter a few religious skeptics in this scenario. But it's hard to muster doubt when, all around, living, breathing New Yorkers are literally being raised into heaven without warning, as if by divine intervention, never to be seen again. Death, it seems, has been replaced by "the Rapture."
Is this wondrous, or lamentable? Julius, a physicist, is solely and painfully aware that the Rapture has been made possible by his own invention, the Doodad. Though this contraption has a silly name, Estrin describes a plausible mechanism for it, involving massive magnets positioned just beyond the ozone layer. Fascinated from childhood by the twin movements of falling and rising — we're told — Julius concocted the Doodad for its own sake, little foreseeing its uses.
The U.S. government, however, has lately become highly interested in selective population control — and has strong-armed Julius into signing his invention away for this covert purpose. The mechanism would be particularly useful, officials explain to Julius, for removing certain "enemies" of the state (the definition of which is kept pragmatically open), while making their disappearances seem like acts of God. In a feeble attempt to right his unintended wrong, Julius threatens to expose the Orwellian regime's hoax. Henceforth — that is, for the bulk of the novel — he is a marked man.
Estrin's prose is full of exquisitely interwoven cultural references, historical anecdotes and literary allusions — so disparate that it seems almost impossible for one novel to contain them all. Julius, for instance, plays a role similar to that of Zion in Lamentations, the Old Testament book written shortly after the fall of Jerusalem in 587 B.C. Like the Israelites who are collectively called by that name, he bears the burden of guilt in his own society's downfall.
It's not necessary to know the Book of Lamentations to enjoy Lamentations. But it does help. For the Biblical parallels continue. We learn that, like Zion, Julius abandoned his Jewish faith for an "idol": He converted to Christianity ("and possibly Catholicism"), announcing the decision at his own Bar Mitzvah. The conversion has no simple or everyday rationale. Rather, it reflects Julius' obsession with falling and rising, motifs that (Estrin suggests) practically define Christianity, from the Fall of Man to the Ascension — the Rapture — of Christ. Estrin complicates the Biblical lament by linking the attraction of the Christian religion to a timeless curiosity — fundamental to gravity-bound humans — about rising above this Earth. He implies that Christianity was the inevitable choice for a boy who imagined that the red Pegasus on the Mobil gas-station sign "shared his upward preference."
A good part of the wonder of this book lies in watching Estrin free-wheel through Western history's love affair with the risen and the fallen. There are discourses on the philosophers Heidegger (who describes falling into the "already"-ness of the world) and Kierkegaard (being unable to rise from that world). There are allusions to the dimming overhead lights during the Rosenbergs' execution at Sing-Sing and a Frenchman's high-wire crossing between the Twin Towers. There are multiple digressions on the history of Coney Island, from Freud's condescending visit to the park to the towering flames of its destruction in 1911. (The fire broke out during an attempted repair of "Hell's Gate," an underground ride based on Dante's Inferno.) There is layer on layer of literary reference, from the ever-rising falcon in Yeats' poem "The Second Coming" to Mozart's aria for Leporello, where the servant resolves no longer to serve such a base master as Don Giovanni. Reading Estrin's work means pausing repeatedly to wonder, Where have I read (or heard) that?
But, to return to the novel's Biblical muse, the reader should be aware that The Lamentations of Julius Marantz, rather like Lamentations, lacks a compelling plot. One early sign: While the sixth-century B.C. poem's expressions of grief are given graceful form by the 22-letter Hebrew alphabet — each of its stanzas is headed by a successive letter — Estrin's intermittent Hebrew-letter chapter headings peter out at number eight, Heth.
After opening promisingly, with Julius stumbling on a government-broadcast "wanted" ad for himself, the narrative backtracks to Julius' origins. It delves into his birth and childhood in a Jewish neighborhood on West 33rd Street and continues through his college days in Denmark. These chapters are the best part of the book, fleshing out a precocious, idiosyncratic character's thinking as it develops from childhood. It's impossible, for example, not to cite this passage, which describes Julius' preschool days:
"Dad, would you drink a glass of your own spit?"
"No," his father said. "Disgusting."
"Why? Don't you swallow it all the time?"
Or this one, concerning the center of his childhood experiences, Coney Island:
"Dad, how do we figure the height of the Parachute Jump?
"Maybe ask the guys in the booth."
"How do we know they know? I mean, if we wanted to measure it ourselves."
Phillip thought this might be the teaching moment for some elementary trigonometry.
"If we got hold of a transit," he gestured what a transit was, "we could measure the angle up to the top, and . . ."
"But without a transit. Just a ruler."
Phillip realized this was not just a discussion but a trap.
"I dunno. I give up."
"We measure its shadow along the boardwalk just when my shadow equals my height."
That's my boy, Phillip thought, and bought him a large frozen custard with sprinkles.
***********
When the narrative leaves behind Julius the young, ex-Jewish physicist to return to present day, he becomes something of a cardboard cutout. It's hard to square the earlier, engaging character with the latter-day one whose sole purpose, in the rest of the book, is to observe the apocalyptic streets around him as he seeks escape routes. One of these involves a figure from Julius' childhood — the very girl who introduced him to Catholicism. Now aged, she is given somewhat gratuitous breast cancer and a few lines-of-the-faithful, apparently intended to dignify true Faith amid the horrors of religious government gone mad. This character doesn't last long, needless to say, and there is little reason to care.
Really, the purpose served by Julius' protracted end is to give room and voice to the author's own erudition. Estrin has made no secret of the real main character before this point — "your author" makes several appearances — but toward the end, he drops all circumlocutions. After describing a disturbing incident in 1903, when Thomas Edison discredited a rival's invention by using it to electrocute a live elephant, Estrin directly and unironically advises readers to "Just Google 'Topsy electrocution.'"
Other authors have fictionalized their worst fears — David Foster Wallace, for example, set Infinite Jest at a time when even time is corporate-owned (Year of the Depend Adult Undergarment; Year of the Trial-size Dove Bar). Don DeLillo gave nebulous shape to an "Airborne Toxic Event" in White Noise. But those laments for a doomsday-bound society are conveyed through unforgettably quirky, humorous characters whose actions and thoughts keep the whole thing from sounding like a political rant.
For readers who do not need engaging character development and plot momentum to keep those pages turning, sheer submersion in Estrin's encyclopedic, boundary-averse mind will be enough. For the rest, the high expectations set by the first half of The Lamentations of Julius Marantz may lead to one long, readerly fall.