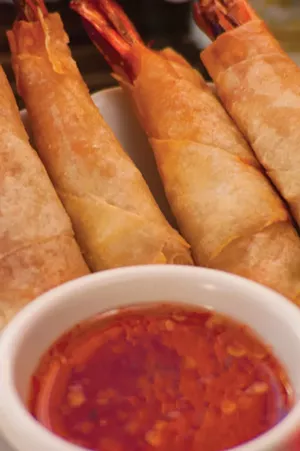 Matthew Thorsen
Thai House
The northern reaches of Vermont seem an unlikely setting for authentic Thai food. Yet, in a strip mall just north of St. Albans village, the Thai House cooks up complex dishes that layer together the four flavors of Thai cuisine — salty, sweet, creamy and sour — using contrasting textures, temperatures and hues.
The eatery is BYOB — and likely to stay that way — but the wait staff is happy to supply wine or chilled beer glasses, before dinner arrives in short order. The Thai House's shimmering tom yum soup harbors fat shrimp and chunky pieces of ginger in its broth. Crisp, thumb-sized spring rolls are filled with minuscule tiers of mushrooms, cabbage and clear noodles. A hearty duck salad pairs generous morsels of crispy meat with fresh baby greens, wedges of tomato and slivers of red onion, finished off with a cilantro- and mint-flecked lime dressing that tastes faintly of fish sauce.
333 Swanton Rd.
Champlain Islands/Northwest
St. Albans, VT
802-524-0999
Thai
Matthew Thorsen
Thai House
Chef Athai Oikweha's specials rotate weekly, such as khao soi, a Thai street dish that combines moist chunks of chicken, crispy fried scallions, raw red onions and pickled cabbage atop a tangle of noodles and yellow coconut curry broth. Rainbow trout may not be native to Thailand, but the chef breads and fries this Western staple, sets it in a puddle of chili sauce and tops it with a neon mélange of carrots, red bell peppers and green beans.
The desserts, too, are worth driving for. The restaurant's signature rice pudding pairs a sticky mass of black rice with a smear of savory green custard. Wash it down with chrysanthemum tea or bracing Thai coffee, before congratulating yourself on a rare Asian food find in Franklin County.