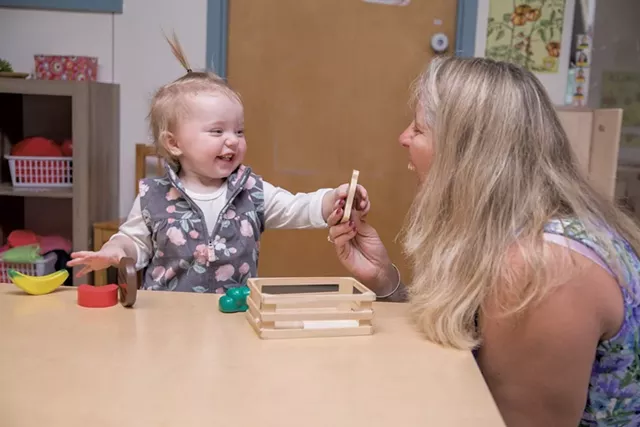 Courtesy of Champlain Valley Head Start
Learning to share in the Early Head Start classroom at Milton Family Community Center
On a Wednesday morning in September, identical twins Faeryn and Raeyln pinballed around their house while squealing gleefully, exhibiting the kind of boundless energy any parent of a 2-year-old would recognize.
The upbeat voice of Champlain Valley Head Start home visitor Lisa Bessette piped in. "Do we need to do something that's moving? Wanna see the video?" she asked the girls. "It's called 'Over in the Meadow.' Let me see if I can share it. Give me a thumbs up if you guys can hear it, OK?"
Bessette spent a few minutes figuring out how to share her screen via Zoom. Then, a catchy fiddle tune came on. The twins gravitated toward the screen, joining their mother, Tammy, in the Zoom thumbnail. Cute illustrated animals flashed on the screen as Bessette narrated and pantomimed to the music — "flapping her wings" and buzzing like a bee.
"What animals do you see?" Bessette asked the girls when the video ended.
"Ribbit, ribbit, ribbit," one of them said.
"That's right — frogs say 'ribbit, ribbit, ribbit,'" said Bessette.
Courtesy of Champlain Valley Head Start
A mom working with her child on gross motor skills during a home visit
This virtual visit is one of the ways Champlain Valley Head Start — a federally funded program that serves young children and their families in Chittenden, Addison, Franklin and Grand Isle Counties — has adapted in the face of the pandemic.
For more than 50 years, the program has provided early education and coordinated health services for children age birth to 5, primarily from low-income families. Operating within the Champlain Valley Office of Economic Opportunity, its services include helping to build literacy, language, social and emotional skills, as well as doing health screenings and connecting families with doctors, dentists and specialized health care providers, explained Paul Behrman, Champlain Valley Head Start's director for the past 21 years. There are both center-based early education programs and home visits to families.
When COVID-19 began spreading across the U.S. in March, Champlain Valley Head Start — like countless other organizations — was forced to shift gears in both its Head Start program for ages 3 to 5 and Early Head Start program for pregnant women and children under 3. In the spring, it suspended in-person learning, shifting to a virtual format in the four stand-alone childcare centers it operates, as well as in the multiple schools and childcare centers where it provides services.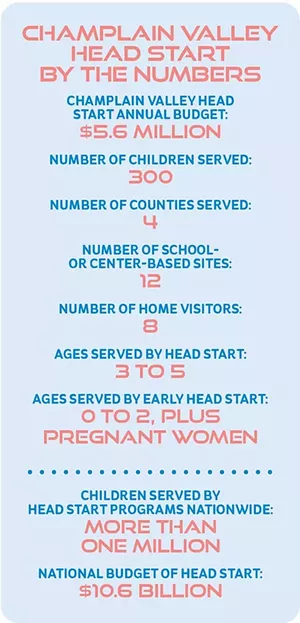 Courtesy of Champlain Valley Head Start
This fall, it restarted center-based programming with protocols similar to K-12 schools. There are reduced in-person schedules, heightened cleaning protocols, modifications to faucets and air filtration systems, and slightly reduced enrollment, Behrman said.
In-person home visits shifted to virtual meetings via Zoom or, in some instances, texts, emails or phone calls. Occasionally, families receive an outdoor, socially distanced visit, or home visitors stop by to drop off educational materials and supplies. Behrman said that his organization's home-based option is especially suited for families who live in rural areas or have transportation challenges, or who don't feel their kids are ready for a group setting yet.
In the spring, there was a fair amount of "troubleshooting" around issues such as poor internet connections, said Meghan Sargent, who has been a home visitor in Franklin County for the past year. In some cases, Head Start provided families with tablets to help them connect with providers. "The great thing," she said, "is that services never ended."
Since then, Sargent said she's seen families thrive with virtual visits. "They're sitting down and engaged with the activities," she said. In the absence of an educator in the home, "the parent is taking the lead role. I don't think they've realized how much they've stepped up."
Behrman describes Head Start as a "two-generation program," because it also engages adults. "No one knows a child the way their parent or guardian knows them," said Behrman.
Courtesy of Champlain Valley Head Start
A lesson on brushing teeth at Franklin Square Early Learning Center in Burlington
Head Start aims to partner with families so there's continuity between what goes on during center- and home-based education and when children are at home. The organization also aims to build relationships and trust with parents and caregivers, so it can help connect them with resources to address personal challenges and goals — everything from heating their home during the winter to quitting smoking or pursuing a GED.
Karen Shearer, a literacy teacher at Bellows Free Academy Fairfax, has experienced this support firsthand. She got involved with Head Start 12 years ago, when her son Ethan was 3, after seeing a flyer at his school advertising the program. Ethan, now 15, is on the autism spectrum, and Head Start provided him with home-based support that complemented his Essential Early Education preschool program in Richmond.
The family's home visitor recommended that Shearer get involved with Head Start's policy council, an advisory board composed of parents and community members. That led to her being named chair of the council, and then serving on the board of CVOEO. Those experiences helped her connect with other families facing similar circumstances, beef up her professional résumé and gain confidence.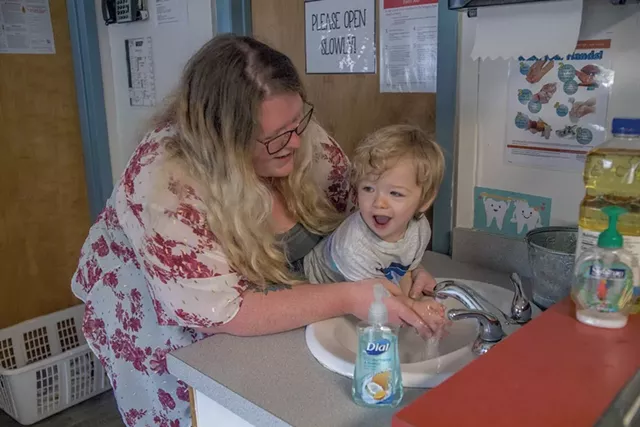 Courtesy of Champlain Valley Head Start
Washing hands in Milton
"I never in my life would have run to be a chair of an ... advisory council. I didn't see myself as a leader like that," Shearer said. "One of the reasons I'm such a big supporter of Head Start is I love how much they wrap around the families and really support parents and their goals.
"I knew Head Start would be good for my son," she added. "But I really didn't know it would be good for me."
Bessette, who started working with Head Start as a preschool teacher in 2007 and just recently took on the home visitor role in Addison County, said that the pandemic has exacerbated some of the issues that families she works with face, such as finding quality childcare, housing and transportation. For some, it's also introduced new ones, such as job loss.
Additionally, she said, the program generally focuses on helping families through learning transitions — from preschool to kindergarten, for example. That, too, was more difficult because of the pandemic.
The lack of in-person connection has been a challenge in doing virtual visits, Bessette said: "You're still able to connect," but it requires a different approach.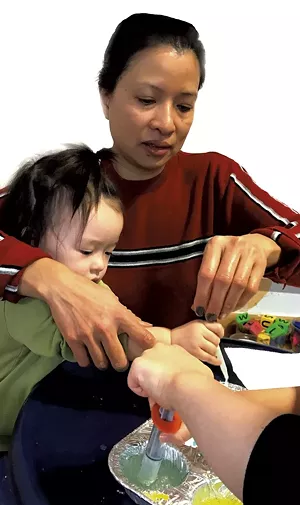 Courtesy of Champlain Valley Head Start
A mom and her child doing a science project during a home visit
That means bringing enough energy and enthusiasm to Zoom meetings to hold the attention of two very busy toddlers. During her time with Faeryn, Raelyn and Tammy, Bessette did a cheery read-aloud of Brown Bear, Brown Bear, What Do You See? by Eric Carle, stopping at the picture of the bespectacled teacher. "Look! She has glasses just like Lisa does!" said Bessette, referring to herself in the third person, as teachers of young children often do. She then segued into a sing-songy rendition of "If You're Happy and You Know It."
Before the 45-minute Zoom call ended, Bessette asked Tammy if her kids needed any school supplies and told her she was available to connect with the family's other service providers. And she reassured her that there was no "right" way to participate in this new kind of meeting.
"Don't ever worry, if they don't want to be in front of the screen," Bessette told Tammy. "We totally understand that this is just a different way of working together."
For more information on Champlain Valley Head Start, visit champlainvalleyheadstart.org. Learn more about applying to the program, including eligibility requirements, by contacting assistant enrollment manager Andrea Houlihan at 752-9397 or apply@cvoeo.org.