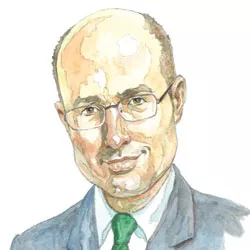 Antonio Cepeda-Benito is a scientist by training, not a politician. But the University of Vermont's new dean of the College of Arts and Sciences takes a diplomatic tone when asked what it's like to go from working at Texas A&M University, one of the most politically conservative public universities in the country, to one of the most liberal.
"Let's put it this way," says Cepeda-Benito, choosing his words carefully. "My wife and I were ready for a change of air in that regard."
Cepeda-Benito, who arrived on the UVM campus in mid-July, spent the last 18 years at Texas A&M, most recently as dean of faculties, associate provost and professor of psychology. Understandably, he's reluctant to burn any bridges with his former Aggie colleagues, who, he insists, "treated us really well."
Still, Cepeda-Benito may have gotten out of College Station, Texas, at just the right time. Last year, A&M became the focus of a controversial plan by Republican Gov. Rick Perry and the Texas Public Policy Foundation, an Austin-based, right-wing think tank, to overhaul that state's higher-education system. The plan includes a push to hire more non-tenure-track faculty, create a new accreditation process and separate research from teaching. Critics charged that the effort, unpopular among many A&M faculty, is undermining one of the premier research universities in the country.
Cepeda-Benito, a respected researcher and scholar who has published more than 50 articles on psychology and pharmacology in peer-reviewed journals, comes to UVM during a time of its own transition. The administration has decided that the student population is finally big enough and doesn't need to grow. The goal now is to boost UVM's prestige and financial resources by building its reputation as a premier small research university.
It makes sense that UVM would hire someone steeped in research to head its largest college. With 5500 students and nearly 340 faculty members across 21 departments, the College of Arts and Sciences encompasses a vast array of academic disciplines ranging from anthropology to women's studies.
Though Cepeda-Benito admits he is still getting to know all the faculty and staff, he says it's refreshing to arrive on a campus that is focused on becoming a research-intensive institution while remaining equally committed to its teaching mission.
"It's difficult to do both things and do them well," Cepeda-Benito says. "Here, I can tell you that the faculty are really invested in providing a good education. And they get really upset if anything gets in the way of that."
When it comes to the topic of his own research, Cepeda-Benito brings an unusual background to his new position. While he won't disparage his previous employer, he is adept at talking a different kind of "smack" — heroin addiction. Cepeda-Benito is known for his work on the behavioral and neurological impacts of exposure to opiates, nicotine and cocaine. His research into addictive behaviors led him to develop a clinical scale for measuring food cravings, which is now used to treat people with obesity and eating disorders.
In a related area of research, Cepeda-Benito studied how emotions influence the human experience of pain. Using a methodology similar to his work on smokers' craving for nicotine and overeaters' craving for food, he presented patients with images that elicit either positive or negative emotions. Cepeda-Benito and fellow researchers then assessed how those patients described painful sensations.
Cepeda-Benito found that, when patients are presented with images they find unpleasant — an angry dog, a lacerated hand, a burn victim — their own pain is enhanced. However, when they're shown images they consider benign or pleasant — a flower, a cute puppy, an erotic photo — their experience of pain is lessened. Such findings may ultimately prove useful in treating the pain of heroin addicts, he explains, who often become hypersensitive to pain but who have developed a high tolerance to opiate-derived painkillers.
Cepeda-Benito says he first got involved in this line of scientific inquiry "a little by happenstance." While still an undergraduate psychology student at the University of Wisconsin-Milwaukee, he became enamored of the empirical method: proposing hypotheses, gathering data and drawing conclusions.
"I got into addiction, in part, because I was interested in pursuing a career as a scientist within psychology," he says, "and drug addiction fit that mold."
When Cepeda-Benito, now 50, came to the United States from his native Spain at the age of 20, he spoke almost no English. He grew up in the historic city of Salamanca, known for attracting thousands of international students each year. Among them was his future wife, Lisa, an American exchange student from Wisconsin who was enrolled at Bennington College and had come to Salamanca to improve her Spanish.
After the couple moved to the United States, Cepeda-Benito took whatever odd jobs he could find: cutting grass, fixing roofs, painting houses and bussing tables. Once his English had sufficiently improved, he took the TOEFL — Test of English as a Foreign Language — and, to his surprise, passed. He got his undergraduate degree at the University of Wisconsin-Milwaukee, then completed his master's and doctoral degrees in psychology at Purdue University
In 1993, while still working on his PhD, Cepeda-Benito became a U.S. citizen. The following year, he landed a job as an assistant professor of psychology at A&M.
In College Station, Cepeda-Benito worked with the probation arm of the Texas Department of Criminal Justice, which often referred to his assessment and treatment offenders who had been arrested for driving under the influence of alcohol or drugs. All of his clients were Mexican, he recalls, and most were undocumented workers whose families still lived in Mexico. Invariably, Cepeda-Benito ran the group sessions because he was the only PhD-level clinical psychologist in town who spoke Spanish.
"Basically, it was an advantage for me, not just my language but my ability to understand their culture, how they think and perceive the world," Cepeda-Benito explains. "I could relate to them, and they would trust me with less effort than if a gringo were talking to them."
This was also a humble, impoverished and uneducated population, he notes. Cepeda-Benito vividly recalls one case, referred to him by the Texas Department of Family and Protective Services, in which a couple were suspected of neglecting their underweight child.
Once Cepeda-Benito began investigating the family's history and interviewed the parents, he says, it was clear the child wasn't neglected; the parents were simply poor. To them, an underweight child looked normal.
"That was probably the most frustrating case I've been involved with in my life," Cepeda-Benito recalls. "What this family needed was help, not punishment. You're not helping anyone taking their child away."
Presumably, Cepeda-Benito's job application was only helped by the fact that UVM has made it a priority in recent years to hire more minorities. That said, his Spanish skills will likely prove less useful in Vermont, which is often listed as the second-whitest state in the country. Being from Europe, of course, Cepeda-Benito has a different perspective on American ethnic categories such as "white," "Hispanic" and "Latino." When he first applied for his U.S. Social Security card, he recalls, the form asked him to identify himself as either white or Hispanic. Like many Spaniards, he considers himself both. In 2009, Hispanic Business Magazine included Cepeda-Benito in its list of "Top 100 Most Influential Hispanics." But ultimately, the professor doesn't get hung up on such terminology. As he puts it, "At the end of the day, what matters is how you use your skills and abilities to help people."
How will Cepeda-Benito apply his clinical-psychology training to his new administrative job?
"A lot of [clinical psychology] is listening, reflecting back what you heard and maybe saying it in a different way to help the person see connections they didn't see before," he explains. "So I use a lot of those skills in my job every day, because a lot of this is problem solving, solving conflicts, getting people to work together and selling your ideas."
Cepeda-Benito hasn't formulated any grand design for the College of Arts and Sciences in the coming years. Instead one of his first tasks, he says, is to assess the strengths and weaknesses of the college and figure out how to build on them. He plans to talk to a lot of people, gather data, assess those data and then process them in a way that "gives students the best education they can to serve them for the rest of their lives."
Spoken like a true scientist.